…"You must visit Chiricahua!"
We love chatting with people on our travels, both locals and fellow travellers. This is how we often find new places to explore and pick up lots of tips and inside knowledge. It was chatting to a couple at the RV park in Lake Mead that led us to discover Chiricahua National Monument. When they learned that we were heading south through Arizona and New Mexico, they immediately said "You must visit Chiricahua! It's amazing. Turn off at Willcox and follow the signs." At this point, we had never heard of Chiricahua and anyway, our next stop was the Grand Canyon.
Inevitably, we forgot about Chiricahua – until three weeks later when we were driving along Interstate 10 and we saw a signpost for Willcox. A bell rang! What was the name of that funny place that couple had mentioned? I got out the map and there it was: Chiricahua National Monument. But it was about 34 miles off the highway so a total detour of 70 miles and we were on a bit of a tight schedule. Was it worth visiting Chiricahua if it meant going so far out of our way? A quick decision was made, we turned off the highway on to AZ route 186 and headed south to Chiricahua.  This was definitely the right decision: Chiricahua was so worth the trip.
What is Chiricahua National Monument?
Chiricahua National Monument is in the Chiricahua Mountains in south east Arizona. The area was established as a national monument in 1924 in order to protect this fabulous landscape. Sometimes referred to as a "wonderland of rocks", it is an area covered with a vast array of hoodoos, pinnacles, spires and balancing rocks. Originally formed in the aftermath of a volcanic eruption about 27 million years ago, the grey rhyolite rock formations have created a wonderful panorama.
There is a visitor centre in the park and the ranger we spoke with there was very helpful, knowledgeable and friendly. Entry to the park is free.  There is also a campsite, but on this occasion we did not stay there. There is an eight mile scenic drive (vehicles are limited to 24ft) and 17 miles of hiking trails.
Hiking in Chiricahua National Monument
After chatting with the ranger we decided to drive up to Massai Point at the end of the scenic drive, park there and then hike the Echo Canyon Loop. This would take us through Echo Canyon, along the Hailstone Trail and then back on the Ed Riggs trail, as shown on this trail map. There are lots of hiking trails in Chiricahua. Many of them are loops and several interlink with each other so it is possible to plan for hikes of different lengths and a variety of terrain. Given that we only had an afternoon to spend in Chiricahua, this route seemed to be the best option for us to get a flavour of the place.
We were not disappointed. The views over this dramatic landscape changed at every turn and were simply amazing. Chiricahua was worth visiting for this hike alone.
The trail was well marked and easy to follow. Much of the trail was smooth and sandy, but sometimes it was rocky and harder underfoot.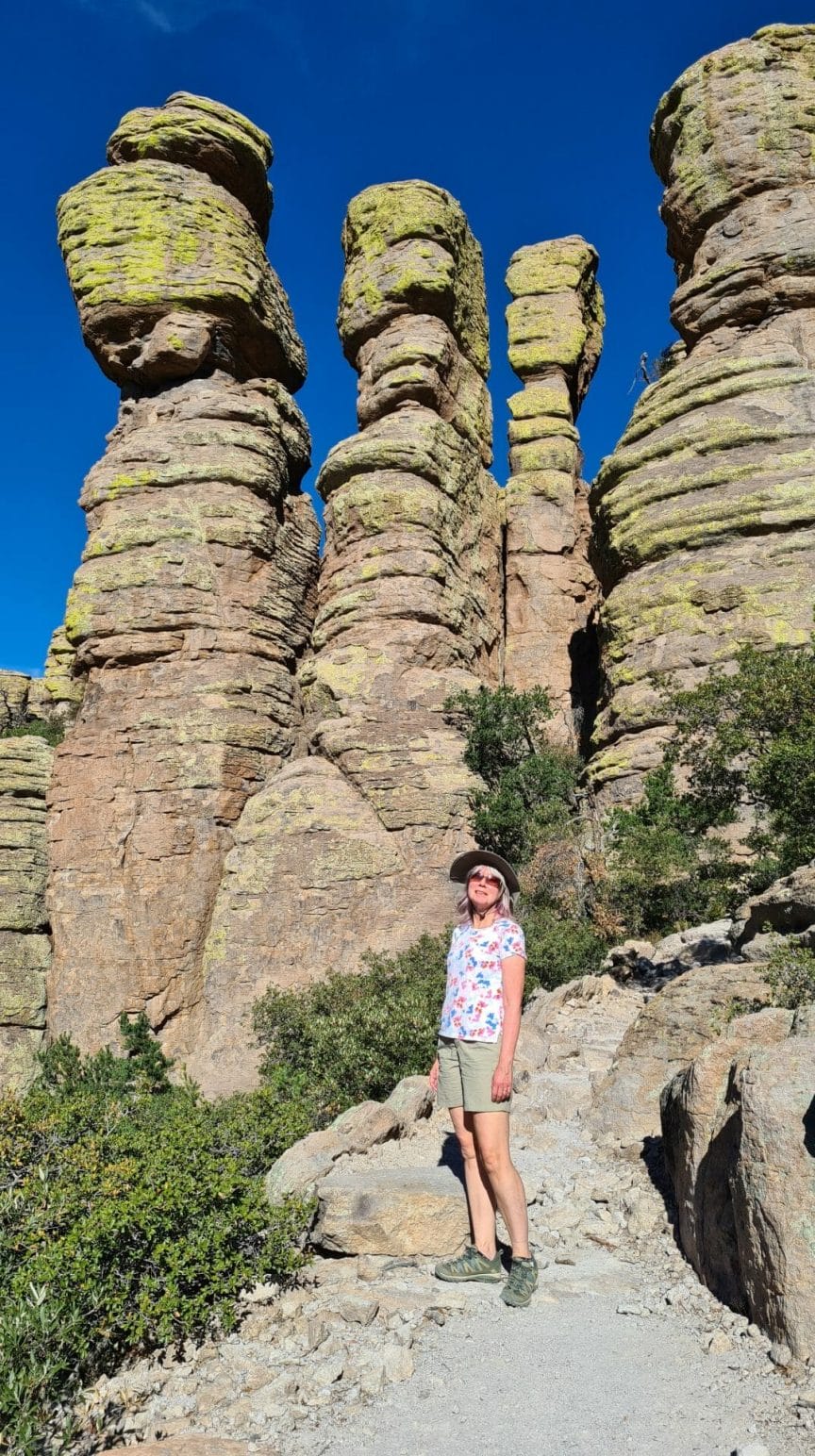 There was some up and down, especially on the final section which took us along the river and up the side of the canyon to Massai Point, but nothing too strenuous. Amazingly, except for the area near Massai Point, we were the only people hiking that day. We had the trails almost entirely to ourselves.
The route we followed was a little over four miles and took us about two and a half hours. This included frequent stops to admire the remarkable, awe-inspiring views and, of course, to take photos.



The Scenic Drive in Chiricahua
The Bonitia Canyon Drive up to Massai Point is about 8 miles and quite twisty, which is why there is a length restriction on vehicles.  Fortunately, we had no problem driving our RV. There are several view points along the way so for anyone who isn't up for hiking, there is still plenty of opportunity to admire this spectacular landscape.
The drive is an out and back so the scenery can be admired from both directions. As the official guide points out, however, it is easier to stop at the view points on the return journey. There is parking at the start of the Echo Canyon trail, but we were advised to park at Massai Point as we were in the RV and there is more space.
Faraway Ranch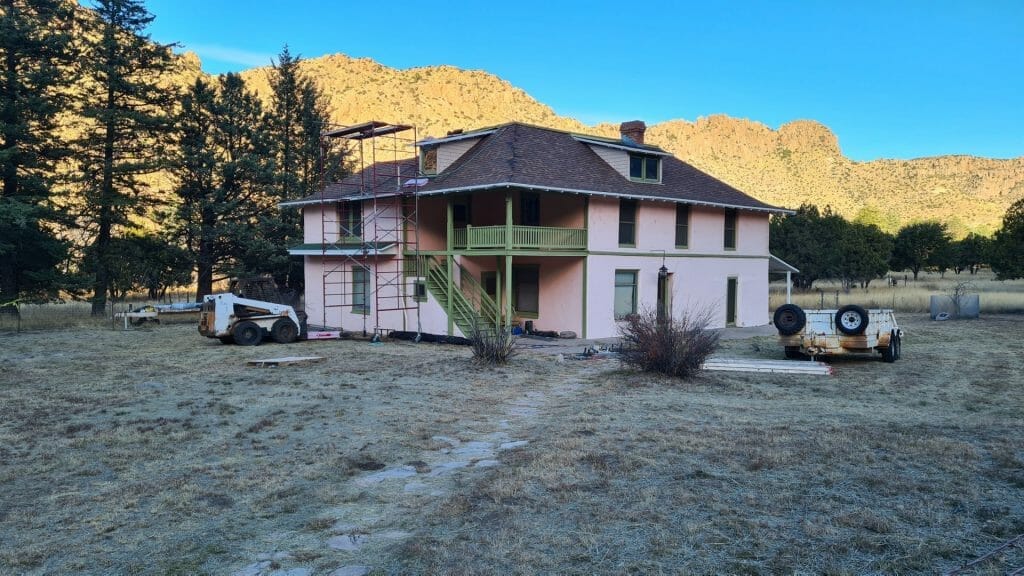 Faraway Ranch is one of the original homesteads in the area and is a historic building. Restoration was underway when we visited so we only looked from the outside on our way out of the park.  Nevertheless, it was possible to appreciate what it must have been like to have lived there in years gone by. The ranch was built in the 19th Century by the Erikson family, who were instrumental in having Chiricahua recognised as a national monument.
Is it worth visiting Chiricahua National Monument?
Although we only had a few hours to spend in Chiricahua National Monument, I feel that we actually experienced quite a lot.  We certainly made memories that will always stay with us. Yes, we would have liked to have spent longer exploring and hiking, but if an afternoon is all there is, it is certainly still worth visiting Chiricahua. Having discovered Chiricahua, we shall definitely return and explore more of this fascinating area.
If you enjoyed this article, please share!
Pinnable Image
Related Articles