The island of Jersey is famous for its cows and potatoes; the cows are beautiful and the potatoes are delicious, but Jersey, as we discovered recently, has much more to recommend it. The largest of the Channel Islands, Jersey is a quirky mixture of French and English cultures and has a very interesting history. We thoroughly enjoyed our visit to this beautiful British isle.  Why visit Jersey? What to see on Jersey? Read on!
Travelling to Jersey
It is possible to fly from the UK, but we took the motor home across on the ferry, opting to sail from Poole in Dorset. It took about four hours, about an hour of which involved calling at the island of Guernsey to allow some passengers to disembark.
Getting around on Jersey
Most of the roads on Jersey are narrow, very narrow, which meant that an encounter with a bus on the way to the campsite presented a rather tricky situation for ourselves and the motor home ahead of us. Fortunately, once we had made camp, we had the trusty scoot on which to bomb around. There are a lot of motorbikes and scooters on Jersey.
As well as the scoot, we also had bikes. Cycling is popular on Jersey and it is a great way to explore this beautiful island, but be warned: there are hills! We had e-bikes and I was grateful for this. (I am a complete convert to e-bikes as you can read in I love my e-bike! ) It is also possible to hire bikes on Jersey, which we did on an earlier occasion.
Camping on Jersey
We stayed at the campsite at Rozel and it is lovely. The pitches are well spaced, there are views of the countryside and from some areas, the sea. The facilities on the site are great and there is an outdoor swimming pool and a children's playground. The owners are friendly and helpful.
So what to see on Jersey besides cows and potatoes?
Beaches

,

lots of beautiful beaches!
Sandy beaches, rocky beaches, shingle beaches, small beaches, vast beaches… And where there are beaches, there are also some magical cliff-top walks.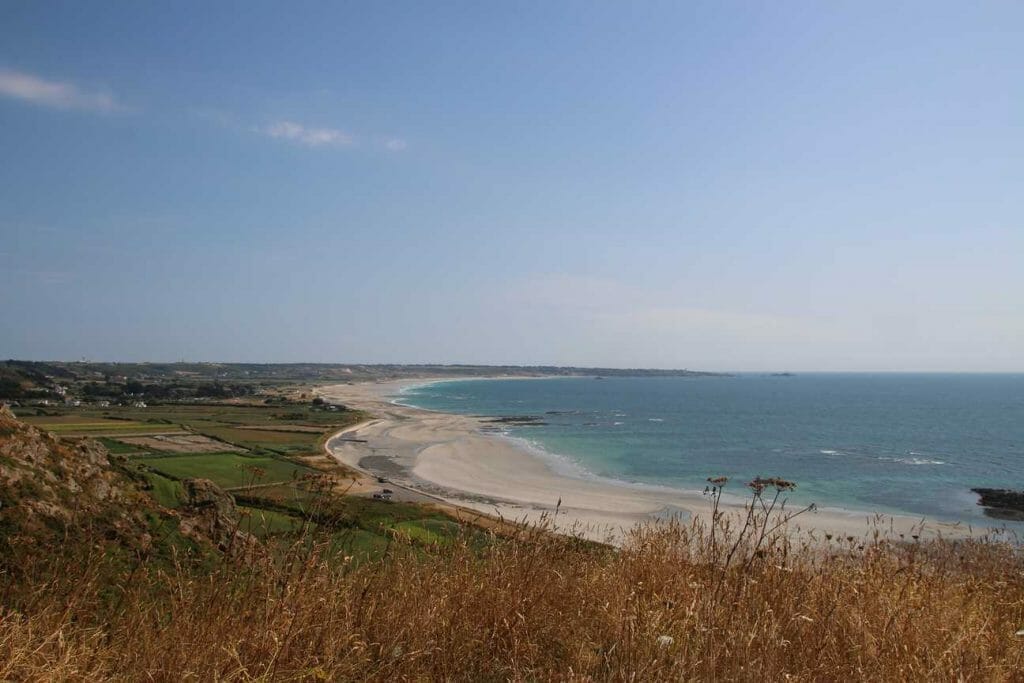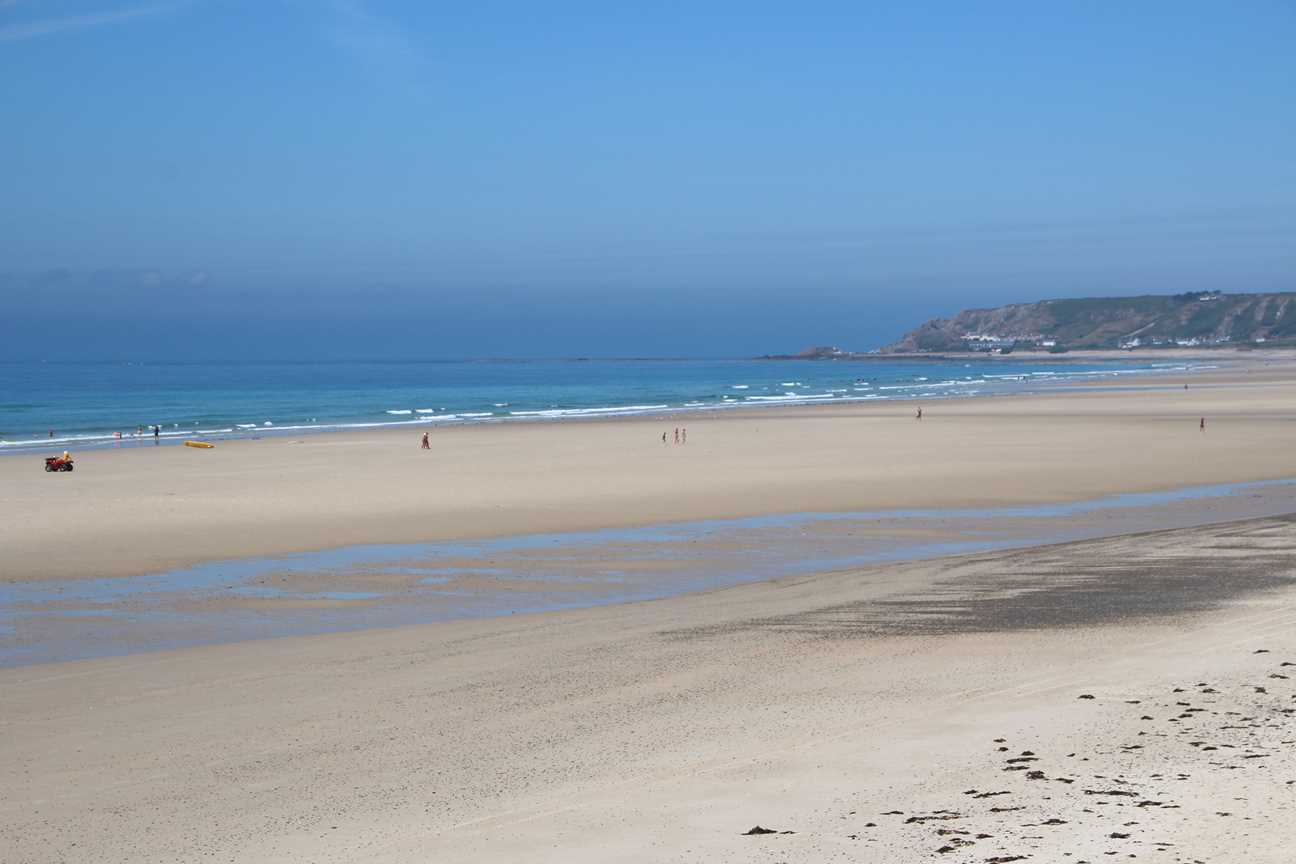 As an island, you are always close to the sea and the beautiful coastline on Jersey. However, the landscape is attractive inland too. Jersey is simply gorgeous wherever you look!
Jersey was regarded as a strategic military point in past wars, the evidence of which is still very visible in the form of castles, fortifications, memorials and war tunnels.
This beautiful sculpture, the Saint Malo Memorial, commemorates the saving of 307 lives from a French catamaran in 1995. It is at St Brelade and definitely worth seeing.
St Helier is the capital of Jersey. It has a very European feel to it and lots of interesting shops to peruse.
We came upon La Mare by accident, but it was clearly meant to be as a tour was just about to start. It would have been rude not to!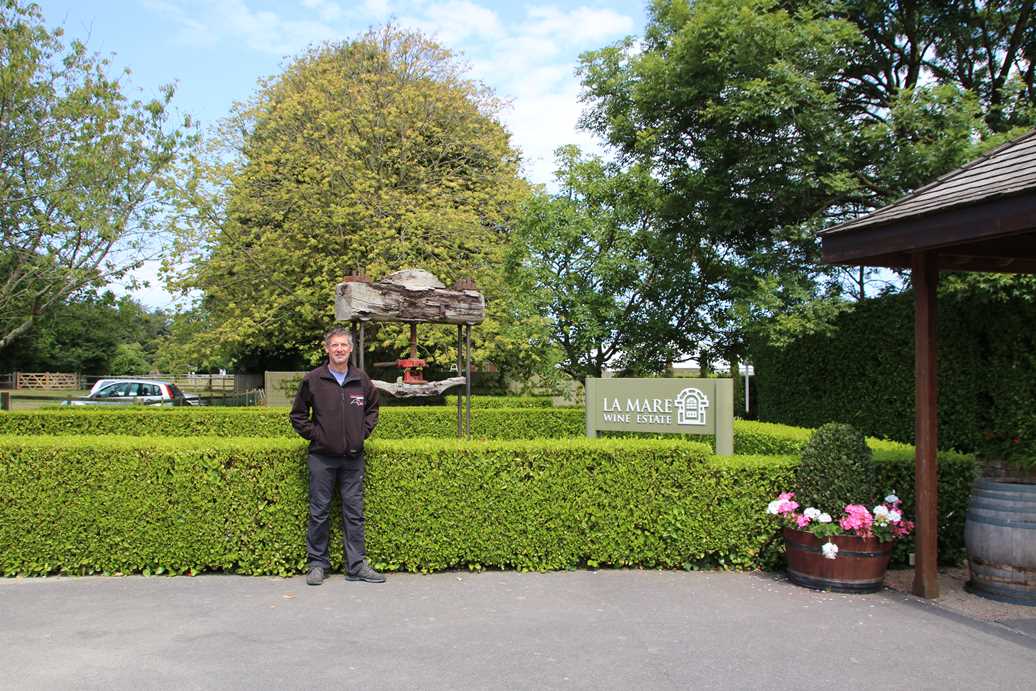 The La Mare Winery is well worth visiting. We had one of the best tours of a winery/distillery we have ever had. The guide was interested in and knowledgeable about his subject. The estate grows its own grapes for the wine, but also apples for cider. The cider is made on site  – along with gin, apple brandy, vodka …..They also make chocolate and preserves!  Jersey Black Butter is a speciality. It is a sort of spicy apple chutney made by boiling up apples with lots spices for days. Don't miss this – it smells like Christmas! I just used some to glaze a ham – yum! What's not to like?
The tour was informative and comprehensive. The tasting was offered during the film shown at the end of the tour. It is quite nice to sit with a glass of wine and a nibble of chocolate whilst finding out more about the wines!  Afterwards we took the vineyard walk and looked around the gardens of the original house. All were very well kept and attractive.
There is also a café at La Mare, which looked lovely and had an interesting menu, but we had already had lunch (- and wine and chocolate and apple brandy…..) so did not partake. We did, however, spend far too much money in the shop, which was very well stocked with lots of goodies. Be warned! This was one of the highlights of our visit to Jersey and if you really are wondering what to see on Jersey, I would highly recommend La Mare.
The island of Jersey is as interesting as it is beautiful. We enjoyed our Jersey potatoes and our Jersey cream, but we also loved exploring this gem of an island.
If you enjoyed this article, please Pin it for later
Other articles in which you may be interested