An archipelago of more than 100 islands, Shetland is the most northerly part of Scotland. Our ferry from Aberdeen to Lerwick took over 14 hours so it is pretty remote! There is a fascination with visiting places so remote and people have quite a romantic idea of them, but what is it really like in Shetland? Is it worth visiting?
But first, a few facts about Shetland
The Shetland Islands lie about 170 km from mainland Scotland and about 220 km from the west coast of Norway. Almost 23,000 people call Shetland home and most of them live on the largest island, known as Mainland Shetland. A large proportion of those live in or around Lerwick, the capital of Shetland.
The islands have a rich history and there is evidence of human settlement there dating back 4000 years. The Viking influence in particular permeates the islands; Shetland came under Norse rule in the ninth century. The islands became part of Scotland in the 15th Century. They had been used as security for the dowry of Margaret of Denmark in her marriage to King James 111 of Scotland. James officially annexed the islands for Scotland in 1472.
It is not particularly cold in Shetland because of the North Atlantic Current and the Gulf Stream, but, as we found, it is windy most of the time.
There are virtually no trees on Shetland!
What is there to do in Shetland?
The short answer to this is: not very much. However, the scenery is magnificent and the beaches beautiful. For the hikers out there, there are some wonderful coastal hikes along the rugged cliffs. This, of course, is weather dependent. When the sun shines, it is simply beautiful. We were fortunate when we visited in early June, but I have it on good authority that this is not always the case and we certainly had an insight to this when we travelled up to see the cliffs and geos at Esherness, only to find it swathed in thick fog!
We also enjoyed the birdlife, especially the puffins! I would say it is worth visiting Shetland to see the puffins alone!
The history of the islands is interesting and one of the highlights of our visit was visiting Jarlshof.
The Highlights of our visit to Shetland
Jarlshof
Jarlshof is a fabulous archeological site on the southern tip of Mainland Shetland. It reminded me very much of Skara Brae on Orkney: concealed beneath sand and earth for many years and revealed by storms in the 1890s. Subsequent excavations uncovered evidence of 4,000 years of human settlement – a bronze age smithy, an iron age broch and wheel houses, Norse long houses, the laird's house from the 16th Century. Curiously, it was Sir Walter Scott who gave Jarlshof its name, using it as the setting for his novel The Pirate.
Jarlshof has been remarkably well preserved. The site is managed by Historic Scotland and is well curated. We were provided with hand-held recorders for a self-guided tour and these worked really well. The narrative on the recording is delivered by a native Shetland speaker and it explains the various stages of the settlement.


Sumburgh Lighthouse
After visiting Jarlshof, we walked up over the fields and cliffs to Sumburgh lighthouse. It is possible to drive up there, but when you have a dog, this usually means walking! The bonus was the lovely views over the cliffs.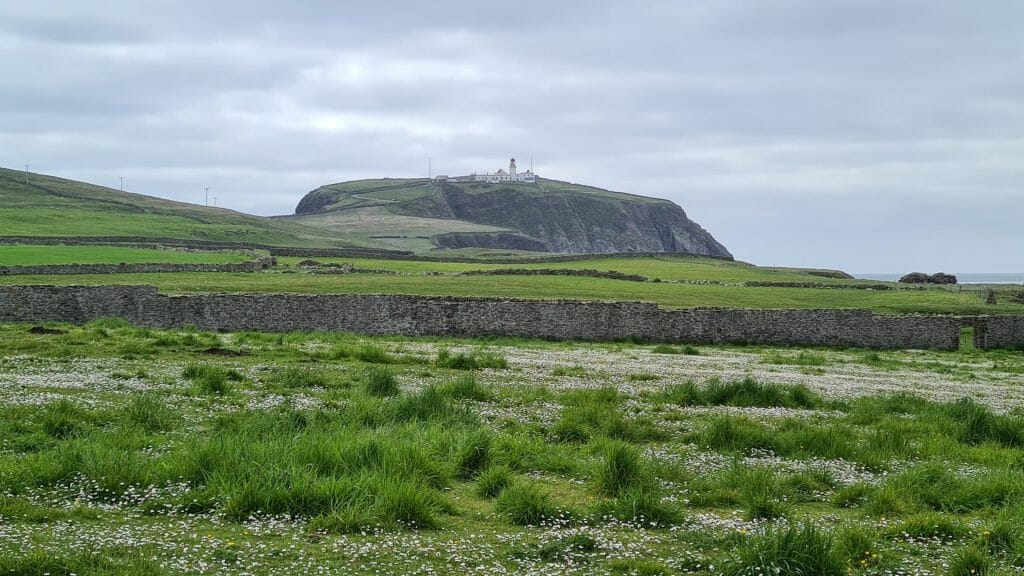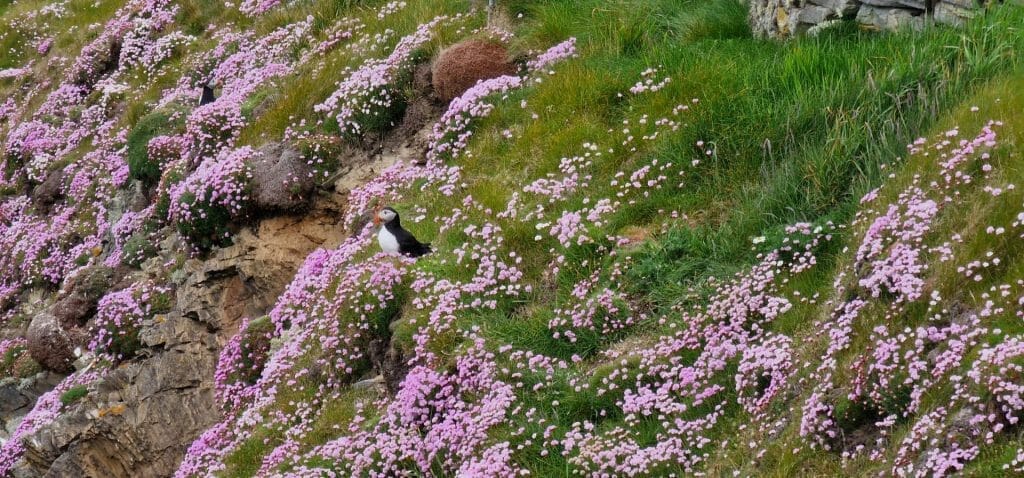 Sumburgh Lighthouse has various interactive exhibitions and a visitor centre, but as we had Jasper, our border collie, with us, we could not really tour these. However, this area is a nature reserve and there were lots of seabirds for the keen ornithologists. I was just happy to see the puffins! I think puffins are so cute and characterful. There were lots to see at Sumburgh and some of them at quite close quarters.
St Ninians Isle
Another highlight of our visit to Shetland was St Ninian's Isle. St Ninnian's is on the south west coast of Mainland Shetland, approximately 17 km north of Sumburgh. We visited on the way back to Lerwick from Sumburgh.
The Isle is joined to the Mainland by a tombolo, apparently the largest tombolo in the UK. No idea what a tombolo is? Neither had we, but of course, we looked it up! Basically, a tombolo is a spit of land forming a sort of causeway between an island and the mainland.
St Ninian's Isle is very pretty and definitely worth making the detour to see. We walked across the tombolo and hiked around the isle. There is a trail all the way round, about 6 km, and it is quite accessible. It took us a couple of hours to complete the route around the coastline.
Beaches
There are some spectacular beaches in Shetland and we visited a few. Let's be clear though: there are not many days in a year that one would want to sit and sunbathe on a beach in Shetland! The attraction of these beaches is the beautiful scenery and being able to walk on them or play with the dog. Two particular beaches we visited in Shetland are:
Meal Beach
Meal Beach is on West Burra, one of the small islands linked to Mainland Shetland by a bridge. The beach is picture-postcard pretty with fine white sand and crystal clear water. It is very accessible, just a short walk from the road where there is good parking.


Banna Minn Beach
Also referred to simply as Minn Beach, this is another picturesque beach in Shetland. The beach is actually another tombolo, connecting West Burra to Kettla Ness. Minn Beach is a few miles south of Meal Beach on West Burra so it is easy to visit both in the same trip.  We walked across the tombola to Kettla Ness where there is a scenic hike around the cliffs.


Hiking the coastal trails
As we were blessed with good weather when we were in Shetland, we spent much of our time hiking along the coastal paths. The cliffs are spectacular and the views stunning if the sun shines. Two areas stand out in particular:
Sand Voe
Sand Voe is about as far north as it is possible to go on Mainland Shetland and it involves driving a good few miles on single track roads, albeit remarkably well-maintained single track roads. Voe refers to an narrow sea inlet or bay in Shetland and we parked at the end of the road at Isbister near the cemetry  at the side of this body of water.  We then set off to the east of it to hike over the cliffs on the eastern and northern coasts of the peninsular.
We had the perfect day and the views of the cliffs were fantastic.
It was a longish hike, around 10 miles, and quite strenuous in places. There are no clearly defined trails as such, but we completed a loop in an anti-clockwise direction, following the coastline until we saw the track cutting back south to where we had started. This track took us back to Sand Voe and made for a shorter route and easier walking. To have followed the coastline all the way around would have taken much longer – and by this time I was fairly knackered! It was definitely worth it though and this hike was one of the highlights of our visit to Shetland.
We saw only one other person the whole day we were hiking and he was tackling the circuit in the other direction, complete with camping gear for the night.
Eshaness
Eshaness, a peninsular in the far north of Shetland, had been recommended to us as an area of outstanding beauty so we headed north again to check it out. We encountered a few quirky features of Shetland along the way. These boat topped houses for instance are not unusual, but this was my favourite.
Along the way, we drove through Northmavine, another peninsular to the north of Mainland, and we crossed the Mavis Grind. The Mavis Grind is a narrow isthmus joining Northmavine to Mainland. On one side is the North Sea and on the other, the Atlantic Ocean . In years gone by, sailors would haul their boats across the Grind to avoid a long sea journey round the peninsular.
As we approached the Eshaness peninsular, sunshine gave way to thick fog and the spectacular cliffs we had been promised were no where to be seen. This was the first hint of bad weather we had seen in Shetland, so we could hardly complain.
We parked up at the lighthouse and set off to walk along the coast where the Eshaness volcano once lay.
The fog gradually cleared, revealing those spectacular cliffs. How lucky were we!
We walked around Calder's Geo, a dramatic inlet carved into the land from the sea.
Beneath the Geo is Britain's biggest cave, rising to a height of 60 ft and with a floor area of 5600 square metres.   The cave is accessible by small boat when the seas are calm.
Other stacks and arches can be seen from this peninsular and it is easy to see why Shetland is a UNESCO Global Geopark. These rock formations are fabulous.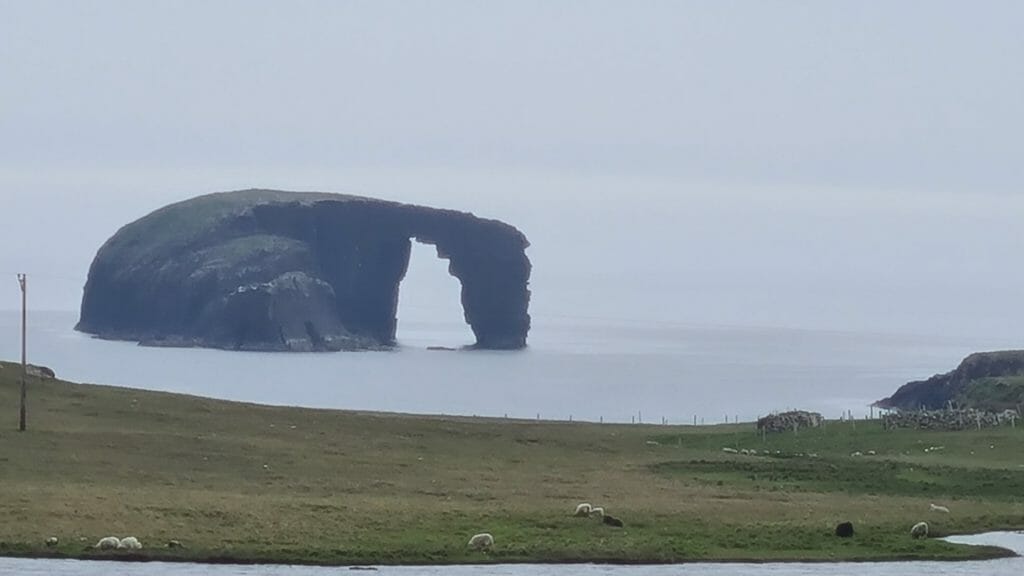 Lerwick
Lerwick is the main town in Shetland and almost 50% of the population of Shetland live within 10 miles. It is a harbour town and quite picturesque; we enjoyed wandering around. It has the facilities one would expect to find in a main town  – a hospital, a high school, banks, a supermarket, shops, restaurants etc. Lerwick is where the ferry docks and also where cruise ships anchor.
So what is it like in Shetland?
Lerwick
When we landed in Lerwick, the capital of Shetland, it felt like a small Scottish town with all the usual amenities would would expect to find there: banks, shops, restaurants etc. But there are not many of them. There is one supermarket serving the community and although it was reasonably well-stocked when we visited, our friend told us that fresh products could easily sell out by the end of the day.
Out and about
Beyond Lerwick, we drove through lots of small hamlets, but there were also huge expanses of nothing, just featureless moorland. Trees? None! That is perhaps a bit of an exaggeration, but not much. Exploring Shetland means being largely self-sufficient and planning ahead. Fuel stops were few and far between. Cafes, restaurants and toilets are difficult to find outside of Lerwick. There is a cafe at Sumburgh Lighthouse and there was one at Scalloway – but it was closed when we visited. If you fancy an ice cream or a coffee whilst out and about, hard luck. A few enterprising homeowners had set up "Cake Fridges" here and there, but basically, it is best to take everything with you for the day.
The main A roads are well maintained and easy to drive, but the far corners of the Mainland Shetland are served by long, winding, single-track roads, many of which have sheep grazing along the edges – or lying in the middle of the road! People do take motorhomes to Shetland, but I was grateful that we were in our small campervan.
There are a few campsites around the island, but check ahead. The first one we tried didn't allow dogs. In the event, because we were visiting a friend and could use his shower, we wild camped for the few nights we were there. This is easy to do in Shetland – always observing the wild-camping etiquette, of course. We did see the campsite at Hillswick out near Eshaness, and this looked lovely. Most of the accommodation, if not camping, is around Lerwick.
Final thoughts on visiting Shetland
Basically, we really enjoyed our visit to Shetland and were captivated by its natural beauty. The coastline and the cliffs are spectacular. The clear waters and the colours are fabulous. We loved the history and exploring sites like Jarlshof. However, I am also aware that we saw it at its best. The weather was warm and sunny most of the time (albeit a bit windy sometimes!) and we did not see rain at all. Our friend was at pains to remind us that it is not always like this!
Related Posts
If you enjoyed reading about Shetland, please share