Wansfell Pike has the most wonderful views across Lake Windermere and over the Lakeland Fells and mountains. This is the latest post in my Lake District series and describes one of my favourite walks. Wansfell is situated high above the village of Ambleside and is well worth the climb. Most people with a reasonable level of fitness would be able to manage this hike, but walking boots are essential. The track is quite rocky and steep towards the top and in winter can be quite icy. At other times, the lower path can be muddy. When we last walked up Wansfell Pike, we were above the snowline at the top. This added an extra challenge, but also an extra level of beauty.
The Route up Wansfell Pike
There are several possible routes to walk Wansfell Pike. The shortest is to go directly from Ambleside. However, our favoured route, as described below, is a loop from a different direction starting near the village of Troutbeck. This particular trail to Wansfell offers a variety of terrain and wonderful views across the lake to the Langdales. In all seasons and all weathers, these views never fail to delight.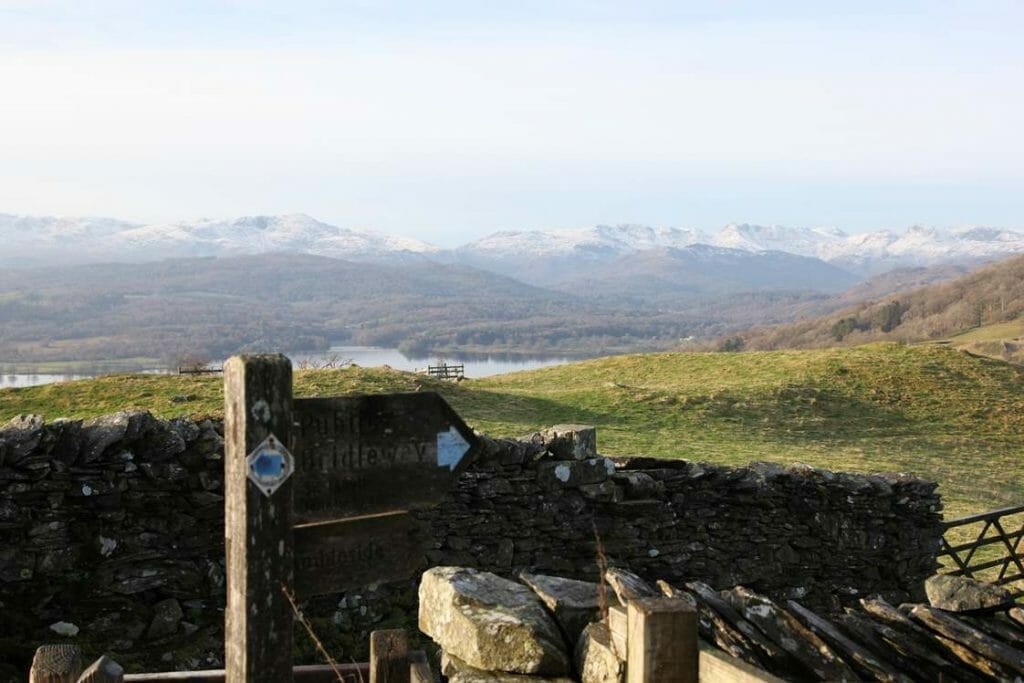 Being a loop, this route is also a little longer, approximately six miles. On our last walk up Wansfell, we took about three hours to complete the loop, although this included time for a picnic and plenty of photo stops. No need to make hard work of it!
Outward walk up Wansfell Pike
Troutbeck is a small village up the hill from the A591 and our starting point is just outside the village near the National Trust property, Townend House, on Holbeck Lane. There is some parking close to the bottom of Fell Lane on Holbeck Lane. Fell Lane is a rocky uphill track which leads to Robin Lane and in turn to Hundreds Road. It is worth noting that these are not "roads" as such, but rough tracks. There are wonderful views across Windermere from Robin Lane and Hundreds Road.
This fairly substantial track eventually comes to a small stone bridge and the trail up Wansfell starts just before this bridge off to the right.
This path is somewhat narrower and becomes progressively steeper and more challenging. In some places the trail has been constructed with stones which makes the climb easier – except when it is icy! The path is well marked and it would be difficult to take a wrong turn.
There are various view points along the way and at the top, the outlook is stunning.
On our last trip up Wansfell Pike, we had our picnic at the top.  Actually, it was a flask of mulled wine and a box of Christmas cake – it was Christmas after all! There were a number of people already at the summit. We were above the snowline at the top which added to the magnificent views – and the pup just loved it!


Wansfell Pike is one of Jasper's favourite walks and we head up there with him at all times of the year.
The Return
It would be possible, of course, to simply make a return trip the way we came, but we prefer a loop. There is a gate at the top of Wansfell Pike which leads to a trail down the other side. It is quite a scramble at the top, but gets easier. There are more fabulous views from this side of the fell too.
There are several options down this side of the fell. Most obvious is a conservation trail leading all the way down and a path off to the left near the bottom leading back towards Skelgill Lane. The conservation trail is very steep. I find going down this steep, stepped path really hard work.
We prefer to hang a left close to the top and take the rough trail. It can be boggy in places and is a longer route with more up and down, but it is quite well marked. The trail meanders around a little but eventually joins Skelgill Lane further along. Skelgill Lane is a track which traverses the hill above the lake. This in turn leads to Holbeck Lane and back to the starting point. Holbeck Lane is a quiet country road and there is the occasional car. In order to avoid this and if time permits, there is a trail leading up the hill from Skelgill Lane and back to Hundreds Road as an alternative.
Some final thoughts on Wansfell Pike
The hike up Wansfell is rather more challenging than those described in some of my other articles, for example Easy walks in the Lake District (Orrest Head, Rydal Water and Gummer's How) or A Lake District Walk (from Skelwith Bridge to Elterwater and Little Langdale). It is a longer, steeper climb than these others, although there are shorter routes to the summit than the one I have described here. However, the climb is definitely worth it for the views from the top and I would highly recommend it.
Related Articles
If you found this post useful, please share!