It is in a desert, miles from anywhere and in the middle of a missile range. Given these facts, is it worth visiting White Sands National Park?
The short answer to this is: "Yes! White Sands National Park in New Mexico has the "Wow Factor." This makes it well worth visiting. There are, however, a couple of caveats to consider before making this trip.
What is White Sands National Park?
White Sands National Park is a large and very beautiful desert area in New Mexico and it is completely covered in (you guessed it!) ….white sand! The white sand is made of gypsum (calcium sulfate dihydrate). The sand has formed into dunes, constantly shifting as the weather changes. It is a truly remarkable landscape. White Sands National Park and the surrounding area form the largest gypsum dune field on Earth.
White Sands National Monument was established in 1933 to preserve a significant portion of this desert area. This was upgraded to National Park status in 2019.
Where is White Sands National Park?
White Sands National Park is in southern New Mexico off Highway US-70. The nearest town is Alamogordo, which is about 15 miles away. Las Cruces is 52 miles away. In other words, it is pretty much in the middle of nowhere. The National Park is within a large desert area (275 miles) known as the Tularosa Basin. It is also worth noting that the National Park is entirely surrounded by the White Sands Missile Range. This was established during the Second World War when the military started using the area for research and development. It was here that the world's first atomic bomb was tested.
What is there to see in White Sands National Park?
Sand! White sand and lots of it. It is a truly spectacular sight to see these white dunes stretching for miles around. There is nothing quite like it, certainly that we have ever seen. . The view is mesmerising.
The roads are like snow-packed roads in winter, white and powdery with areas of washboard in places. They really do look as if they are covered in snow. The whole area looks like a beautiful, wintry landscape.
The clue is in the name really: the main attraction at White Sands National Park is white sand!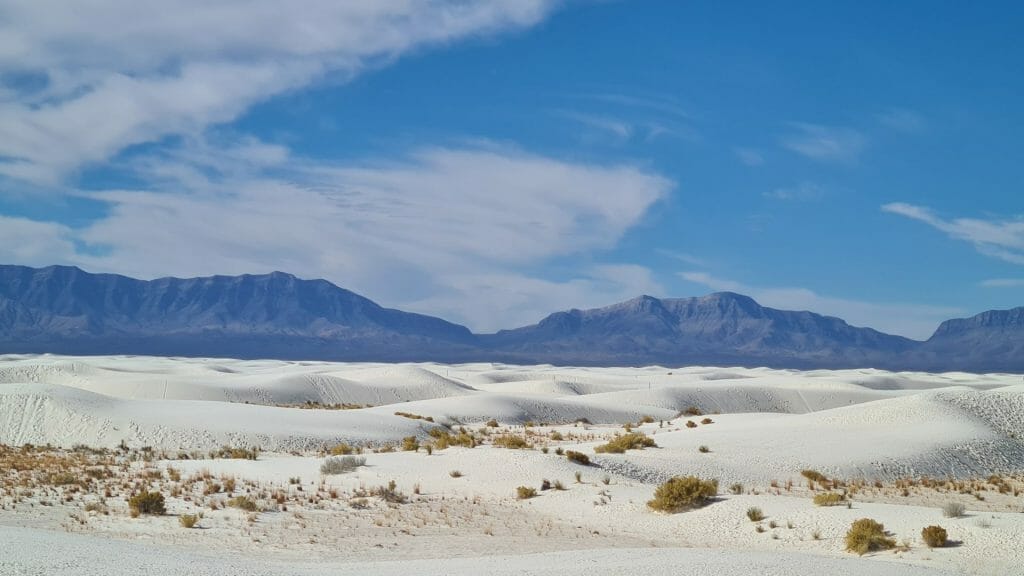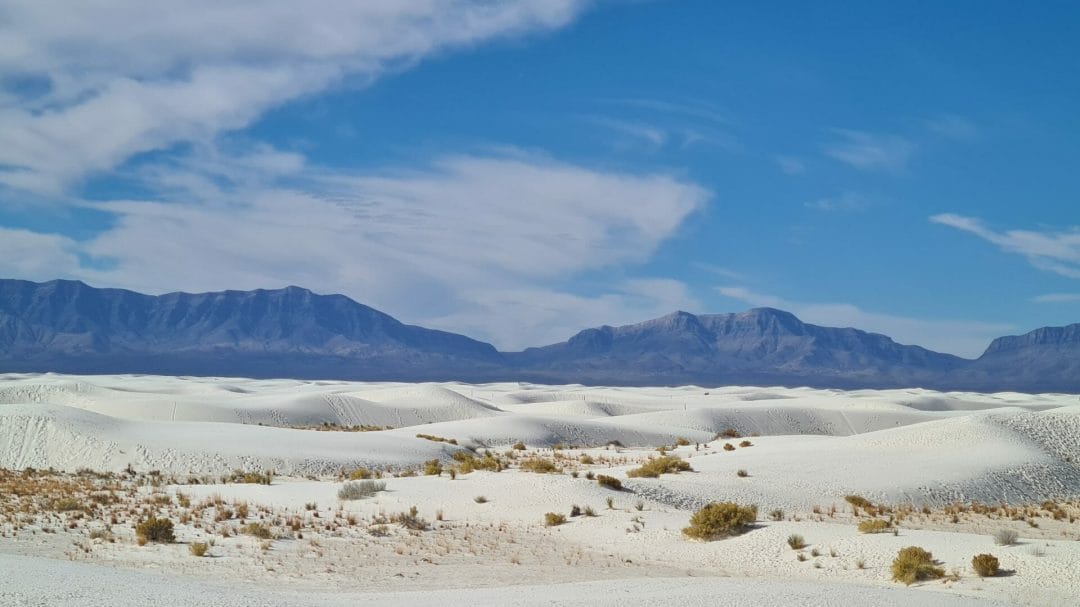 There is also some vegetation to see in certain areas, but White Sands NP is a desert, so there is very little. Some wildlife does inhabit the area and creatures such as the "bleached earless lizard" and the "Apache pocket mouse" have adapted to these surroundings by being much paler in colour than their cousins elsewhere. Unfortunately, we did not see any wildlife on our visit.
The Visitor Centre at the entrance to the park is also worth seeing. Built in the 1930s it is a historic building with interesting exhibits within.
What is there to do in White Sands National Park?
The first activity in White Sands NP is to admire the scenery. It is unique and beautiful. This is the main reason why it is worth visiting White Sands.
Next up is hiking. There are some longer trails, up to 5 miles in the case of the Alkali Flat Trail, but there are shorter, more accessible trails: walking on sand for several hours does not appeal to everyone. We hiked a couple of the shorter trails – the Playa Trail, the Dune Life Nature Trail and also the Interdune Board Walk. This last was easy walking and was a great way to get right out into the dunes.
We also climbed a little way into the open countryside at the start of the Alkali Flat Trail, but did not have the appetite for walking 5 miles on sand!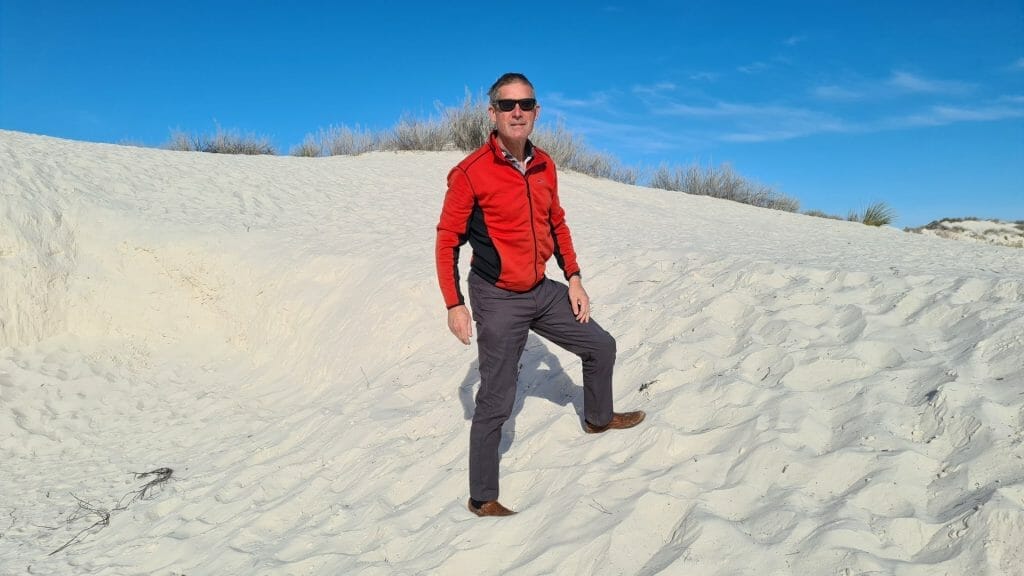 Sledding down the dunes is another activity enjoyed by many people visiting the park. This is allowed by the National Park Service. Indeed, plastic sleds can be purchased in the Visitor Centre. The novelty of this appealed, but frankly, we would rather sledge on snow. Apart from anything else and from what we could see, it is faster!
How long does one need in White Sands National Park?
I had thought that we would spend the whole day in White Sands National Park, but in truth, we were there for around three hours and this was sufficient. It cannot be denied that the view of the white sand dunes stretching into the distance is amazing, but at some point, one has to look away and that is it. We drove the full extent of the very scenic Dunes  Drive in our motorhome and stopped at various points to climb the dunes or take a short walk, but we were not really up for walking several miles on sand. We fully appreciated the view and this remarkable landscape, but in my view, three hours is sufficient for this.
Is it worth visiting White Sands National Park? Concluding thoughts:
In short, it is definitely worth visiting the unique landscape which is White Sands National Park.
However, once you have seen the white sand dunes and marvelled at them, there is very little else to do or see. After all, it is a desert! Yes, one can go on a little foray out on to the dunes, take a few snaps and perhaps even take a sled down a dune or two, but that is it. How long do you really want to stare at white sand? We are avid hikers, but hiking on sand with little more to see than sand, does not really do it for me.
It is worth visiting White Sands National Park and I would highly recommend it, but it is not up there with Yellowstone National Park, Arches National Park – or indeed many other National Parks which we have visited. Do you agree? Tell me what you think!
Other posts about New Mexico:
If you enjoyed this post, please share on social media.