Visiting Graceland, home of Elvis Presley, fulfilled a lifelong ambition for me. I love Elvis. I love his music. I loved the man. He had so much charisma and frankly, he was beautiful. I was a teenager when he died and I cried. Visiting Graceland was an emotional experience for me therefore, but regardless of your feelings about Elvis, it is impossible to deny his iconic status and his place in our history. For this reason, a visit to Graceland is compelling for anyone who values cultural history.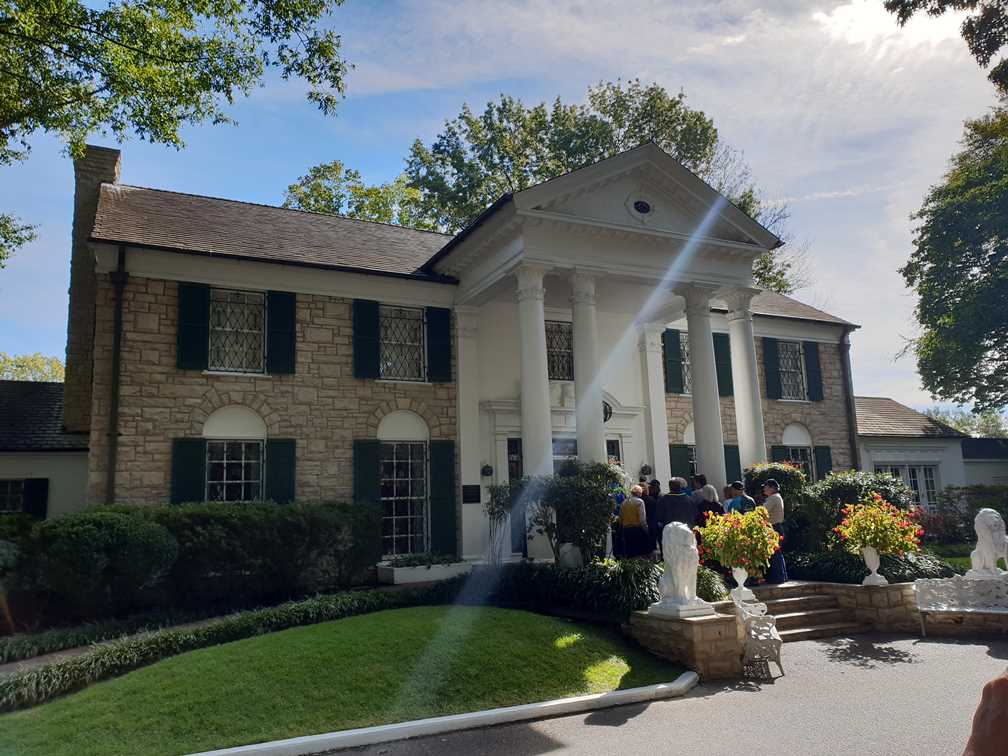 A visit to Graceland: the Mansion
However, Graceland was not what I expected. Elvis' home is described as "a mansion", but actually, as mansions go, it is quite modest. Yes, it has the impressive portico out front, which makes it seem quite grand, but this is not an unusual feature on houses in this area. It is set in beautiful and extensive grounds, but even these, on the outskirts of Memphis, are not like the vast country estates surrounding mansions in the UK. There are a number of outbuildings, but the house itself is not huge.
Inside, initial impressions were that the house is actually quite homely. It had clearly been designed by someone who was quite house-proud, but it also felt like a family home. Elvis bought this house to live in with his family, including his parents and his grandma (who incidentally carried on living there until her death in 1980).
The kitchen, for instance, was not grand or flash in any way.
Yes, there are a few quirky touches as is to be expected in the home of a rock star. The mirrored staircase creates the effect of walking through a giant kaleidoscope; the yellow and black psychedelic media room is eye-catching; but the famous "jungle room" with its shag pile carpet on both floor and ceiling, does actually not seem so bizarre in the flesh – more of a comfortable family room.
The grounds of Graceland extend to 13 acres and Elvis built various outhouses here, including a racquetball court. This building also houses the den where he and friends would chill. A keen horseman, Elvis also built stables for his horses.
Visiting his home gave a sense of Elvis the man, who loved his family, liked to play racquetball, ride his horse, chill with his friends and bomb around in karts and golf buggies. He certainly liked his toys, but in the context of Graceland, Elvis comes across as being quite a rounded person.
Before leaving the mansion, we visited Elvis' grave . He is buried alongside his beloved parents and grandmother, Minnie Mae Presley ( – who outlived them all  and died at the age of 90 in 1980). There is also a memorial to his twin brother, Jesse, who was stillborn a short while before Elvis was delivered.  The Meditation Garden is beautiful and calm and dignified.
Graceland Tours
Upon arrival at Graceland, visitors are first directed to a reception area and visitor centre in the aptly named Elvis Presley's Memphis complex. There is extensive parking here and even an RV park.
Once tickets have been purchased, there is a short video presentation to watch and then guests are ferried to the mansion in shuttles. There are two reasons for this: firstly, the mansion is actually on the other side of the highway from this complex; secondly, it is, I am sure, a way of filtering guests through in manageable numbers. There is a variety of tours one can take, including VIP tours with a private guide and access to otherwise restricted areas, but most people seemed to opt as we did for the Elvis Experience Tour.  This included access to the mansion, grounds and all the main exhibits. We were provided with a headset and a tablet to guide us through the mansion and this worked very well. We were able to go largely at our own pace and flick through to the relevant narrative as we wanted.  The presentation was interactive and there were options to access additional information as required. The narrative was accompanied by an Elvis soundtrack of course!
The Elvis Experience Tour costs $59. This seems expensive, but there is a lot to see. I would suggest a minimum of four hours is required to complete all sections of the tour properly.
Elvis Presley's Memphis
After the Graceland Mansion tour, the shuttle took us back to the Elvis Presley's Memphis complex where we had started. This large area houses a series of museums featuring different aspects of Elvis' life and legacy.
Automobile Musuem
No visit to Graceland is complete without checking out the Automobile Museum. Elvis loved his cars and his motorbikes. He had lots! There are some really iconic cars here. My favourite is the pink caddy!
Elvis in the Army
Another museum, Elvis in the Army is devoted to Elvis' army years. This is a really interesting exhibition about the young Elvis who was drafted and served in Germany. His uniforms are on display as well as letters, photographs and other memorabilia from that time.
Elvis: the Entertainer
Elvis: The Entertainer Career Museum is another must see on a visit to Graceland. On display are many of Elvis' costumes. I know that he is mainly associated with the rhinestones and jumpsuits, but my personal favourite is the leather!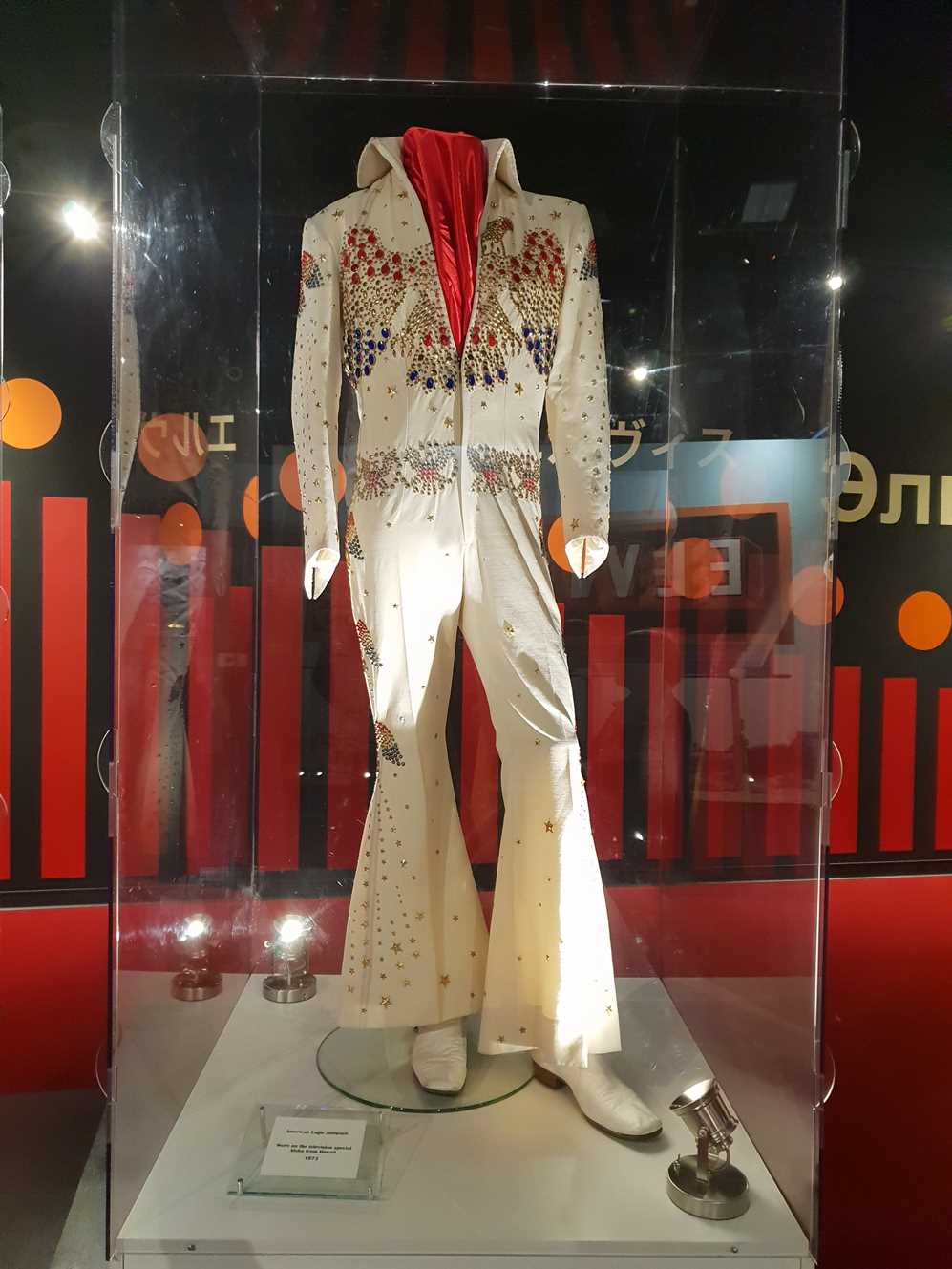 Also on display are the hundreds of awards and gold and platinum records which he accumulated.
Icons: The Influence of Elvis
Icons: The Influence of Elvis Presley Exhibit is also interesting. This exhibit is devoted to what other music icons have said about Elvis and how he influenced them. The acknowledgement and appreciation is generous, warm and moving. Everyone from  Johnny Cash and Dolly Parton to John Lennon and James Brown have contributed to this exhibition.
Finally…
I was always going to love Graceland, but Peter is not a fan in the same way; I think he only agreed to come because he had got his way about visiting the National Corvette Museum, not to mention the U.S Space and Rocket Center in Huntsville. In other words, he owed me! Taking all that into account though, he freely admits that he found Graceland really interesting and thoroughly enjoyed the visit. In short, we would both recommend visiting Graceland. It is interesting, relevant and memorable.
If you enjoyed this post, please Pin it for later!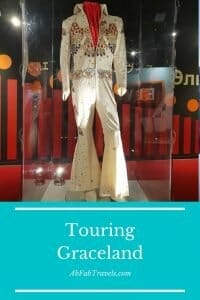 Related Articles