Really??  Does this mean the end of your travels? How are you going to travel with a dog? Can travelling with a dog work?
Yes, we have acquired a dog! Meet Jasper, the border collie. He was born the day before lockdown started in the UK and arrived to us aged 8 weeks in the middle of May. Isn't he gorgeous?
But these are the questions we have faced time and again since he arrived. People have assumed that we are hanging up our passports, buying a kennel and staying home for the next 20 years. This is categorically not the case. Jasper is going to be a travelling dog! Where there is a will there is a way.
But let's back up a little…
Why? Why acquire a dog?
Well, it is something we had considered off and on over the years and always dismissed. We were always too busy, did not have enough time, did not live in the right sort of place and yes, we travelled too much….All perfectly good reasons. But then lockdown was looming. We knew were going to be faced with staying in one place for quite some time so if ever we were going to do it, now was the time. We would have the opportunity to nurture a pup and our adult son, who lives with us, was very keen. Had Ben not been on board, we would not have gone ahead. Our daughters were also very keen and even though they do not live close by, they have been very involved and love Jasper to bits.
How are we going to continue travelling with a dog?
Well, the plan is very much that Jasper will come with us. Much of our travel is in a camper van and as we have spent the last 6 years travelling mainly in North America, it was always our plan going forward to explore more in Europe. With all his vaccinations and his chip, Jasper will be able to come along. That is very much the plan.
On those occasions when we are not in Europe or are visiting a city, the plan is for Jasper to stay at home with Ben, but this is not likely to happen very often. Ben works, of course, but there are lots of doggy day care facilities in the area which we plan to use when necessary. And of course, there are his sisters, who are also keen to have him stay.
So far, so good: two trips travelling with our dog (and more in the planning)
We have been on two short trips away in the camper van so far and Jasper loved it! Both times we went to Edinburgh and stayed at a campsite we know well. The journey takes approximately 3 hours and Jasper slept most of the way, though we did stop to let him out for a wee and to give him a break. At first we thought he would travel in his crate, but in fact we found that he was better in his harness and secured on a line into a seat belt. He can move around a little but not enough to interfere with driving. He loves the fact that he is with us all the time in the camper. At home he sleeps in a different room in a large pen, but in the camper, he is with us and being a collie, he wants very much to be part of the pack.
The campsite we stayed at, Morton Hall Caravan and Camping Park on the outskirts of Edinburgh, insists dogs are kept on a leash on the site at all times. That is fine. We tethered Jasper on a long line when we were at the site and he just loved watching the world go by – and lots of people stopped to pet him! The campsite is great for dog walking also with many fabulous trails right there.
How do you get around when travelling with a dog?
This was one of my main concerns about travelling with a dog. Travelling in the camper is no problem, but what happens when you have made camp and want to explore the area? Walking from the campsite is fine up to a point, but what then? We certainly don't want to have to unhook the camper every time we want to venture away for a few miles.
Pre-dog, our custom has been either to use bikes, the motorbike or the scooter. In North America we travel with a motor bike on a rack on the back of the motorhome and also have mountain bikes (you can see some pictures in, for example, Carry on Camper Van; in the UK we travel with e-bikes and a scooter. Clearly, adjustments had to be made when travelling with a dog!
When Jasper was tiny, he fit easily into a dog carrier on the front of a mountain bike. However, that did not last long! He is now far too big to fit into the first carrier we acquired.
So now he has a new chariot! Well, second hand actually: a DoggyHut!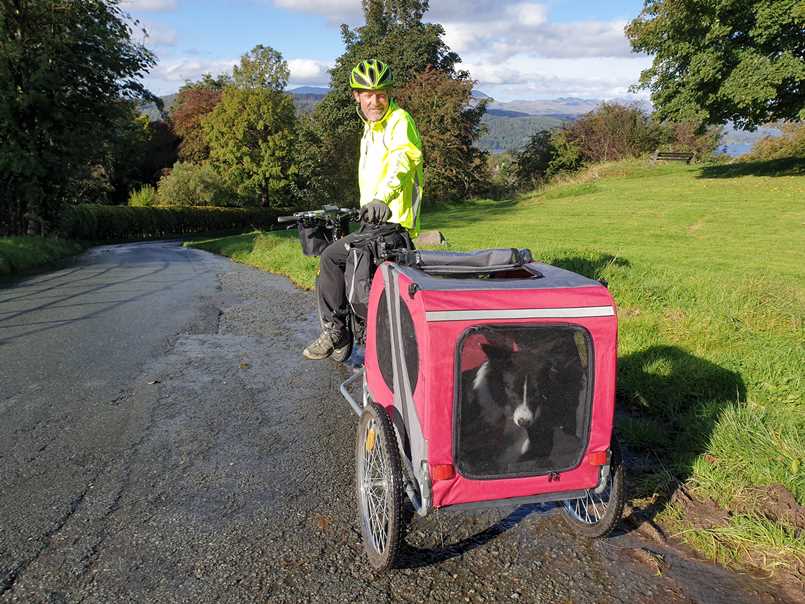 This is perfect for use with an electric bike and means that we can transport Jasper for several miles safely, either on the road or trails. (Incidentally, I am a complete convert to electric bikes and think they are a wonderful way of getting around. You can read about the pros and cons of electric bikes in I love my e-Bike!)
As for going on the back of the scooter, he loves it! I should add that the single most expensive piece of kit that we bought for Jasper was the dog carrier for the motorbike. He went in it from about 10 weeks and now at almost 5 months old he still fits comfortably. He can lie down in it if he chooses, but most of the time he likes his head out, often resting on my shoulder as I ride pillion. We did buy "doggles" for him, but he did not like them and if it is too windy he just hunkers down. He is firmly strapped into the anchor points inside the carrier so is quite safe.
We are fortunate that Jasper is quite a confident, laid-back dog as this might not be for all dogs. We do not go on long journeys on the scooter with Jasper, just a few miles, but this is enough for us to get around in the area we are visiting, as it was on our trips to Edinburgh.
We are hopeful that this carrier will last him as he becomes fully grown, but if not, we shall manage fine with the DoggyHut and the electric bikes – that, or we could always fit a sidecar! In the meantime, my biker dog gets lots of admiring glances when we are round and about.
A Learning Experience
Having a dog has been a learning experience for us. Jasper is the first dog we have ever had and people think that we have jumped in at the deep end with a collie. Yes, he is challenging. He requires a lot of attention and exercise, but we love keeping fit outdoors and that was part of the attraction of getting a dog. He is super smart and affectionate, an absolute joy. Going for a walk now has a whole new dimension and we love it – even when we have to brave the elements!
Travelling with a dog is also a learning experience and we are still in the early stages of this, but so far so good. We know we will have to adapt but we are confident that our travels will continue and be enhanced by our new travelling buddy.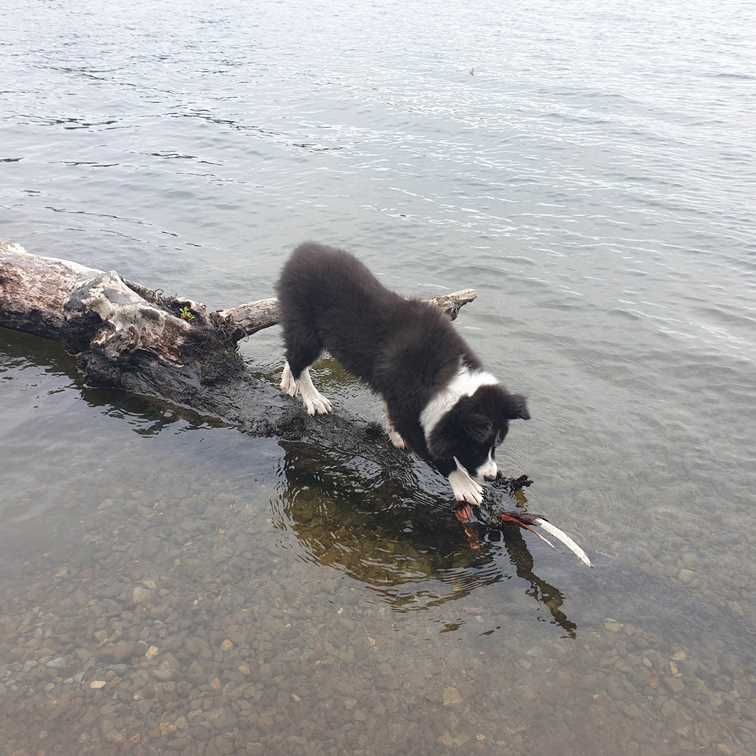 If you found this post at all interesting, please Pin It for later!
Related Article