Established in 1872, Yellowstone National Park was the first national park in the US.   But is it the best? Is it worth visiting? And what are the highlights of Yellowstone?
The responses to these questions are a matter of opinion and having visited Yellowstone recently, along with most other National Parks in the US, I have formed my own.
But let's leave the question of "best" until last….

So Is Yellowstone worth visiting?
The short answer to this is "Yes, absolutely." I was being provocative in suggesting that there might be a different answer!
There is only one downside to Yellowstone: it is very busy at all times of the year. Tourists flock to Yellowstone by the busload – literally; the roads jam up because of the volume of cars (especially when any wildlife ventures close to the main thoroughfares); and even in mid-June when we were there, the campsites are full to bursting. So why visit?
Frankly, Yellowstone is AMAZING. It took my breath away on more than one occasion. It has everything. All National Parks have stunning scenery and Yellowstone is no exception: dramatic mountains, beautiful lakes, roaring rivers, picturesque waterfalls and deep canyons. Add into this mix the wildlife (we saw bears, bison and elk) AND the incredible, other-worldly geothermic spectacles and you have the most wonderful experience. Yellowstone has everything!
Yes, there are crowds and congestion – we were part of them! –  but it is worth tolerating these: everyone should see Yellowstone at least once in a lifetime.
So what are the highlights of Yellowstone?
The Highlights of Yellowstone National Park
Grand Prismatic Spring
First up in the list of highlights of Yellowstone for me is Grand Prismatic Spring. This is a giant pool of vibrant minerals and geothermic activity. It bubbles away gently, a vivid spectrum of constantly changing colour. A multi-coloured mist wafts upwards, adding to the performance.  It is stunningly beautiful and does not look like it belongs on planet Earth.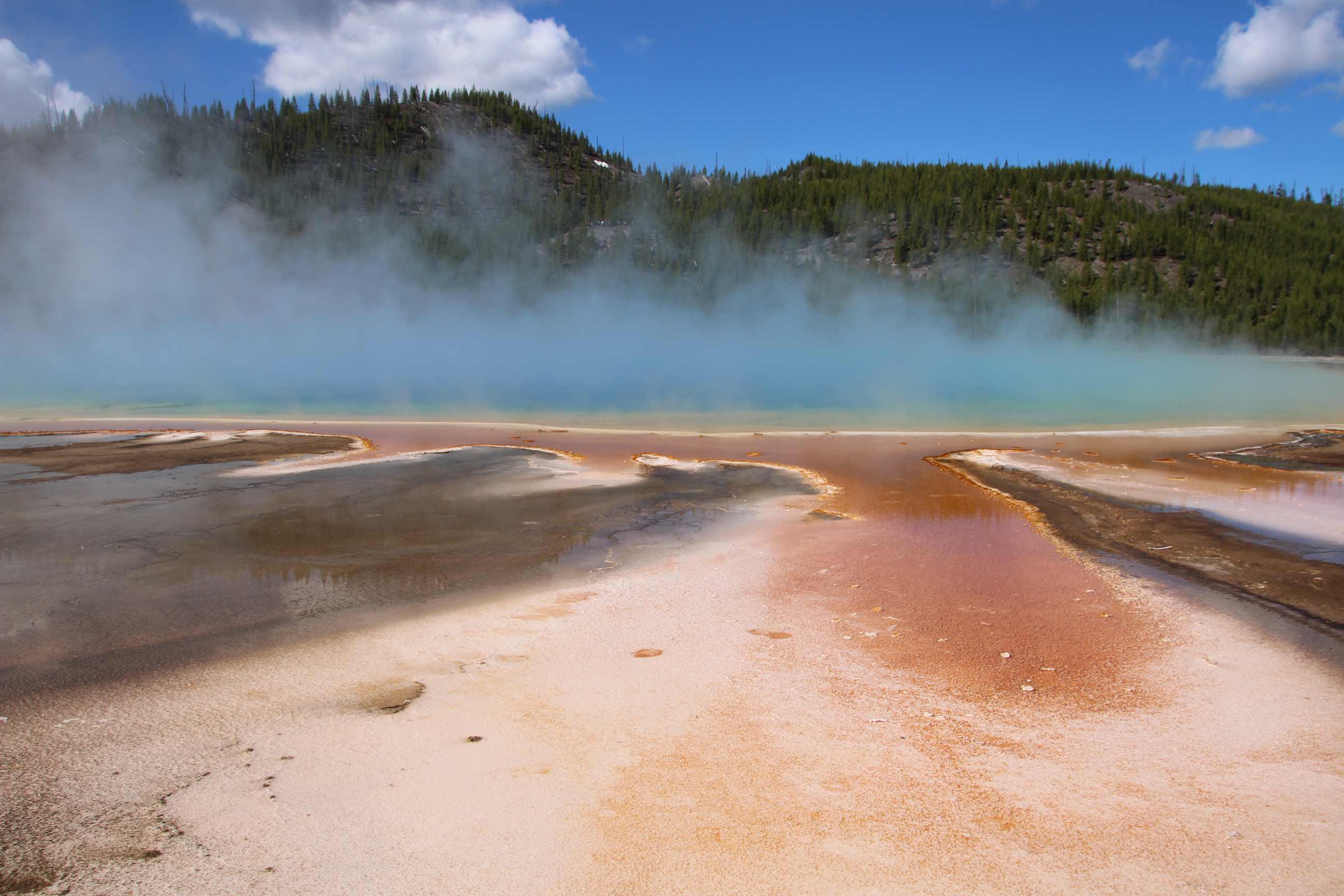 A walkway has been erected around the spring for visitors to see it safely. Like many areas in the park, the surface is not only fragile but dangerous because of the boiling water and the naturally occurring chemicals. It is also possible to hike up to a viewing point and look down upon this spectacle. One of my regrets is that we were not able to do this because of the difficulty in parking in a 28′ RV in the carpark here.
Mammoth Hot Spring
Another highlight of Yellowstone is Mammoth Hot Spring. This is at the north end of the park and is quite different from Grand Prismatic Spring. The hot water bubbling up from underground trickles over rocky terraces, leaving colourful mineral deposits behind. Again, it is a constantly changing scene.
It was at Mammoth Hot Springs that we saw a newly born elk with its mother. It was not yet on its feet. We have no pictures  though as, quite rightly, a ranger was moving people away via a different route in order to give them some space.
The Norris Geyser Basin
The Norris Geyser Basin is another highlight of Yellowstone. There are two routes through the basin, a long one and a shorter one. We took the long one and it was very quiet in terms of people visiting. Perhaps it was less popular because it was longer as it was certainly no less interesting or picturesque! Geysers, steam vents and springs are everywhere in this basin and they put on quite a performance, accompanied by the sound of boiling water bubbling beneath the earth. Norris Geyser Basin is a strange but energetic wasteland, dotted with patches of vivid colour.
We were passing Vixen Geyser just as it decided to blow!
We also walked the shorter route in this Basin. It offers a vista over the valley floor, with more springs, geysers and colourful mineral pools. Again it is quite spectacular, a real alien landscape.
Old Faithful
Old Faithful has to be on the list of highlights of Yellowstone for any visitor, although a word of warning; this area is mobbed! As the name suggests, this is a guaranteed opportunity to see a large geyser blow up to 180 feet into the air.  Old Faithful erupts approximately every 90 minutes. When we were there it probably reached about 100 feet and blew for almost 5 minutes.
We waited about 40 minutes for the main event, but whilst waiting, we were treated to two other, smaller geysers blowing. And then Old Faithful let rip! That is kind of special.
West Thumb Geyser Basin
There are several Geyser Basins in Yellowstone and they are all different in character. West Thumb, on the edge of the lake has its own distinctive flavour with bubbling mudpots, boiling springs and spurting geysers. It is colourful and quirky and definitely worth seeing.
Grand Canyon of the Yellowstone River
The canyon is yet another highlight of this park. The canyon is deep and rocky, as canyons are, but this one is special because of the colour, particularly at the area called Artist Point. The rainbow of mineral deposits here is remarkable and makes the canyon very picturesque. The waterfalls tumbling into the canyon provide another spectacle in this memorable landscape.
The Wildlife
Seeing wildlife by chance in the wild is very special and this is definitely one of the highlights of Yellowstone. In addition to the newborn elk we saw at Mammoth Hot Spring, we saw bears twice whilst we were in the park.
Yellowstone has hundreds if not thousands of bison. Sightings are frequent and people stop to admire them.
The bison highlight for us though was seeing these two young ones having a head to head. Unusually, we were the only ones there to see it!
So is Yellowstone the best National Park?
This is always going to be a matter of personal opinion and defining something as the best – or not – may be controversial. In my opinion though, Yellowstone is not the best National Park in the US. It is in the top five, but where on that list I am not saying – yet! That is for another post.
Postscript: Beartooth Highway
This is not exactly one of the highlights of Yellowstone, because it is not exactly part of the park! However, Beartooth Highway, leading from the Northeast Exit from Yellowstone, is spectacular and definitely worth checking out. It is only open in the summer months, the specific dates being dependent on the weather and the snow.
We drove it in mid-June in our RV. The road was clear, but the walls of snow on the highway where the ploughs had cut through were higher than the RV in places! It is one of the windiest, twistiest roads we have driven and is quite a climb – the pass is almost 11,000 feet. It would be superb on a motorbike ( – we did meet a group of bikers) and in the RV it was "entertaining"! There was still lots of snow and the lakes were frozen and beautiful. The views are magnificent.
A fabulous road to drive – if you are a confident driver!
If you have enjoyed this article, please Pin It for later!
Related articles in which you may be interested: