The highlight of our recent trip to Peru was the hike to Rainbow Mountain. Machu Picchu takes some beating, but we both agreed that hiking to Rainbow Mountain eclipsed even this fabulous archaeological site. We had the perfect day – clear blue skies, a nip in the air and the mountain pretty much to ourselves (at least when we arrived!) We had seen pictures, of course, but the reality of seeing this natural phenomenon surpassed all expectations. If visiting this area of Peru, I would say that the Rainbow Mountain hike is an absolute must.
Deciding to hike to Rainbow Mountain: should we, shouldn't we?
When we planned our visit to Peru, our guide asked if we wanted to hike to Rainbow Mountain. I immediately said yes. When I looked at the itinerary though and saw that this trip would involve a 3.00 am start, I hesitated. Then I did some research and realised that the hike to Rainbow Mountain was no walk in the park. At an altitude of 17,060  ft that was going to hurt. I told Marco that we had changed our minds. He called me and persuaded me to give it a go. I should mention that I had met Marco as a guide on a previous trip and trusted him. He pointed out that we would be acclimatised by the time we tackled the hike and that he carried oxygen if it was needed, although he assured me that this was extremely unlikely. He also said that it would be better to cover the first section of the hike by horse. In short, I caved and although it was with some trepidation, Rainbow Mountain remained on our itinerary. I am so pleased he persuaded me!

What is Rainbow Mountain and where is it?
Rainbow Mountain, also known as Vinicunca, is a fabulous mountain in the Andes. It is known for its amazing coloured stripes. It is in the Cusco region, but somewhat off the beaten path. The drive takes at least 3 hours from Cusco to the start of the hike. Rainbow Mountain's stripy colours are the result of the natural minerals in its formation. The mighty Ausangate Mountain can be seen from Rainbow Mountain.
Getting to Rainbow Mountain
Marco picked us up from our hotel at 3.30 am. Yes, that is correct: 3.30 am. He insisted this was necessary as we would avoid the crowds and get the best of the weather. The drive from Cusco on empty roads took about 3 hours. Although the first couple of hours were on the highway, the last hour was on a twisty dirt road. It was very scenic as we drove through the fabulous landscape with mountains and glaciers forming the backdrop. There were a couple of checkpoints along the way where a small fee was required to use the road which belonged to local communities. In return, we saw the local people damping down the track at various points in order to keep the dust down.
When we arrived to the parking area, we were only the second vehicle there. Marco had brought breakfast and hot coffee. That was really welcome! There were also some rudimentary toilets near the parking area. The guardian charged one sol to use them and she provided toilet paper.
Taking the horse to Rainbow Mountain
Marco had recommended that we cover the first part of the trail by horse, mainly to keep ahead of the crowds who would be arriving soon (up to about 2000 people per day tackle the hike to Rainbow Mountain) but also to conserve energy for the main climb. I was definitely up for the horse. It added to the experience, was fun and also put something back into the local community. It cost $16 each to hire a horse and they went at a fair trot, taking about 20 -25 minutes to cover this part of the trail. The terrain was fairly flat for the most part.  It would probably have taken an hour and a half to cover this ground on foot. I should point out that this was not a complete cop out: the horses only took us to the base of the main climb and we still had the steep part to cover on foot!
The climb to see Rainbow Mountain
Of course, visitors do not climb the main Rainbow Mountain summit, but the peak facing it in order to get the view. And what a view! Rainbow Mountain certainly has the WOW factor!
The climb is not long, but the altitude makes it difficult. I huffed and puffed my way up, stopping frequently. The trail is well marked, rocky in places, stepped in others, but it is not difficult terrain. I used poles for extra traction.
It took about 40 mins to climb up to the summit of this peak and then we just gazed at the magical sight which is Rainbow Mountain.
There were only a couple of other hikers when we first arrived, along with a few local people who had brought alpacas to post for pictures. And why not!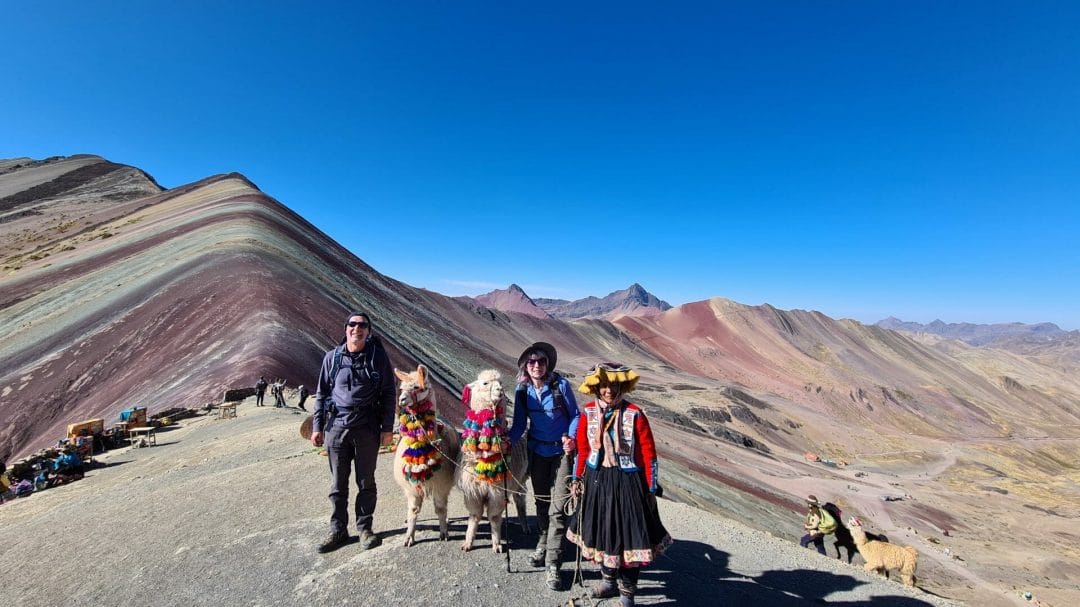 The view of Rainbow Mountain is absolutely fabulous, but actually the 360 degree view is superb with glaciers and brightly coloured peaks all around.
We took lots of photos and just drank it all in.

Hiking to the Red Valley from Rainbow Mountain
On a high at having achieved Rainbow Mountain and feeling full of energy, we then decided to continue our hike over to the Red Valley. We could see the trail ascending away from us towards the brightly coloured valley beyond.
There was a small fee for using the trail, but we were the only ones on it for the entire way. The hike was hard, really hard. I challenged myself to walk 80 tiny steps very slowly before having to take a break. It took us about an hour to cover the ground, which, had it not been for the altitude, I would have covered in about 15 minutes.
Nevertheless, this extension to our Rainbow Mountain hike was so worth it. Coming over the lip of the valley and seeing the vista stretching before us was breathtaking. It is incredibly beautiful.




The way down from Rainbow Mountain and the Red Valley
Making our way down and hiking back to the carpark took the best part of two hours. The descent was steep and I was pleased I had my poles.
Looking down on to the track which we had covered by horse early in the morning we were astonished to see all the hundreds of tiny people making their way along. At this point, I was grateful that Marco had insisted on the early start.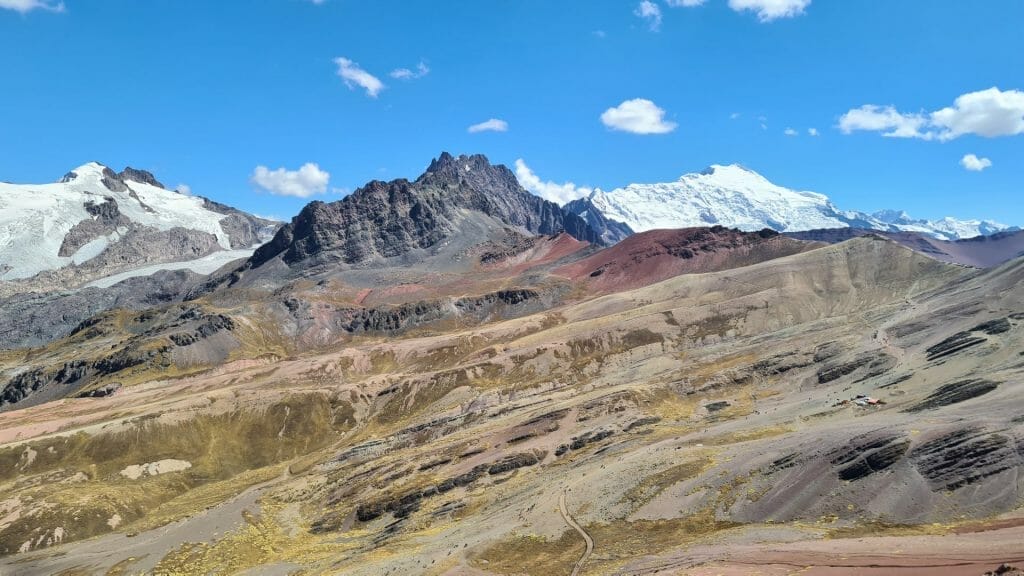 By the time we got back to the car park, it was rammed. We had a fabulous and well deserved picnic lunch provided by Marco. We were on a high: what a fabulous experience to hike Rainbow Mountain! I fell asleep in the car on the way back…
How hard is it to hike Rainbow Mountain?
To answer the question, hiking at altitude is hard. Breathing is difficult and limbs ache through lack of oxygen. However, it is perfectly doable with preparation. We had been in Cusco for several days before we attempted Rainbow Mountain, so were acclimatised. We also both took Diamox to help with altitude. This is a personal decision, but I had used it before when I had tackled a longer hike (Hiking the Salkantay Pass in Peru) at altitude and found it helped. However, I would recommend discussing this with a doctor before deciding to take it. There is no doubt that we could have hiked the whole way from the car park to the base of the climb as this part was reasonably flat, but taking the horse speeded things up and conserved energy with the result that we were then able to hike over to the Red Valley. The advice is to walk slowly and take frequent rests and drinks, which we did. In short, hiking Rainbow Mountain is hard, but with a little planning and reasonable fitness, it is entirely possible.
Rainbow Mountain Hike: top tips
Marco made sure that we were well prepared to hike Rainbow Mountain and having completed the hike, the following would be our best advice.
Acclimatize for a few days at altitude before setting out. In other words, do not attempt this hike on your first day in Peru! It is really important to prepare for Rainbow Mountain.
Check the weather forecast. The mountains are unpredictable. If fog or rain is likely, you would not be able to appreciate the beauty of this area and the hike would be miserable. Typically, the rainy season lasts from November through to the end of March.
Set off early and avoid the crowds.  Early mornings usually have the best weather too.
Hire a horse for the first part of the hike. This will keep you ahead of the crowds and also support the local community.
Walk slowly, take rests, drink plenty.
Take change to use the toilet and other cash if you intend to hire a horse.
Wear strong shoes and take layers of clothing, including a hat, gloves and a waterproof.
Take water.
Take food and snacks. There is very little to buy in the way of food at Rainbow Mountain.
Don't forget the sunscreen.
Our guide
We used a small, family-run guiding agency for our trip to Peru: https://privatemachupicchu.com  They put together a five-day, personalised itinerary for us. I knew Marco from a previous trip and was pleased he was able to help again. Marco collected us from the airport, organised all our hotels, transport (including the vista dome train) and all entry tickets. We had a private car, driver and guide throughout. This made our trip super special.
Related Posts
If you enjoyed this post, please share!