Our research told us that whilst we were in Quito, the capital city of Ecuador, we really should take a trip out to the village of Mindo in the cloud forest. By all accounts, it was stunningly beautiful with lots to see and do. Also, it was only a two-hour drive from Quito. However, our research also suggested that three days would be required to really appreciate Mindo. We only had one day. Would one day in Mindo be sufficient?
There was only one way to find out: we booked a day trip to Mindo!
Why visit Mindo?
Mindo, a village in the cloud forest in the Ecuadorian Andes, is famous for the wonderful ecosystem in which it is situated. The cloud forest earns its name from the persistent low-hanging cloud and moisture filled air.  As a consequence, the vegetation is thick and lush. It is a birdwatcher's paradise and over 500 species have been spotted there, but it is also known for its butterflies, wildlife and orchids. Additionally, as we discovered on our trip, Mindo is a great place for outdoor activities and adventures – and chocolate!
One day in Mindo: our trip
We booked a small-group tour, which would be tailored to the wishes of the group. The transport was an 8 seater mini-bus so with the driver and guide, there was room for 6 passengers. We were a party of 4 and were joined by two other guests. Although the two additional guests were considerably younger than us, we all got on really well. There was no issue about what we wanted to do on this one-day trip to Mindo. Our guide had a "Mindo one day itinerary" in mind and for the most part we went along with this, with one exception. Read on!
We were collected from our hotel in Quito around 8.00 am and after picking up the other two from their hotel, we set out for Mindo. Once we were out of Quito, the landscape changed dramatically. We were in lush, mountainous terrain. The road wound its way through the Andes mountains and was quite spectacular.
The journey took around two hours, not including the stop en route to see the humming birds.
One Day in Mindo Itinerary: Stop 1 – The Hummingbird Garden
Our guide suggested that first of all, on our way to Mindo, we visit the humming bird garden at the Alambi Reserve.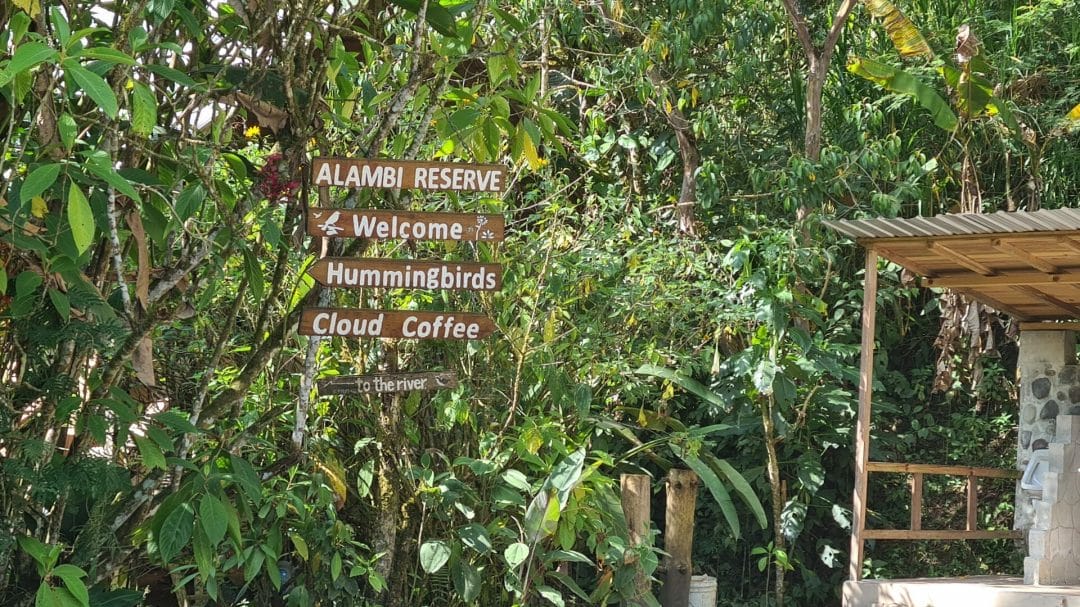 The reserve is a small, family-run business and is in an idyllic setting. The owners have created a charming garden where they attract many different species of hummingbirds. Sugar solutions are hung around the garden to bring these beautiful birds.
We watched them for a half hour or so and the curator encouraged us to hold containers of the sugary mix to bring them in really close.
The hummingbirds are so small and colourful, they are absolutely captivating. It is wonderful to see them in motion.
2. Mariposa de Mindo (the butterfly farm)
After the hummingbird garden, we continued on our way to Mindo, descending into the valley where the town is situated along edge of the Mindo River. Mariposa de Mindo is located a couple of kilometers outside the town and this was our second stop of the day. The facility is in a jungle setting and much of it is open to the elements, but covered by netting to stop the butterflies from escaping. The farm breeds butterflies and there were thousands of these gaudy creatures in the gardens, perched on leaves, flowers and every available surface. They were much larger than the butterflies we are used to here in the UK and were really quite fabulous.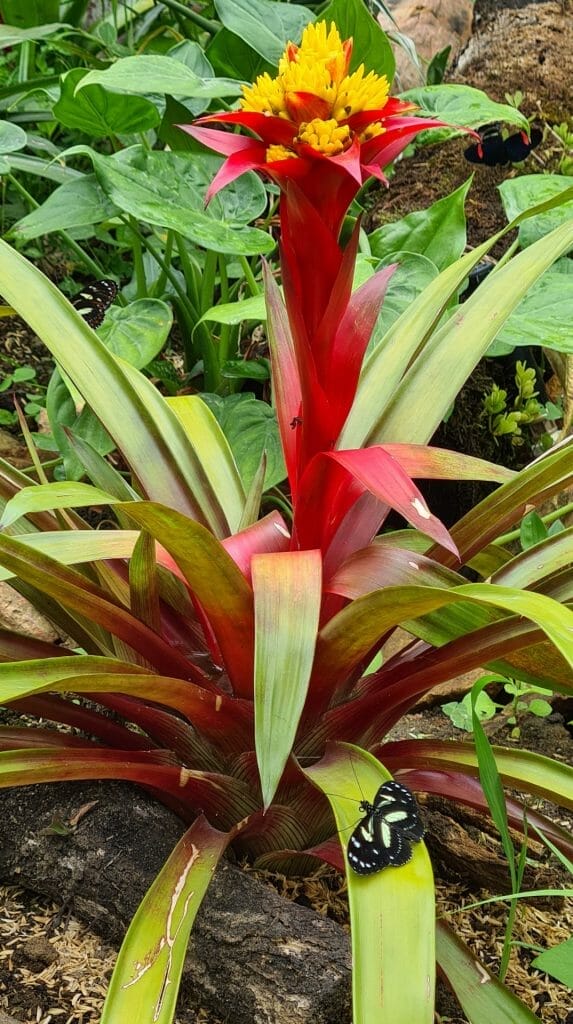 We spent around an hour at the butterfly farm, marvelling at these outrageously colourful creatures. Then it was on to our next stop.
3. The Tarabita Cable Car
The Tarabita Cable Car is a must-see on a visit to Mindo. It was one of the highlights of our trip. This quirky cable car, comprising just one ancient, open carriage and powered by something approximating to an old lawn mower engine, took us high above the cloud forest canopy from one side of the valley to the other. The view was amazing!
Our trip to Mindo took place in November and it was very quiet everywhere we went, including the Tarabita Cable Car. Given that there is only one car going backwards and forwards across the valley, however, I imagine that at peak times, there may be a wait. The single car can accommodate (at a squeeze) about 10 people. We had virtually no wait at all. The trip takes about five minutes.
4. Hiking to the waterfalls
Having crossed the valley on the Tarabita Cable Car, our next activity was to hike to the waterfalls for which this area is famed. There is a series of waterfalls on the mountainside. Our guide said it was up to us how many we wanted to see and we set off on the heavily forested trail to the first waterfall.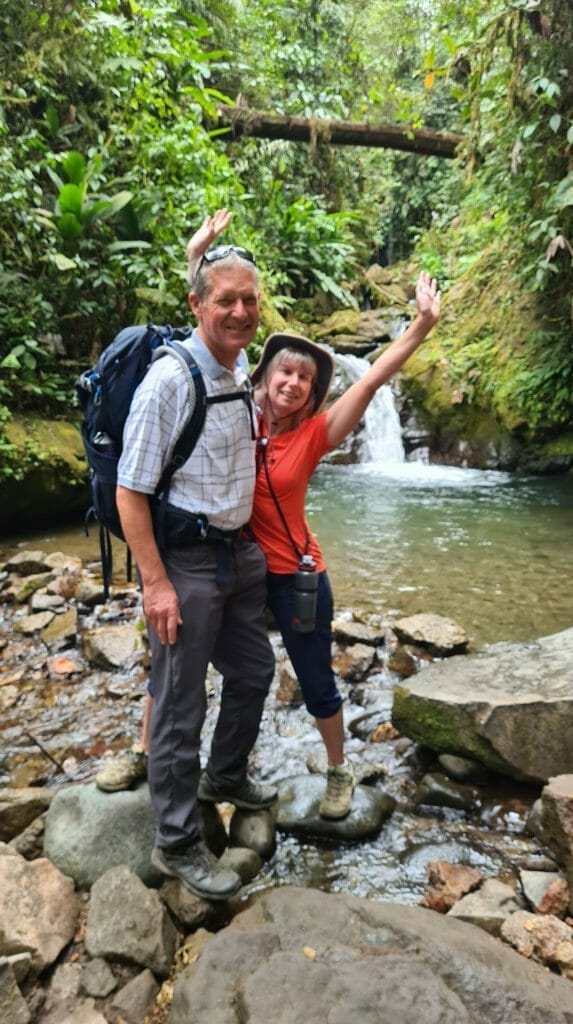 We enjoyed the hike through the cloud forest, but in truth the waterfalls were disappointing. This was partly due to the fact that the rainy season does not start until January and there had not been any heavy rain in the weeks leading up to our visit. As a result, the waterfalls were quite tame. We have seen pictures of what they are like in full flow and they are quite spectacular.
Despite the lack of water, Robin and I were tempted into the pools….Well sort of! I dipped a toe and ran. It was freezing! Robin took the plunge!
We hiked to three of the waterfalls in total and then started heading back to the trail head. At this point we mentioned to our guide that we wanted to do the zip lining. He clearly had not factored this into our itinerary. Consequently, he set off back up the mountain at a pace none of us could match. No worries. He just had to wait at the top!
5. Zip lining over the cloud forest canopy
I had never been on a zip line before and I'll admit it: I was quite nervous. I was excited too though and determined to do this.
After we crossed back to the other side of the valley on the cable car, our mini bus headed over to the zip line station. We were the only ones there. Two zip line trips (ie back and forth over the valley) cost $10 each. We thought this was great value.
The guys who ran the facility spoke no English, but demonstrated what we had to do and the guide ensured we understood. They were fastidious in checking we had the harnesses fitted correctly. All in all, I was reassured that safety was a priority for them. Phew!
We climbed up on to the platform and they checked that we were hooked on properly. Then, each in turn, away we went. It was absolutely fabulous! I relaxed as soon as I was underway and was able to enjoy the whole experience of sailing high over the cloud forest canopy. Wow!
One of the attendants had already crossed and operated the brake at the other end. Easy!
Once we had all crossed, we then had a bit of a climb up to a higher platform. This second zip, the return journey, would be faster, we were told. And it was! Even more fun!
For me, the zip lining experience was the highlight of this one day trip to Mindo.
6.  Lunch in the town
Next stop was lunch. We were a bit late because of the zip lining adventure, but it was well worth it. The guide took us to a restaurant in town which offered local produce. I had the grilled trout, which was very tasty. Afterwards we wandered down the main street of Mindo. It was very quiet and characterful. By now, the weather was starting to change and rain was threatening. This is fairly typical for the afternoons in the cloud forest.
One Day in Mindo Itinerary: The final stop – Yumbos Chocolate Factory
Our final stop of the day was Yumbos Chocolate Factory, one of two such establishments in Mindo. We walked there from the restaurant. This visit proved to be very interesting and –  for those who like chocolate – quite delicious. I know I'm strange, but I am not particularly fond "good quality" chocolate, probably because I have a sweet tooth.
Our tour started with a seat at a table and a cup of hot chocolate. It was very thick and quite bitter. The others loved it.
Whilst we were drinking, the tour guide cut open pods containing cocoa beans to show us how they grew and what they were like. The beans were coated in a slimly substance, which was quite sweet and tangy. I liked this.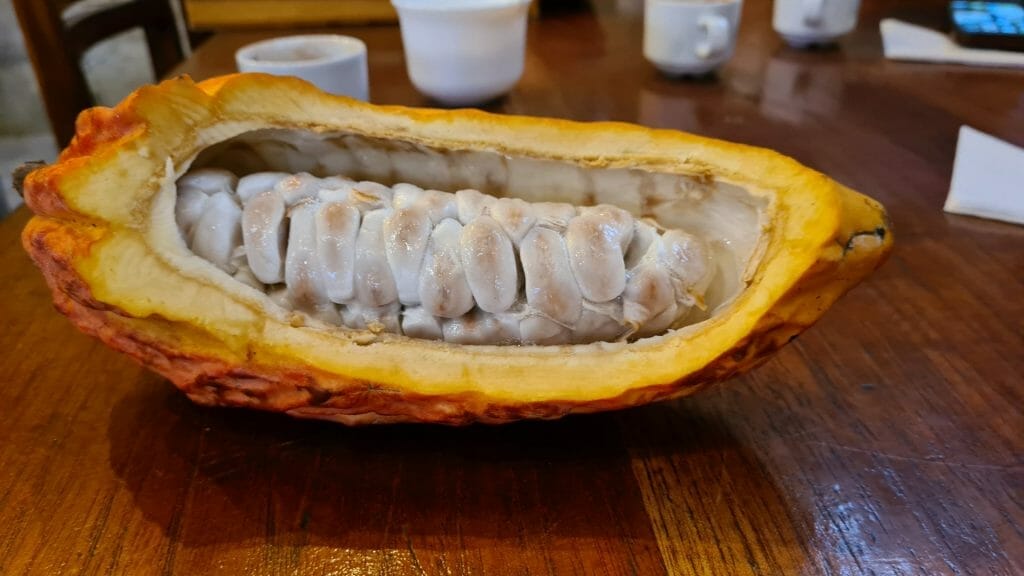 He also explained where the cocoa beans were grown and surprisingly, it was not local. They brought the beans in from somewhere in the south of the country, supporting the local farmers there.  The farmers were struggling with criminal gangs which operate in some areas of Ecuador. This made it difficult for them to make a living so being able to sell the cocoa beans to operations like this chocolate factory was a great help.
The guide took us through all the different stages of preparing the beans to be made into chocolate: the drying, sorting, grinding into nibs, roasting and tempering. It takes three days of slowly heating and mixing to temper the chocolate properly.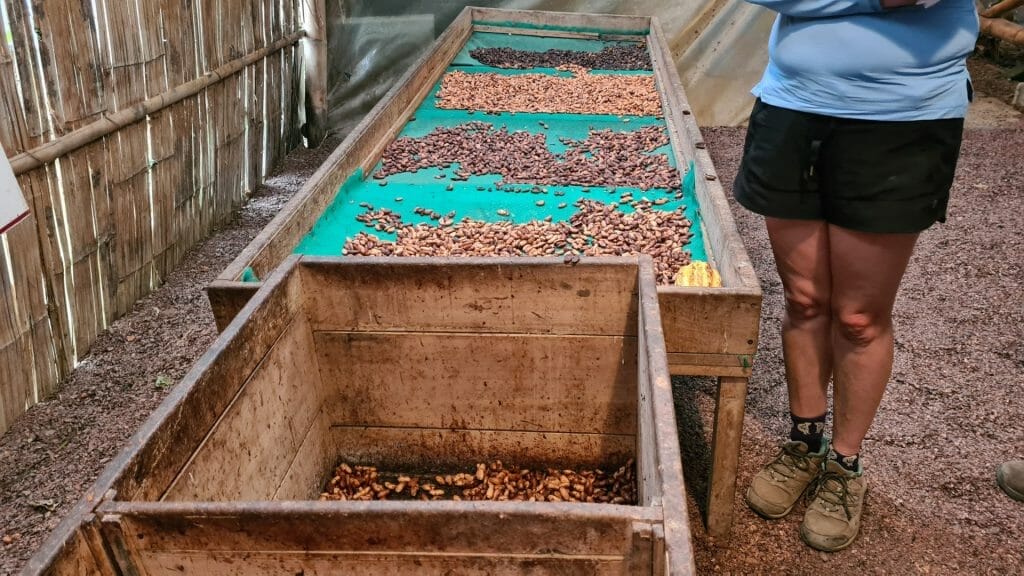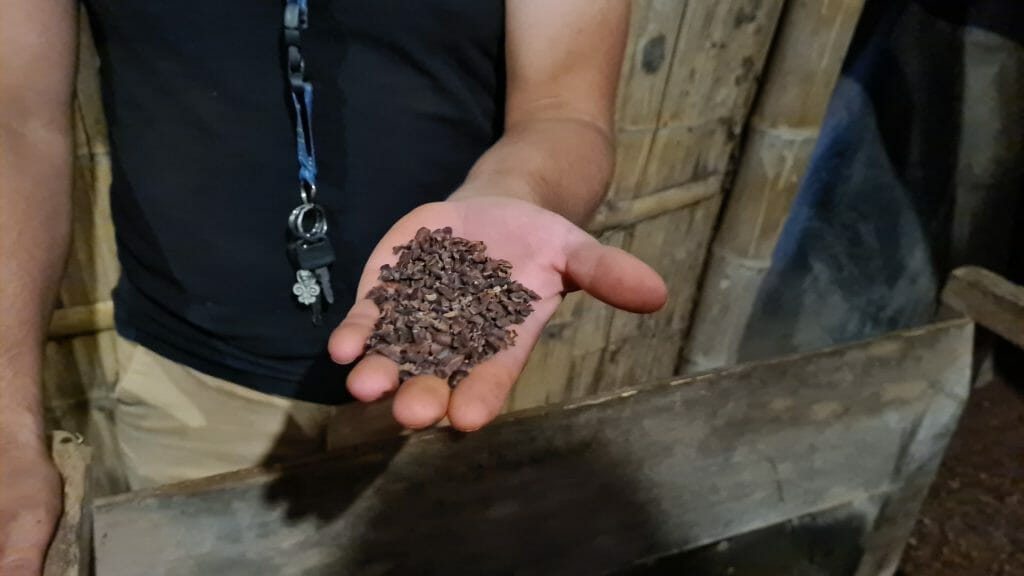 It is quite a long process, but the end result is chocolate of a very fine quality.  Of course, we had to buy some to take away!
By the time we emerged from the chocolate factory, it was pouring with rain.
A Day Trip to Mindo – is it worth it?
Yes, definitely. We all thoroughly enjoyed the day in Mindo and felt we had achieved a lot.
Was one day in Mindo sufficient? Again, I would say yes, it was. Most reviews recommend about three days, but actually, I think we got the feel of the place in the one day we were there. Our visit to Quito and then Mindo was part of a longer trip to the Galapagos Islands and so we only had one day to explore this area. If we had had longer, we might have spent more time hiking. At a different time of year, if the river was fuller, we might have enjoyed a couple of hours tubing, another fun activity in Mindo. In the final analysis, however, our one day Mindo itinerary worked well and we would recommend it.
The area around Mindo is an ecological reserve and is very beautiful, so if one loves the outdoors and nature, there is a great deal to enjoy. We certainly had a taste of it during our visit and might have enjoyed longer. However, if a day is all there is, it is certainly worth visiting Mindo for the day.
Visiting Ecuador?
If you are visiting Ecuador, you may wish to check out this guide for practical tips and advice.
If you enjoyed this article, you might also like the following:
Like it? Please share on Social Media.