Arches National Park in Utah is one of my absolute favourite National Parks. It has the most amazing geography and geology and is stunningly beautiful. The other-worldly red rock formations, natural bridges and unique arches make for a wonderfully dramatic landscape which begs to be explored. One day in Arches National Park? It is not enough. Really! However, I have shared here two one-day itineraries for visiting Arches NP. We have undertaken both at different times and they both include some of the best landmarks and must-sees in the park.
One Day in Arches National Park: itinerary one
We made this visit to Arches in November. It was a cold, crisp, blue sky day and despite the fact that it was below freezing when we arrived, it was still busy. Arches is one of the most popular National Parks and it is easy to see why.
On this occasion we toured the park on our motorbike and on foot, undertaking some of the awesome hikes which are available in the park.
Hike to Delicate Arch
Delicate Arch is probably the most famous arch in Arches National Park, a true icon. It features on the car number plates for Utah and is instantly recognizable. It is also one of the busiest places in the park, even though the hike to Delicate Arch is reasonably strenuous.
The trail goes over a hill of slickrock and involves traversing a fairly narrow ridge with a steep drop to the side.
The hike is about a mile and a half each way. The round trip takes a couple of hours depending how long you spend at the arch. People were lining up to take photos beneath the arch when we visited. One day, we shall return at sunrise to get "the photo", but on this occasion, we did not stand in line.
It is also worth noting that there are a couple of designated viewpoints for Delicate Arch and these involve rather less hiking. If time is tight, these would be an option.
Hike to Landscape Arch, Partition Arch, Navajo Arch and Double O Arch
After hiking to Delicate Arch we rode the bike through the park and stopped to admire Skyline Arch.
We then parked up at the Devil's Garden Trailhead for the main hike of the day. This hike takes in several of the most famous arches in the park, Landscape Arch, Partition Arch, Navajo Arch and finally, Double O Arch.  Dark Angel Arch can also be accessed on this trail, but with shorter November days, we ran out of time.
The first section to Landscape Arch is relatively easy, but the trail gets progressively more challenging towards Double O. This hike involves some scrambling up rocks and because part of the trail towards Double O is over bare rock, the way ahead is not always obvious. There are trail markers, but you have to look really carefully to see them. We gathered up one lost hiker on the return journey!
The complete out and back hike is a little over 4 miles, but it took us about three hours to complete. We stopped quite a lot to admire the landscape and to take photos.
This hike is reasonably challenging, but it stands out as one of the most memorable hikes ever.
One day in Arches National Park: itinerary 2
This visit to Arches was rather different, but no less spectacular. We were there in January and there was snow! Snow on the red rocks added to the beauty of this wonderful landscape. I would definitely recommend a winter visit to Arches NP as it provides a completely different perspective. Also, on this occasion we were in our motorhome rather than on the motorbike. We worried that this might have prohibited access to some areas, but it was absolutely fine and we had no problem parking. It was January after all! Even so, there were still plenty of people visiting the park.
Our visit to Arches NP this time took in different sights and landmarks from those described above.
The Three Gossips
Our first stop after we entered the park was at the Three Gossips. There are no prizes for guessing how this quirky rock formation acquired its name!
Balanced Rock
Again, the name says it all! There are various "balanced rocks" in parks all across the US, but this is the best one we have encountered by far. Just how does it stay up there? It is possible to walk the whole way round and see it from different angles.
Turret Arch and Windows
A little further on from Balanced Rock is the Windows area of the park. The trail up to North and South Windows and Turret Arch is normally fairly easy. However, when it is icy there is an added challenge. I fell on my butt heading up towards Turret Arch! Hey ho – no harm done except to my pride. Look carefully in the photo above and you will see me there just before I hit the deck.
Turret Arch and Windows (two weather-worn holes through the rock) were especially beautiful with the covering of snow. We walked round the back of the Windows on the "Primitive Trail" to see them from a different perspective and this was well worth doing, although again, a little dicey with the ice. The loop was a little over a mile and took about an hour.
Double Arch
Having explored the Windows area, we crossed the road to take the trail to Double Arch, another spectacular feature in Arches NP. This is a short, relatively easy trail and well worth taking.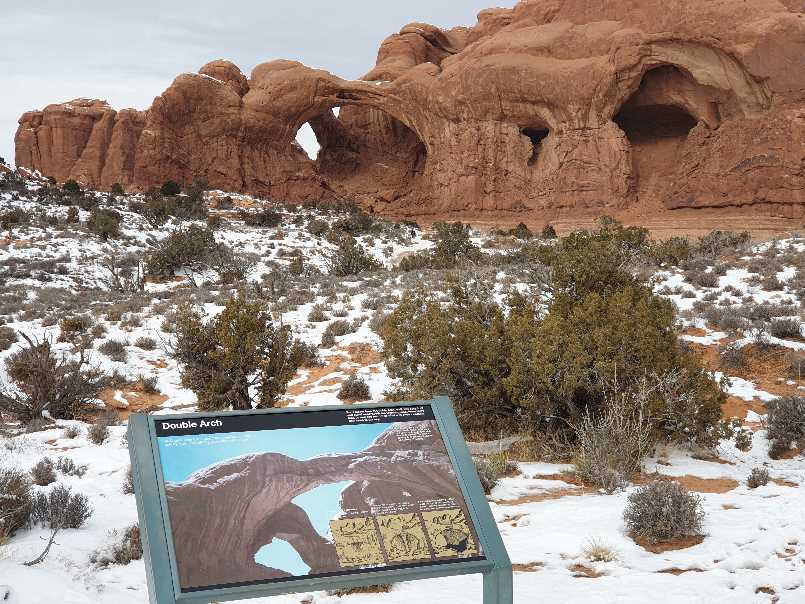 Fiery Furnace, Sand Dune Arch, Broken Arch and Tapestry Arch
Leaving Double Arch, we drove through the very scenic Fiery Furnace and parked in the Sand Dune Arch carpark. This was the starting point for the longest hike on this one-day visit to Arches NP. This is a great hike and opens up views of three more arches. The trail took us first to Sand Dune Arch and then up to Broken Arch.
The trail passes through Broken Arch and leads out to Tapestry Arch. The trail is fairly straightforward until it goes off on a spur towards Tapestry Arch where it becomes rather more challenging. Some scrambling is required to get up to Tapestry Arch.
Our return route took us through the park campsite. We would love to stay here, but there have never been spaces when we have been in the park. The trail led us through some rocky terrain and down narrow channels. The icy conditions made it particularly tricky but we arrived back at the motorhome unscathed.
The views were amazing and this is another challenging but highly recommended hike. It took us around two hours to complete the hike but this included stopping to take in the landscape and photographs – as well as treading very gingerly of course!
One day in Arches National Park? Great, and you can always return for another day!
One day in Arches National Park is certainly not enough to do it full justice, but with careful planning it is possible to see many of the iconic landmarks, as I hope I have illustrated here. Simply driving around the park is a wonderful experience as there is something new and spectacular to see around every bend in the road in this fabulous landscape. Maps and more information can, of course, be found in the National Park Service website for Arches.
Park Entrance Fees
As with almost all the national parks there is an entrance fee. However, we always purchase the Annual Pass which gives access to all the National Parks in the US. It is absolutely worth it and you only need to use it two or three times to recoup the cost.
Where to stay when visiting Arches National Park
We are usually in our motorhome when visiting Utah, but we have not yet been lucky enough to stay in the park itself. Booking well ahead is required and we are simply not that organised. We have stayed on several occasions in the Portal Campground just a couple of miles down the road towards the town of Moab. It is very well appointed with electric hookups and is open year round.
There are several other campsites in the vicinity and of course, other kinds of accommodation in town.
Related Posts
If you enjoyed this post, please share it