If you have any interest at all in geology or history,  Mammoth Cave National Park is a must. Mammoth Cave is the most extensive cave system in the world. Four hundred and twelve miles of tunnels, caverns and chambers deep below the earth's surface have been explored – so far! And it is utterly stunning.
We visited Mammoth Cave National Park on our recent road trip and loved it . This area of Kentucky is famed for its caves and sink holes;  Mammoth Cave, as its name suggests, is the largest. The limestone in the area is responsible for the formation of the caves. When the rainwater passes through the ground and picks up carbon dioxide, it forms a weak carbonic acid which gradually erodes the limestone, forming caves and sink holes. We saw further evidence of this on various hikes in the area.  It also explains why Jack Daniel built his distillery where he did with the adjacent cave and spring (see And now for the WhiskEy Trail).  The quality of the water is crucial for distilling whiskey (and whisky! – see On the Whisky Trail).
Tours of Mammoth Cave
There is a variety of tours to take. We opted for the Domes and Dripstones tour (which also takes in Frozen Niagara). The tour cost $17 each and lasted a couple of hours. We went in October on a weekday and it was busy, some tours full. The advice to book should be taken seriously therefore.
The tour, in short, was excellent. Before we set off, the lead ranger was at pains to stress that this was a physically demanding tour involving a fair bit of walking and climbing of steep steps. She also pointed out that in places the tunnel was very narrow. She was right to point this out. The tour starts by descending 280 steps; this descent has to be made up on the way out, and the ascending flight is very steep, although there are fewer steps. Although the cave opens out into giant chambers in places, the tunnels are very cramped. Anyone with claustrophobia would not be comfortable.
We stopped in the larger chambers several times for people to catch up and for the Ranger to explain the history and geology of the cave. She was clear, informative and entertaining, exactly what you want in a guide. In the first chamber, we got the chance to experience total darkness when she switched off the lights. I find this pretty scary, I must admit, as I have done this on tours in the past. It was reassuring to know that my phone with its light was in my pocket and fully charged!
Different areas of the cave system have different features, largely dependent on how much or how little water is in this particular place. The most extensive formations of stalactites and stalagmites appear towards the end of the tour in the Frozen Niagara area. This is spectacular.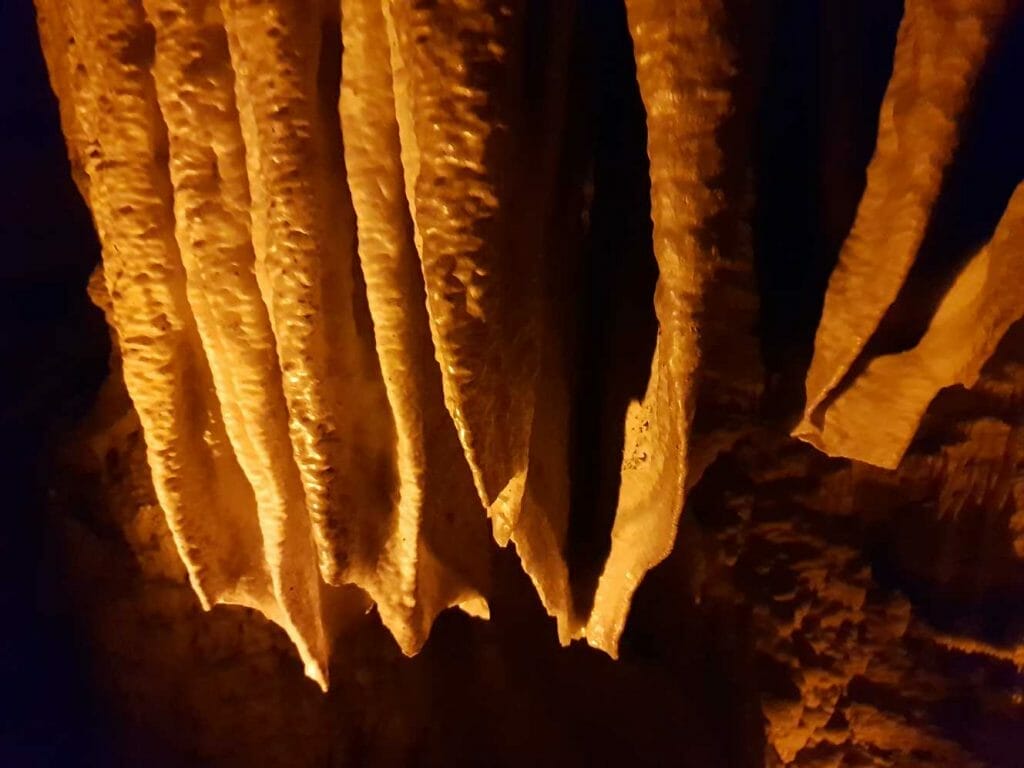 The limestone formations are intricate and beautiful, dripping down in layers from the roof and growing upwards from the floor. It is a weird, wonderful and very beautiful landscape. Parts of it also look like a scene from an Alien movie!
This was an excellent tour and very memorable. As long as you are of reasonable fitness and not claustrophobic, I would definitely recommend it.
Mammoth Cave National Park: basic facts
Mammoth Cave National Park is a couple of hours drive south of Louisville in Kentucky. It was designated a national park in 1926, but not fully established as such until 1941. It is now a World Heritage Site. The park above ground also has much to offer and is definitely worth exploring. It is largely forested and there are some great hikes and cycle paths. One foray out on the bikes saw us crossing the river on the free ferry in order to get up to the mountain bike trails. An added novelty!
Camping at Mammoth Cave National Park
We were travelling in our motorhome and stayed in the park campsite. As usual with national park campsites, it was lovely: quiet, in amongst the trees and in beautiful countryside. There was no hook up, but water and a dump are available on the site. There is no wifi, but we managed to pick it up at the visitor centre.
Mammoth Cave National Park makes for a great visit. We spent three nights there and could definitely have spent longer with so much to explore.
If you found this post useful, please share it on social media or Pin It for later!
Related Posts
Exploring Death Valley: hike it, bike it, love it!