Everyone has heard of Petra in Jordan and this is the number one attraction in the country. Petra is phenomenal, an absolute must-see. But what about Little Petra, the miniature version of this fabulous historic site?  Is it worth visiting Little Petra?
This is the question, which seems to crop up most with regard to Little Petra. Having visited Petra, the UNESCO World Heritage Site and the setting for countless movies, people ask "Is it worth visiting Little Petra? What does Little Petra have that the main Petra site does not?"
We visited both sites on a recent trip to Jordan and I am delighted that we did so. I would not have wanted to miss either.
Where is Little Petra?
Little Petra is just a short distance by road from Wadi Musa and Petra. It takes no more than 15 minutes to drive from Wadi Musa to Little Petra and there is parking space for cars and coaches immediately outside.
What is Little Petra?
Little Petra, also known as Siq al-Barid, was a suburb of its neighbour, Petra, and served as a support town for traders heading to the main city. Like Petra, Little Petra was built by the Nabateans and has buildings carved into the sandstone of a canyon. There are tombs, temples, dwellings and evidence of the sophisticated water system devised by the Nabateans. Historians believe that it was in Little Petra that trading caravans would service their horses and restock with provisions on the way to and from the main city from around the First Century CE.
Our visit to Little Petra
The Plan: hike to Petra from Little Petra
Our itinerary for exploring Petra started with Little Petra. The plan was to enter Little Petra, explore the site and then hike to Petra. There is a hiking trail between the two historic sites and one can enter the "back door" of Petra by this route. This entrance is by the monastery in Petra rather than through the main entrance via the siq. Advice is not to attempt this hike without a guide as the trail is not well marked.  (Incidentally, if you attempt to take this backdoor route into Petra, a ticket is still required and must be purchased in advance.)
A change of plan…
We had the guide; we had the hiking boots; we were all set for this hike. Unfortunately, the weather in Jordan was such when we visited that this trail had been closed. There had been so much rain in the area and more was in the forecast that there was a danger of flooding. Our guide quickly adapted and we visited Petra via the normal entrance and spent a full day exploring. This visit was not without its drama and the site was closed with us inside twice during the course of the day because of the risk of flash floods. You can read about our visit to Petra in Inside Petra: exploring the Rose city, Jordan  
We were disappointed to miss the hike, but thankfully our guide arranged for us to visit Little Petra the following day. Phew! I would have hated to have missed it.
Inside Little Petra
We arrived at Little Petra quite early in the morning, but the site was already busy. I have read that Little Petra is much quieter than Petra, but this was not the case when we were there. There are several stalls and souvenir shops on the way in to the site.
The entrance to Little Petra is really narrow.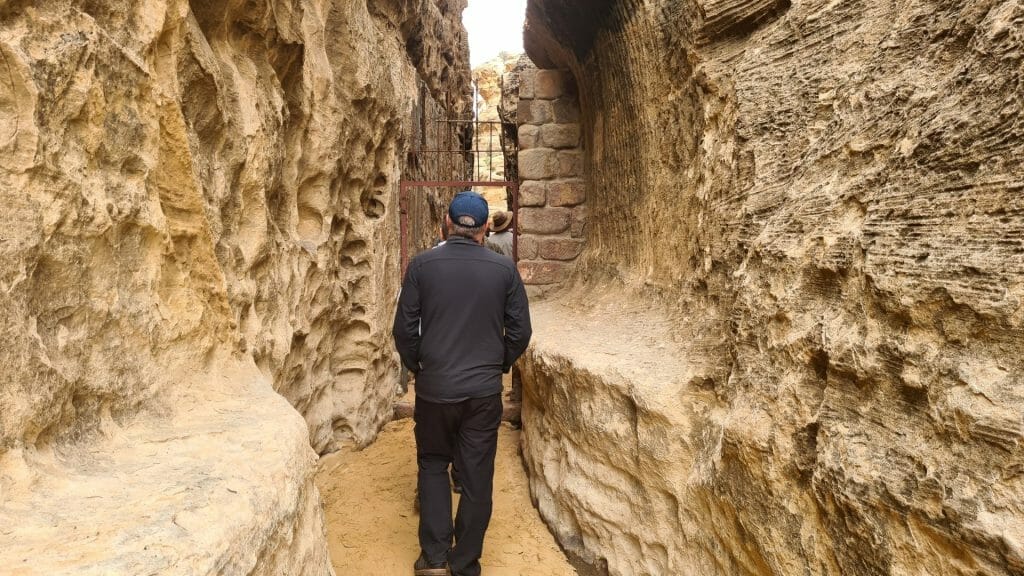 Once through the entrance, the site opens out into a canyon with steep, high sides.
The whole area is much narrower than Petra and the sun cannot find its way inside so the canyon is in shadow for much of the day. Siq al Barid translates as "cold canyon" as it receives so little sunshine.
The buildings are carved into the sandstone in the same way as they are in Petra. This is the first one, a tomb, on the way into the main site.
Some of these buildings have beautiful painted decorations and frescos inside. There are lots of nooks and crannies with flights of stairs carved into the sandstone to access the upper storeys of the buildings. It is possible to climb up and see the area from above.
In fact, people clamber all over these sandstone carvings and I wonder how wise this is in terms of preserving this fabulous archaeological site? (As a child, I recall visiting Stonehenge. We were allowed to wander among the stones and touch them; some folk climbed. Nowadays, the site is protected and it is impossible to get anywhere near the actual stones, except on very special occasions.)
At the end of the siq there are rocky steps where one can climb and see out of the archaeological site into the wadi beyond.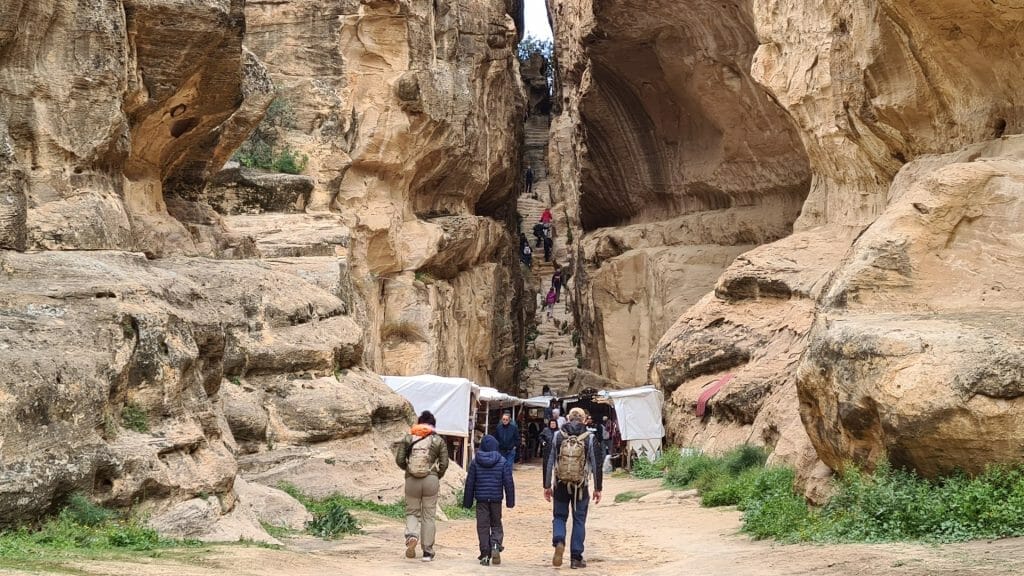 At the top of the climb, there is a small cafe and a viewpoint over the wadi. If you look carefully in the photo below, you will see someone scrambling down into the wadi. We did not attempt this!

How long does it take to visit Little Petra?
The site is quite small, only about 350 m in length, so it does not take long to explore. I would suggest about an hour is needed to appreciate this site. It will be an hour well spent!
How much does it cost to enter Little Petra?
It is completely free to explore Little Petra. The site is not on the Jordan Pass and there is no entrance fee. This is the case in 2023, but it may change in the future so please check.
Final Thoughts: Is it worth visiting Little Petra?
Yes, of course it is worth visiting Little Petra. Having visited both Petra and Little Petra and I can honestly say that one should visit both. Why go all the way to Jordan and not visit this little gem? It is small in comparison with Petra, but it is stunningly beautiful and historically important. Big things come in small parcels! We enjoyed the visit to Little Petra and it provided a different perspective into Nabatean culture. I would highly recommend incorporating this into any itinerary on a visit to Jordan.
We booked our trip to Jordan with KE Adventure, a company which we have now used several times.
Other Posts about Jordan
If you enjoyed the post, please share!
Disclosure: this post may contain affiliate links. This means that if you purchase something through one of these links, I may earn a small commission. Please note that there is no extra cost to you associated with this and no detriment to you or your booking. Thank you for supporting this site.
Thinking of taking a trip?
Up to 70% off some trips!
What about Cusco & Salkantay Trekking to Machu Picchu for instance? Reduced from £1520 to £684!
Or Jewels of Vietnam in 9 Days reduced from £1254 to £552!
There are lots more deals to be had so pop in before they are gone.