Why visit Orkney? There are so many reasons to visit this archipelago of islands off the north coast of Scotland, it is difficult to know where to start. The landscape, the history, the culture, the wildlife, the whisky ( – let's not forget the whisky!), Orkney has it all.  Orkney is a wonderful encapsulation of everything that I love about Scotland.
Orkney comprises approximately 70 islands, about 20 of which are inhabited. Mainland Orkney is the largest and most populous island. People have lived on these islands for over 8,500 years so the history is rich and fascinating. Stonehenge is a youngster compared with Skara Brae!
We visited Orkney as part of a roadtrip in our motorhome, taking the ferry from Scrabster one evening. The journey took about an hour and a half and we were blessed with calm weather and a wonderful sunset. Rounding the island of Hoy and seeing the Old Man of Hoy, the remarkable sea stack just off the coast, was breathtakingly beautiful.
Where to camp on Orkney
We stayed at The Orkney Caravan Site at the Pickaquoy Centre.  The site is about a half hour's drive from the ferry terminal. It has rave reviews and I can see that it would suit many people. Trying to be fair, it was clean and tidy when we were there; the wash rooms are good; and if you like to be close to facilities like supermarkets and sports centres, it is excellent. However, there are no views and it is sited next to a road, which is reasonably busy. Perhaps I am being grumpy as I was kept awake by the noise of what turned out to be a power station a short distance away and again, being fair, I am told this is unusual. It was fired up a couple of days before we arrived when a power cable was damaged apparently.
There are two other campsites on Orkney, one at Birsay and one at Ness Point and we drove past both on our travels. Both are small, quiet and have fabulous views, but are rather out of the way. It really depends on what you want in a campsite.
So what is there to see and do on a visit to Orkney? Reasons to visit Orkney
We left the RV at the campsite and used our scooter to explore Orkney. This was perfect for the narrow lanes and roads which feature across much of the island.  We continued to be spoiled by good weather on this trip and had blue skies and sunshine for much of the time. Although breezy, it was not cold – perfect scooter weather!
Reason to visit Orkney #1: A Spectacular Coastline
The coastline on Orkney is dramatic and beautiful. There are rocky beaches and beautiful stretches of sand. If you are lucky, you may see whales. Unfortunately, we were not so lucky, but we still enjoyed the wonderful sea views and the surrounding landscape.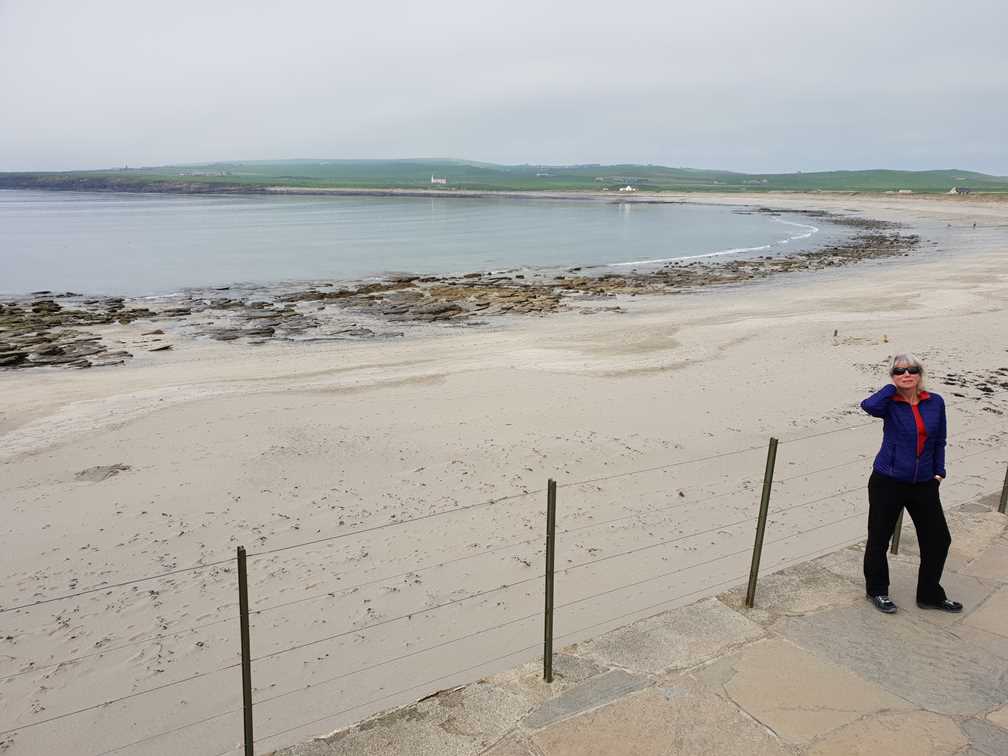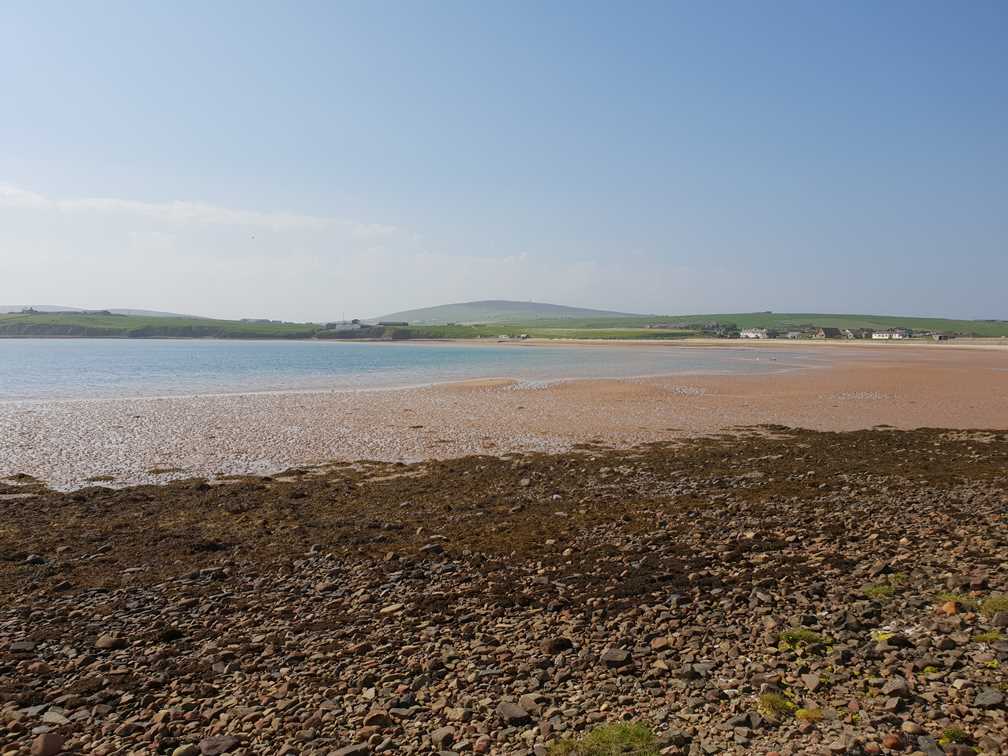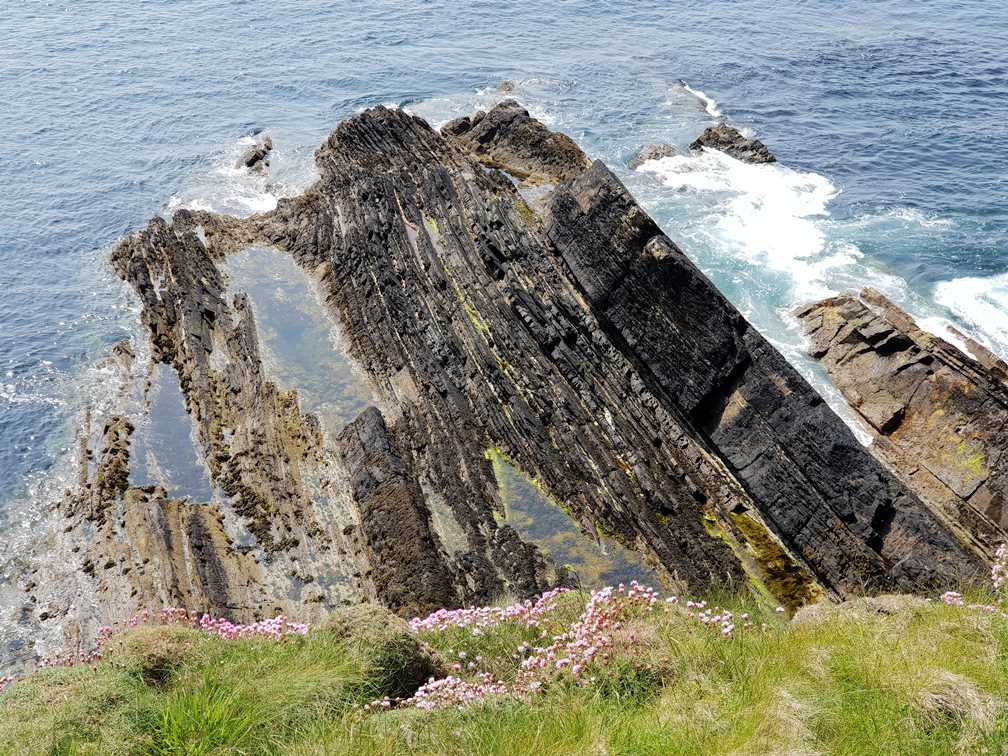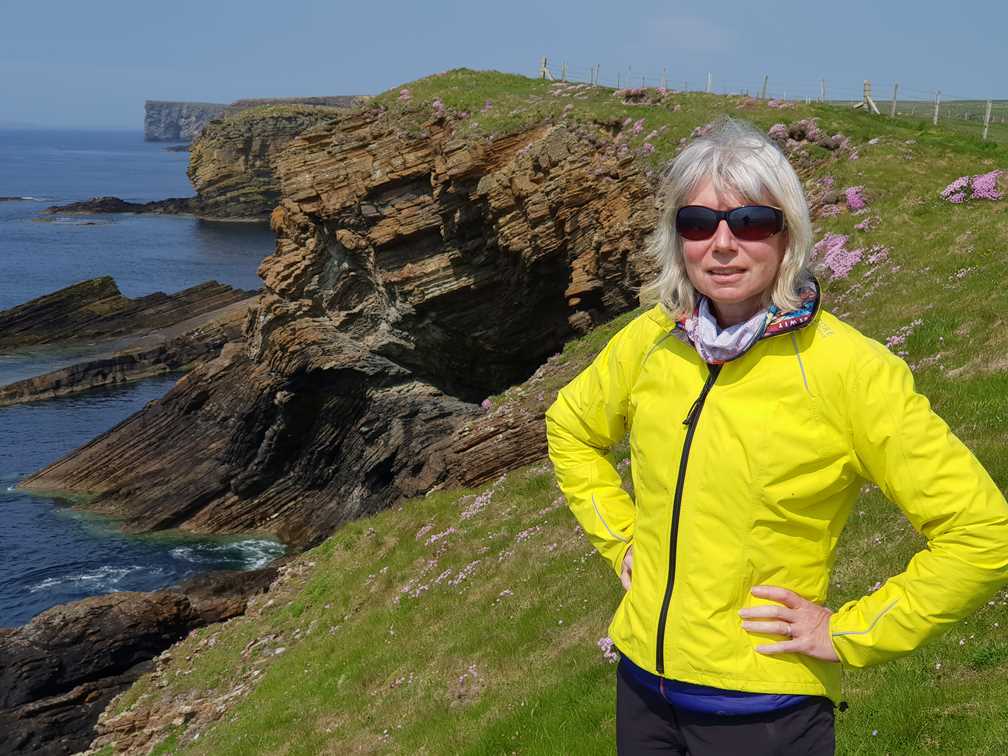 Reason to visit Orkney #2: History
Orkney has a wonderful history and is crammed full of fascinating, well-preserved historical sites. Four of the oldest archaeological sites form the UNESCO Heart of Neolithic Orkney World Heritage Site.  Some of these historical treasures date back to Mesolithic times and some to the WW2 with everything in between, but all have a story to tell.
The Italian Chapel
One of the first sites we visited was the Italian Chapel.  It is very beautiful. It was built out of Nissan shelters (and anything else they could salvage) by Italian Prisoners of War in the World War Two. The chapel is a must for visiting and very memorable.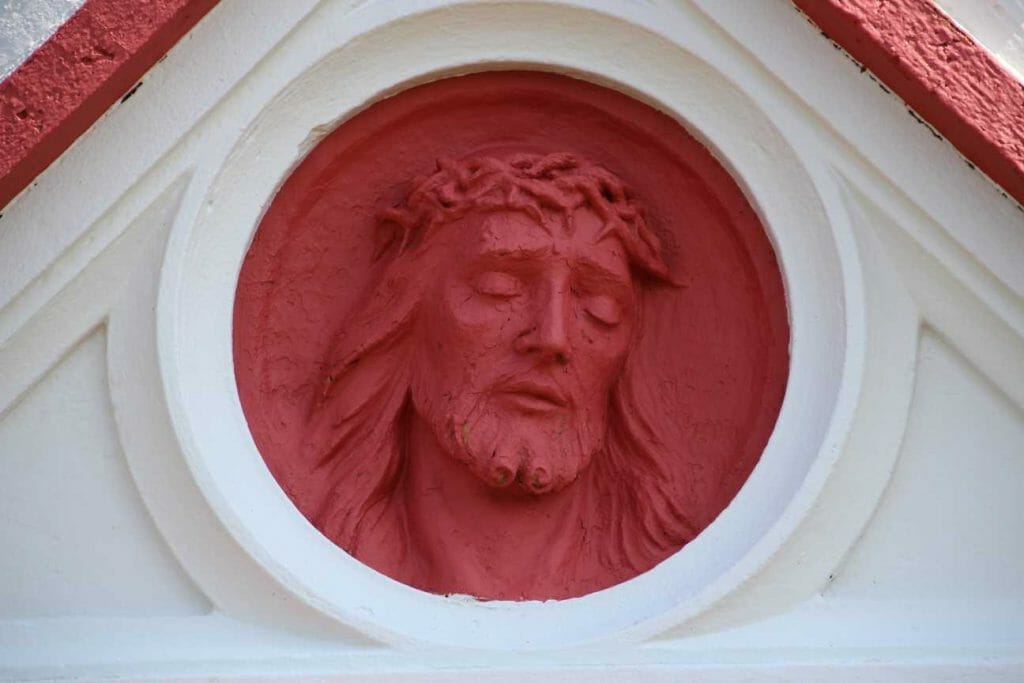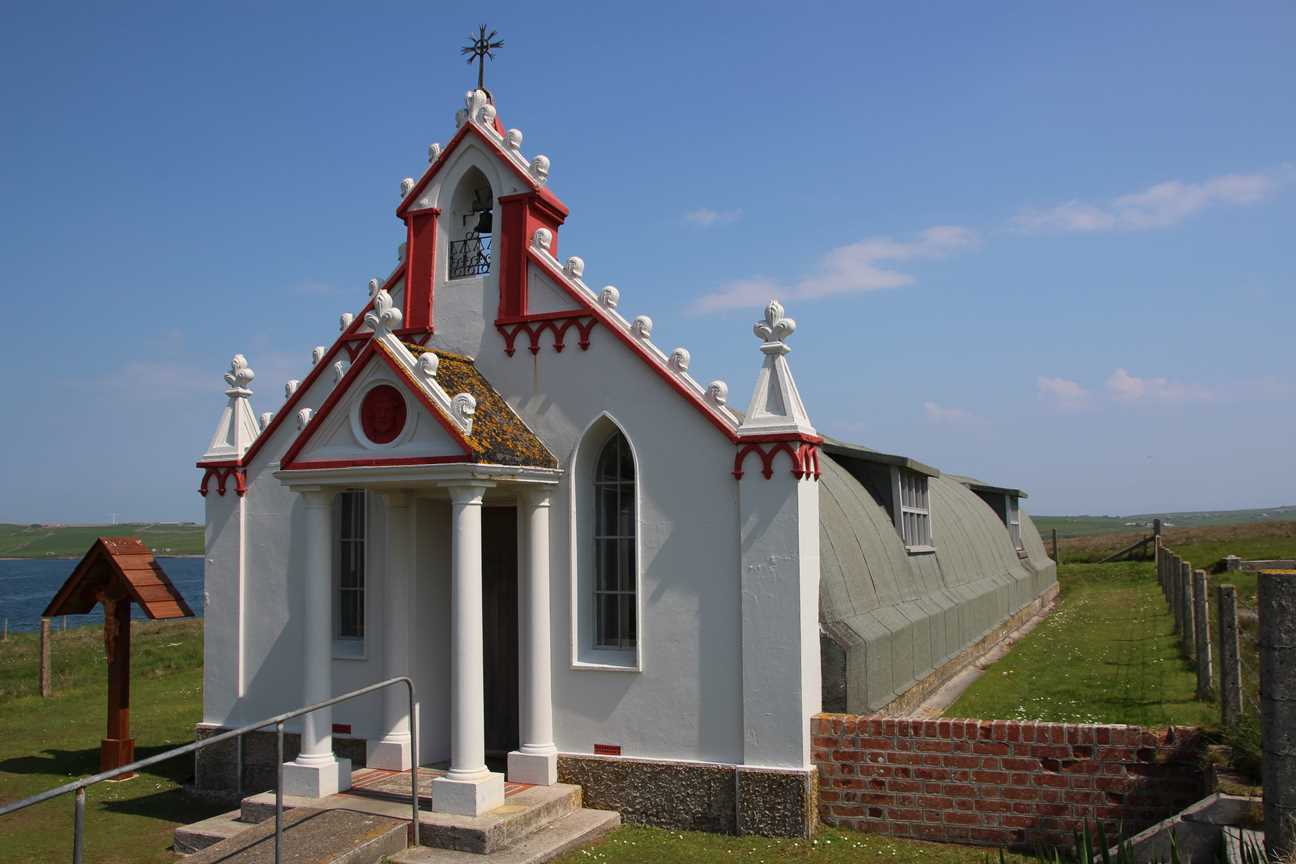 The nissan hut can clearly be seen behind the ornate facade, but the inside is as intricate and beautiful as the outside.
The Churchill Barriers
The Italian POWs were sent to Orkney to build the Churchill Barriers in the war. These barriers were erected to protect the fleet, which was harboured in Scapa Flow, a stretch of water between the islands.  The barriers provide causeways between small islands, linking them together. At the end of the First World War, the German fleet was scuttled in Scapa Flow and although many of the vessels have been salvaged, some still lie at the bottom of the sea here. It is also possible to see some of the blockships sticking up out of the water in Scapa Flow. These are ships which were deliberately sunk to prevent German submarines entering and destroying the British fleet prior to the building of the barriers.
Skara Brae
Skara Brae, a neolithic stone settlement is probably the most famous of the historical sites on Orkney. Older than the pyramids, this site is quite remarkable. It was first discovered in 1850 when a huge storm partly uncovered remains of the village. Over many years it was excavated, revealing a wonderfully preserved series of dwellings which date back to between 3200BC and 2200BC. The site gives an amazing glimpse into life at that time.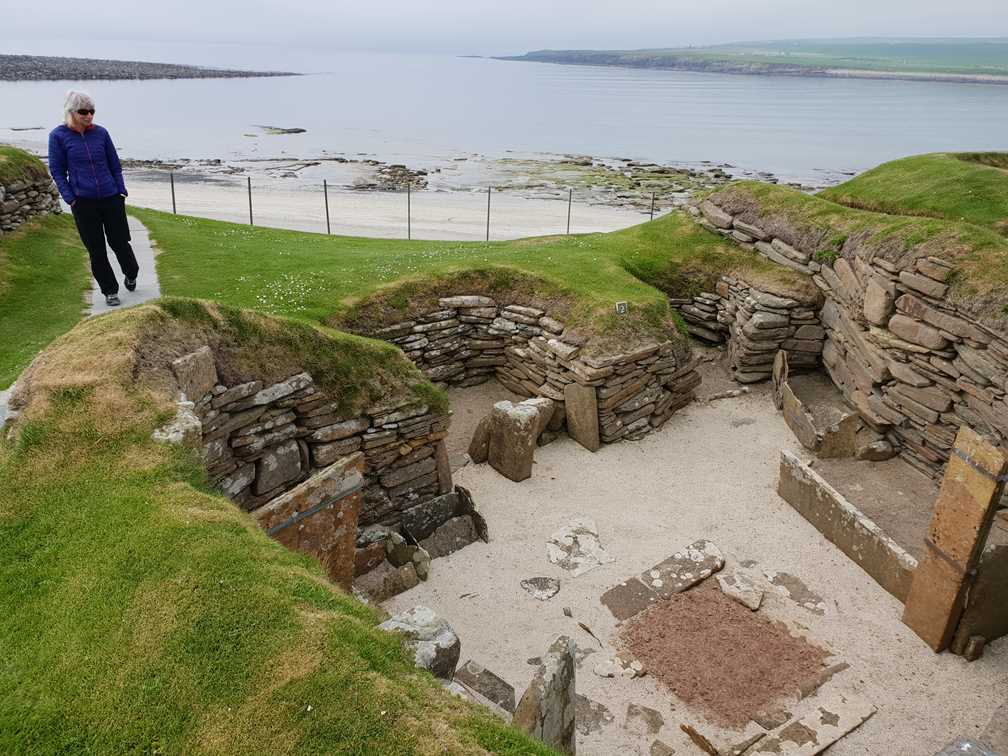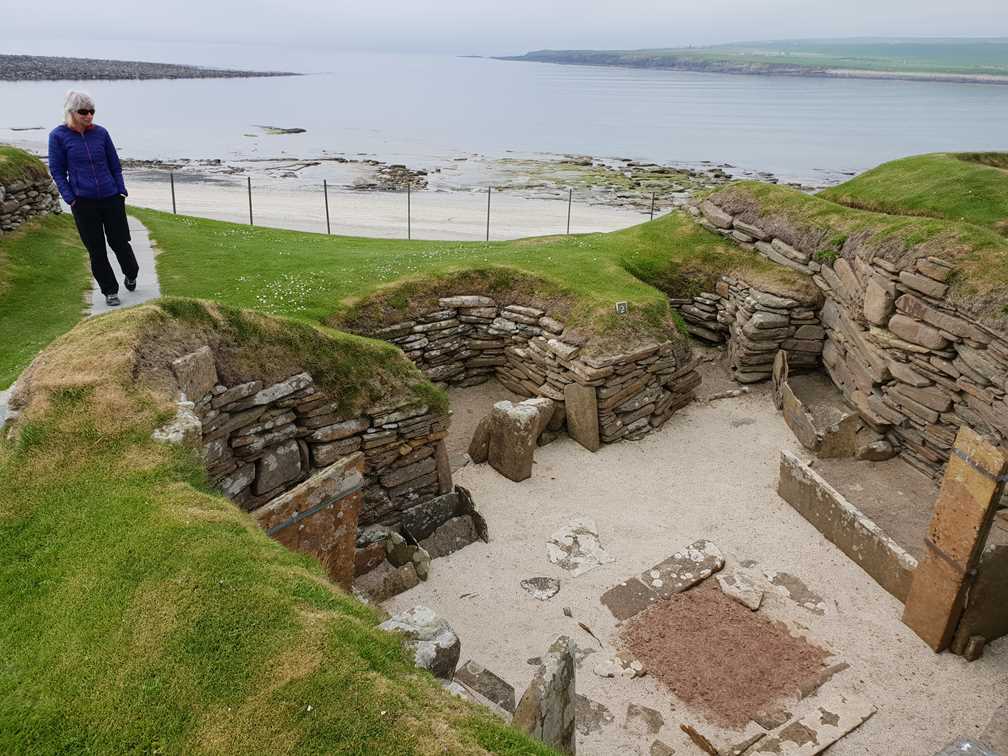 Skaill House
The entry ticket to Skara Brae also includes access to Skaill House.This is the home of the person who discovered Skara Brae in 1850. We almost did not bother going into Skaill House, but were really pleased that we did: it is really interesting to see how people lived in the house in a bygone age and learn the stories of the inhabitants.
The Ring of Brodgar
Not far from Skara Brae is the Ring of Brodgar, a huge circle of standing stones erected around 2500 BC. It is thought that originally there were about 60 standing stones, of which 36 remain. I think at one point, like Stonehenge, it was possible to walk in amongst the stones; nowadays visitors are requested to stick to the periphery path, but that is no hardship and it is possible to walk all the way around. We visited early evening and it was very quiet. Set in beautiful countryside this is another must for visiting.
Reason to visit Orkney #3: Whisky Distilleries (and the brewery!)
There are two whisky distilleries on Orkney: Highland Park and Scapa. We visited both and particularly enjoyed the tour of Highland Park which you can read about in On the Whisky Trail. We did not tour Scapa; that is for another time!
Highland Park is a very traditional distillery. They are one of the very few that still malt their own barley before roasting it over a kiln fired by a mixture of peat and coke.  It was a detailed and insightful tour, one of the best we have been on. Interestingly, there is a tasting at the beginning as well as the end!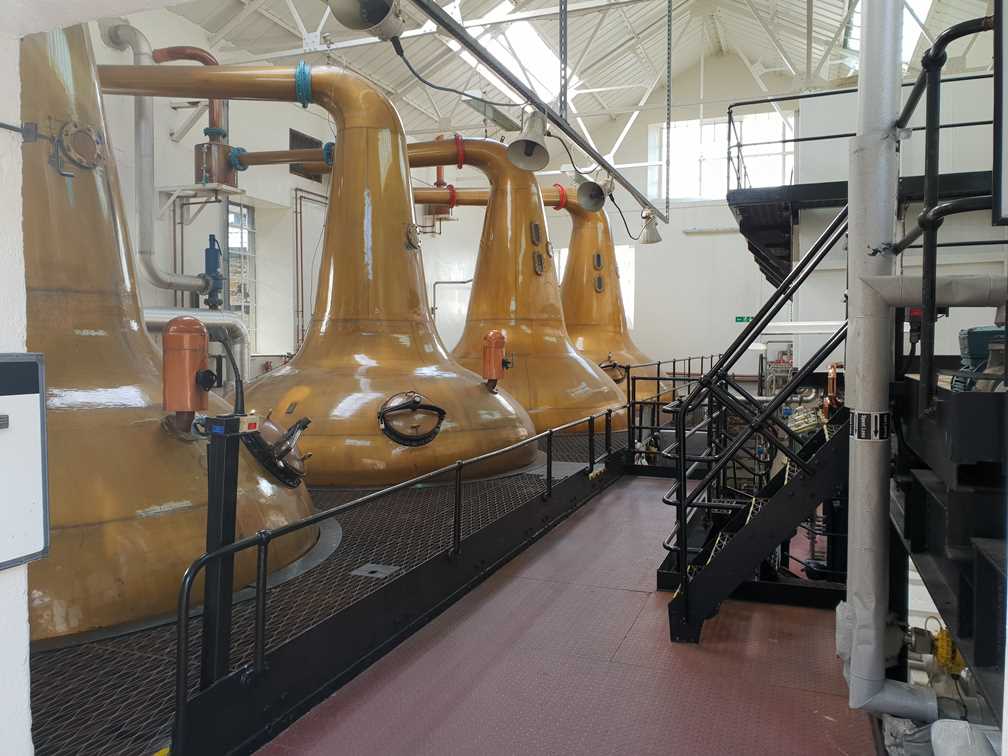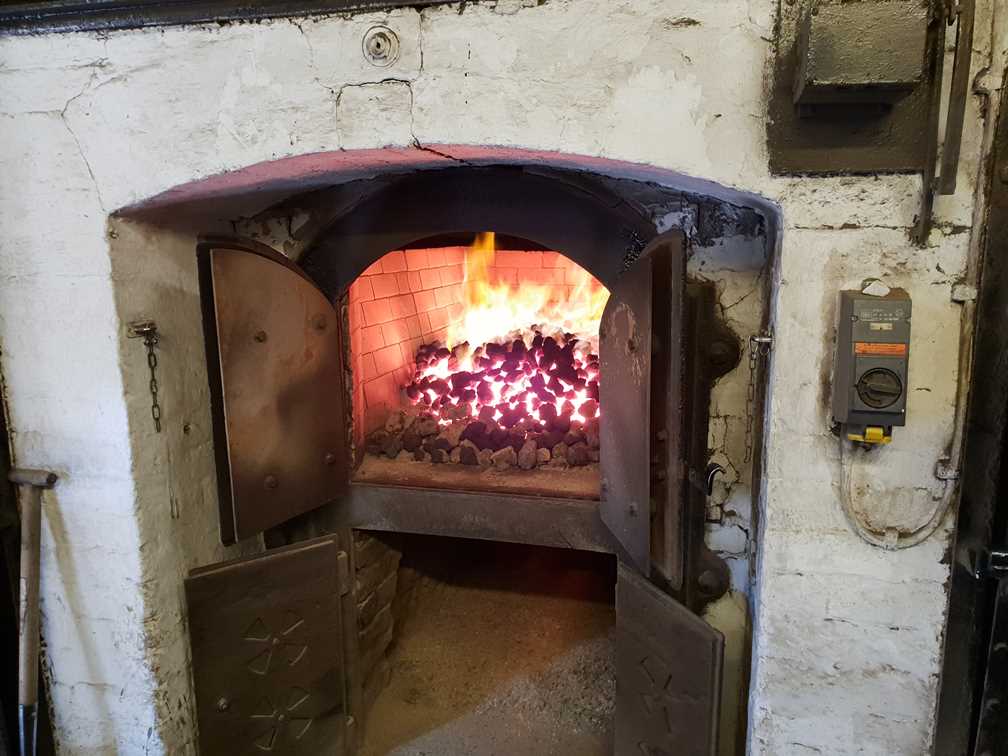 We also visited The Orkney Brewery for a bit of variety and this proved very interesting also. Tours are available, but were fully booked when we arrived. Nevertheless, we were allowed to have a look around and see the beer brewing in vast vats. The visitor centre is an interesting building: it used to be the village school house!
Reason to visit Orkney #4: Kirkwall
Kirkwall, the capital of Orkney, is a lovely town to wander around with many interesting buildings, not least St Magnus Cathedral. Dating from 1137, St Magnus is a magnificent building.  It was founded by the Viking, Earl Rognvald, in honour of his uncle St Magnus who was martyred in Orkney.
It was very busy in Kirkwaill when we walked around. This was because a huge cruise ship with several thousand tourists had docked earlier that day. Speaking to some of the locals, this is a daily occurrence  and it is not unusual to have several such ships dock at any one time. In such a small town, this is significant.
Also worth visiting in Kirkwall and slightly off the main drag is The Old Library. As the name suggests, this building was once Kirkwall library, but a new library has been built and some enterprising individual has transformed the old building into a very interesting business, whilst managing to respect its original purpose and character. Part of it is a huge toyshop; another section is a music shop; yet another is a stationery and book shop; upstairs is a gift shop and an exhibition room with some wonderful artwork; at the back and adjoining the cafe/bar is a performance venue. We had coffee (excellent coffee) in the Archive coffee shop, which also has a bar and serves food. There was a really relaxed atmosphere to the whole place. Thank you to Olivia for recommending it as I don't think we would have stumbled upon it otherwise.
Reason to visit Orkney #5: Stromness
Stromness is different from Kirkwall. It is very quiet and peaceful by comparison and has the feeling of being off the beaten track, although the ferry from the mainland comes in here. We wandered through the narrow, winding main street with its wonky old houses and then walked out beyond Ness Point and along the coastal path. This goes out past the World War 2 lookout posts and then to the beautiful cemetery, where the Scottish writer George MacKay Brown is buried.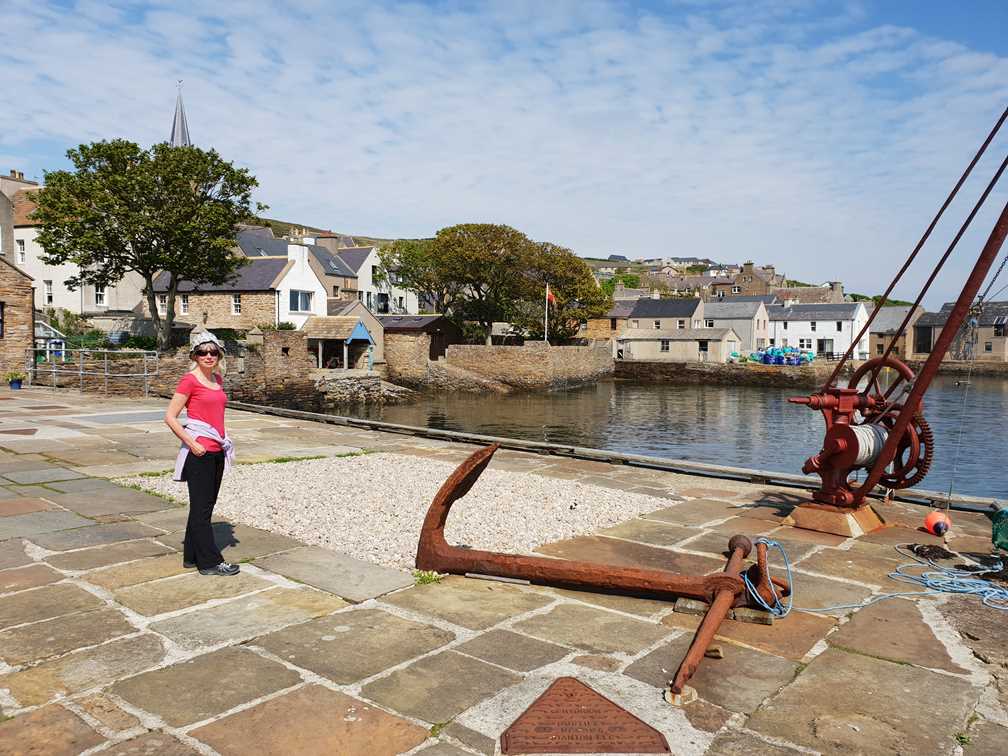 Reason to visit Orkney #6: A day trip to Rousay
One of the highlights of our visit to Orkney was a trip to the neighbouring island of Rousay , just a short ferry ride away.  We have friends, Martin and Christine, who live on Rousay and they showed us round. Rousay is a lovely island with fantastic views over the coastline and it is much less developed than Mainland Orkney: there is one shop! We made the mistake of not filling up the scooter before we went across on the ferry. It is about 20 miles from Kirkwall to Tingwall to catch the ferry and we were worried that we would not have enough fuel for the return trip. There was no petrol station en route and none on Rousay. Fortunately, we managed to scrounge a couple of litres from Martin! About 200 people live on the island.
Rousay is a really interesting island with many historical sites. We visited a couple of the burial cairns and it is possible to actually go inside.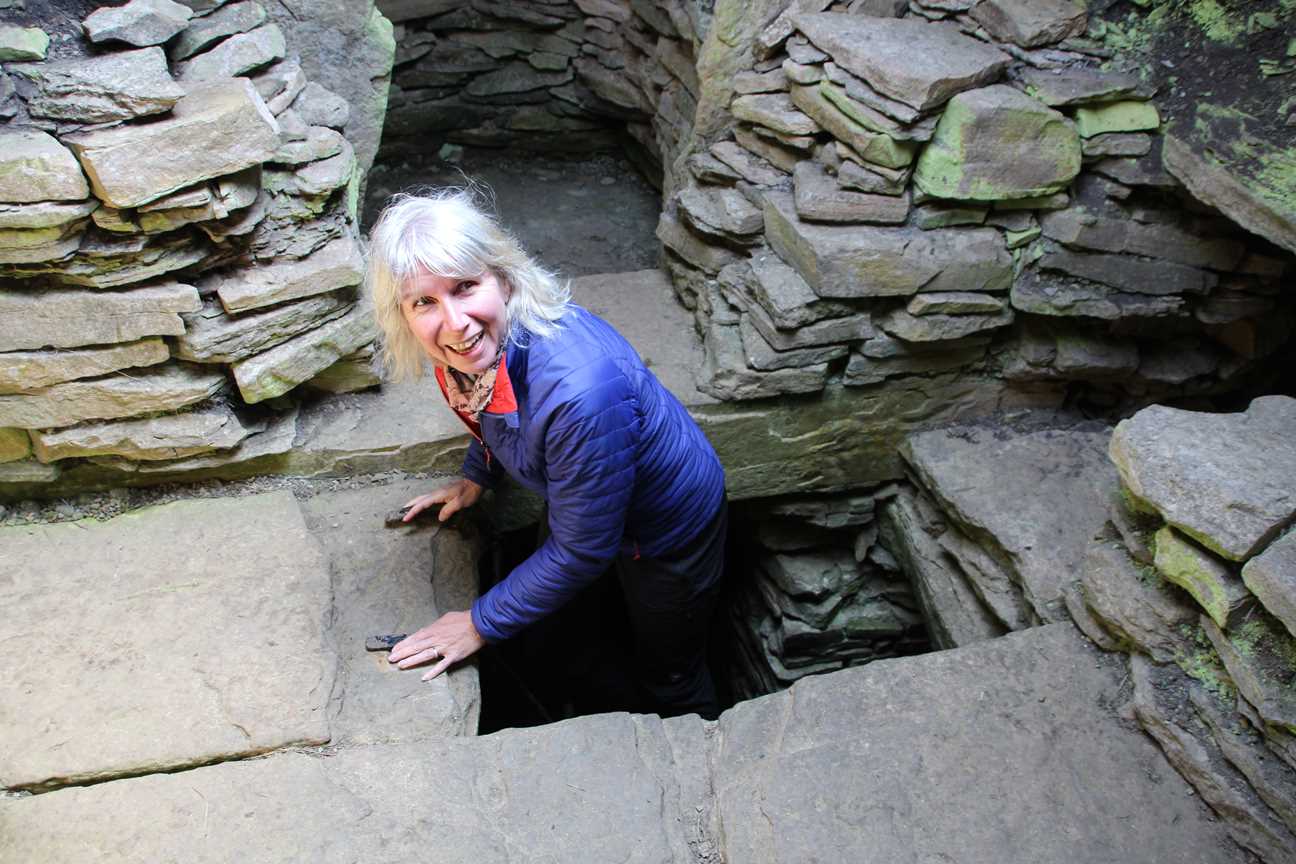 Midhowe Cairn
We also visited Midhowe Cairn, a large chambered tomb divided into separate chambers and dating back to 3000 BC. The excavation site is amazing and enables visitors to really appreciate the scale of this cairn.
Close by the cairn is Midhowe Broch, an iron age residence built on the promontory.
The weather was bright and sunny when we arrived on Rousay as can be seen in many of these pictures, but it was a timely reminder of how fickle the weather can be here: by the time we left late afternoon, it was swathed in thick fog.
This was a really interesting visit. Huge thanks to Chris and Martin for their hospitality and for showing us around.
It is, of course, possible to visit other Orkney islands from Mainland Orkney and this is certainly in our plans for the next time we visit Orkney. Top of my list is Hoy. The ferry for Hoy leaves from Stromness. But that is for another day!
The Weather on Orkney
It never gets really hot or really cold on Orkney. The warmest month is August with an average temperature of 16c, but as there is almost always a breeze, it can feel colder. The average temperature in the winter months is 5c. It can rain at any time of the year in Orkney. In other words, go prepared for all weathers!
Concluding thoughts on visiting Orkney
There are so many reasons why one should visit Orkney! Mainland Orkney is both interesting and ruggedly beautiful. There is plenty to do on Orkney and lots of fascinating places to explore. It is also the starting point for visits to other islands in the archipelago. Is it worth visiting Orkney? Without a doubt, yes. But remember to take your thermals!
If you like this article, please Pin It for later!
Related articles