Kelowna has a special place in my heart as we lived there for two years, leaving to return to the UK in 2016. Since then we have returned several times to catch up with friends and enjoy spending time this beautiful city.  Before we actually moved there (work related) I had never heard of Kelowna or the Okanagan, but it is a truly wonderful place and well worth visiting. What to do in Kelowna? What to see? Why visit Kelowna? Read on!
Where is Kelowna? 
Kelowna, which means "grizzly bear" in the language of the first nation people, is in British Columbia. It is the third largest city in the province and although it has grown a lot in recent years, it still feels like a small city. It is situated about half way along the 80 mile long Okanagan Lake, surrounded by mountains, vineyards and orchards. It is very easy to leave urban Kelowna behind and explore the countryside. And then of course there is the ski hill, Big White, just a short hop away. For us, all this made Kelowna the ideal location.
The climate in Kelowna is wonderful. The seasons are real seasons: winter is cold, summer is hot, spring is bright and colourful and autumn feels like autumn should as the year winds down. We were so lucky to spend time there and were able to rent a fabulous house right on the lake shore with its own jetty at the bottom of the garden. The pictures below were all taken in our back garden!
I suppose I should mention the smoke at this point. The surrounding countryside is often tinder dry so wild fires are a fact of life in this area during the summer. Most of the time, this does not affect the city, but sometimes, the smoke drifts down into the valley. In 2003, a devastating fire saw thousands of people evacuated in the surrounding area and significant destruction. During our first summer in Kelowna, there were few fires in the area, but during our second summer, we were much more aware of them – and the smoke. The photo below was taken from our back garden as a fire took hold across the lake one night. (No one was hurt and the wonderful emergency services soon had this relatively small fire under control.)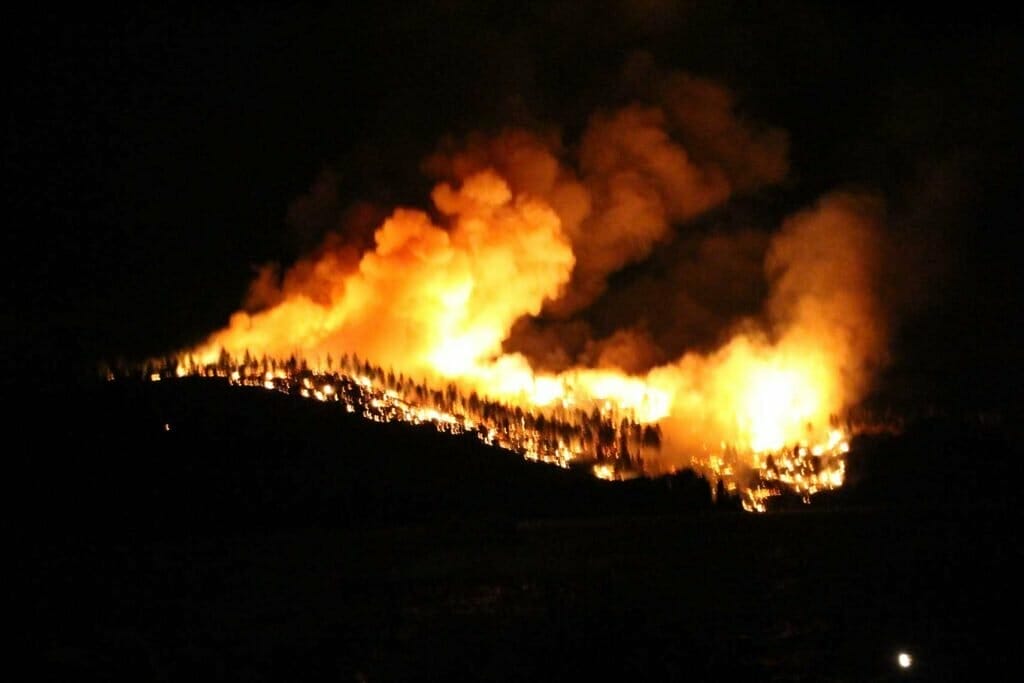 Wildfires aside, summers in Kelowna are fabulous and it is quite a tourist destination
What is there to do in Kelowna?
With a huge lake, mountains, orchards, golf courses and wineries, there is no shortage of things to do in Kelowna. Even just strolling around the many parks in the city or walking along the boardwalk by the lake makes for an enjoyable pastime. However, below is the list of things to do in Kelowna which we have particularly enjoyed.
1. Messing around on the water
The lake provides ample opportunity for water sports of all kinds and we enjoyed this a lot when we lived here. Canoeing, sailing, kayaking, jet skis, motor boats…..we did them all. Oh, and swimming! Jumping off the jetty into the lake after a morning jog was just wonderful! Paddle boarding is also very popular here, but I have yet to try this. Next time! We enjoyed watching the mad kite surfers, but I think that may be a bit beyond me.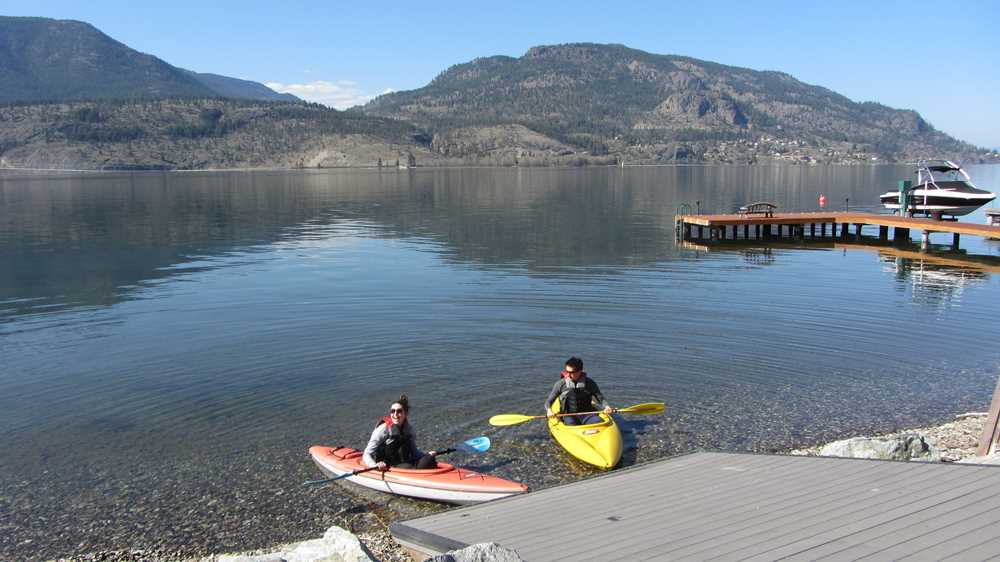 The lake also boasts its own monster, Ogopogo. Images of Ogopogo closely resemble those of his Scottish cousin, Nessie!
2. Hiking 
There are some wonderful hikes in and around Kelowna. We lived at the bottom of Knox Mountain which has many trails and wonderful views. As it was so close we often hiked up Knox, but another walk right on our doorstep was the Pauls' Tomb hike. This trail took us alongside the lake to a small bay where the tomb of the Paul family was sited.
A little further out of the city are many other hiking trails in the many parks and mountains which surround the area. One of our favourites was the Rose Valley hiking trails. Another was the Mount Boucherie hike. In summer, there are also some wonderful hiking trails at the ski hill, Big White.
3. Mountain Biking 
Mountain biking is popular and again there are plenty of biking trails around, including dedicated trails on Knox Mountain. In addition, there is a huge mountain bike park: Campbell Mountain Bike Trails. Some of the trails here are quite challenging, but my favourite was always the Kettle Valley Railway. This is a really easy but very scenic trail and you can make it as long or as short as you like. The views over the valley are stunning and the trail itself with all the trestle bridges is very characterful.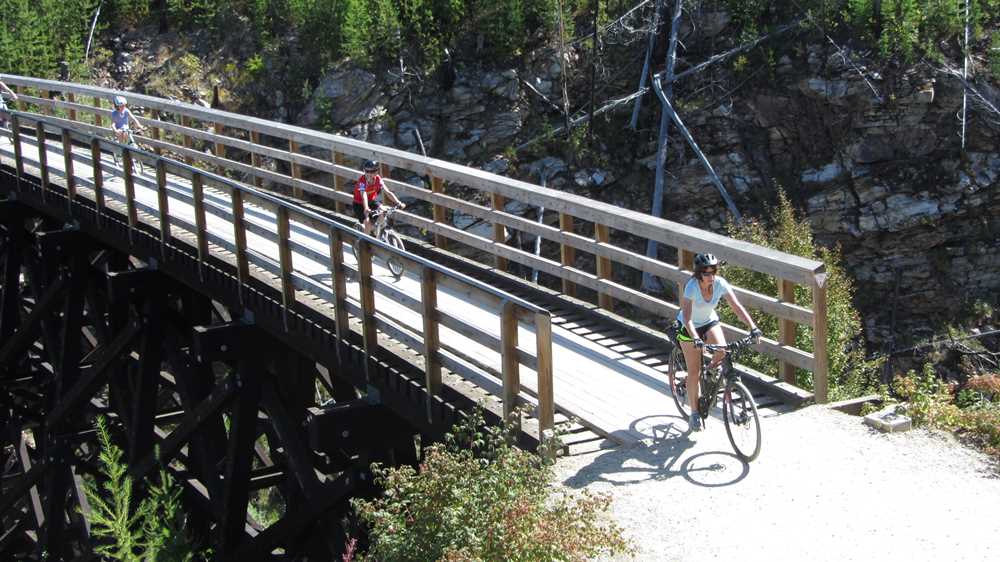 4. Off road motor biking
Another activity in which we indulged here was motor biking. Off-road biking is really easy here as there are lots of dirt roads through the forests and so much "crown land" with great trails.
5. Wineries 
And then of course, there are the wineries! One is never stuck for something to do on a Saturday afternoon as there are so many wineries in the area and all offer great tasting experiences. There are many in the immediate area of Kelowna and West Kelowna and an hour's drive away, Oliver is certainly worth visiting. The wineries are also the best places to eat if you want to get away from the diner-grill restaurants which abound in the city. One of the best wineries in Kelowna in my opinion is Gray Monk. The restaurant is wonderful and there are fabulous views over the vineyards and the Okanagan. The Gray Monk pinot gris never fails to please. Another of the best Okanagan wineries is Tinhorn Creek down in Oliver. Their restaurant is great and the Oldfield Merlot is my favourite.
There are lots of small wineries around Kelowna also. On our latest trip we visited St Hubertus on Lake Shore and I could recommend the tasting there.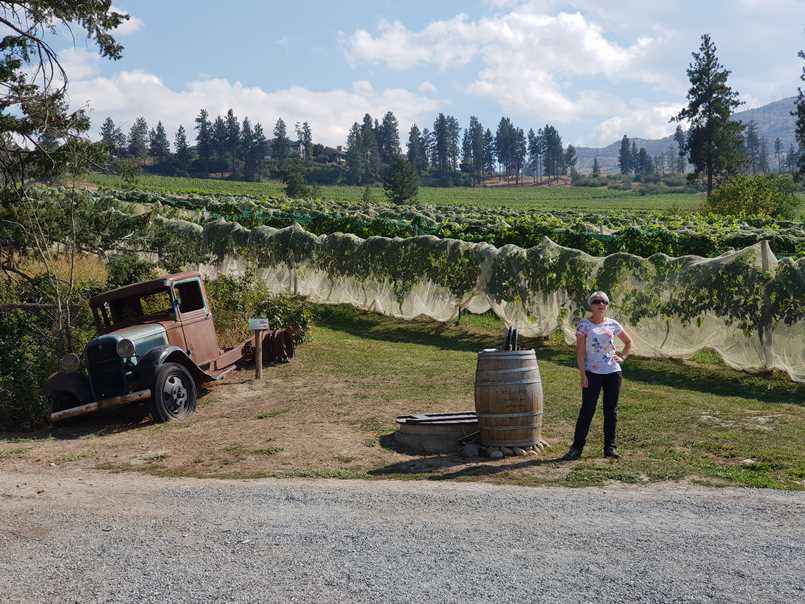 Blasted Church in Okanagan Falls is another small winery which we enjoyed visiting. The fanciest winery is probably Mission Hill over in West Kelowna. They have wonderful grounds and great views over the lake.
6. Visit the orchards and sample the fruit
In the summer, the orchards around Kelowna are overflowing and there are fruit stands everywhere. The cherries, my favourite fruit are the best you will find. We also indulged big time in the peaches, nectarines, plums and apricots. Fun Fact: if the cherries get wet when they are ripening they can be spoiled. The solution to this is to fly helicopters over the cherry trees to dry the fruit! As well as the fruit stands, there is also a farmers' market on Saturday mornings. There is fabulous local produce on offer and a great atmosphere.
7. Skiing at Big White
Any list of the best things to do in Kelowna has to include skiing at Big White.  Big White is about a 40 minute drive from the middle of Kelowna. This fabulous ski resort has a large and varied ski terrain with something for every level of skier. In addition, there are lots of other winter activities (tubing, snow mobiles, snow shoeing, cross country skiing, skating…) for non skiers. We had season passes for Big White when we lived in Kelowna and spent many days up on the slopes. We were never bored as the resort covers such a large area. Typically, we would park at Gem Lake which is a ski in, ski out car park! There is a small cafe warming hut there and toilets which made it all very convenient. Alternatively, there is more parking and access to all the slopes from the main village.
And finally…
Kelowna was a great place to live and we feel blessed to have discovered it. We thoroughly enjoy going back to visit and are grateful to have made so many friends there. There is just so much to do and see in Kelowna it is impossible to be bored. It is also easy to visit other places from Kelowna. It takes about four hours to drive to Vancouver and Alberta is just a day's drive. You can read about our trip to Alberta as the first destination on a trans-Canada road trip by following the link.
If you like it, please Pin it!