Quito, the capital of Ecuador, was the start and end point of our trip to the Galapagos Islands. Since we were travelling all the way to South America, it made sense to add on a couple of extra days to explore one of the highest capital cities in the world. This is exactly what we did, but was it worth visiting Quito? What is there to see and do in Quito, especially if one only has a couple of days?
When we researched "what to do in Quito", most of the guides advised leaving Quito to visit places like Mindo or the National Park, Cotopaxi. These are both at least a two-hour drive away. We did, in fact, spend one day in Mindo, but Cotopaxi was closed because the volcano had been a bit too active! Another suggestion for activities in Quito was to head to Mitad del Mundo and straddle the equator, but even this is a way outside of Quito itself.
So what is there to see in Quito in one day?
But first, a few facts about Quito
At 2850 ft, Quito is the second highest capital city in the world (after La Paz in Bolivia). The surrounding landscape of the Andean mountains makes for a dramatic backdrop to this city. Quito is the oldest capital city in South America and was declared a UNESCO World Heritage Site in 1978, largely because of its well-preserved historic centre. Quito was built on the site of an ancient Incan city and its full name is San Francisco de Quito.
One day in Quito
Of our additional two days staying in Quito, we spent one day on trip to Mindo in the cloud forest. The other day we spent exploring Quito.
Wandering around the old town
The old town is very characterful with lots of narrow, winding streets, plazas and parks.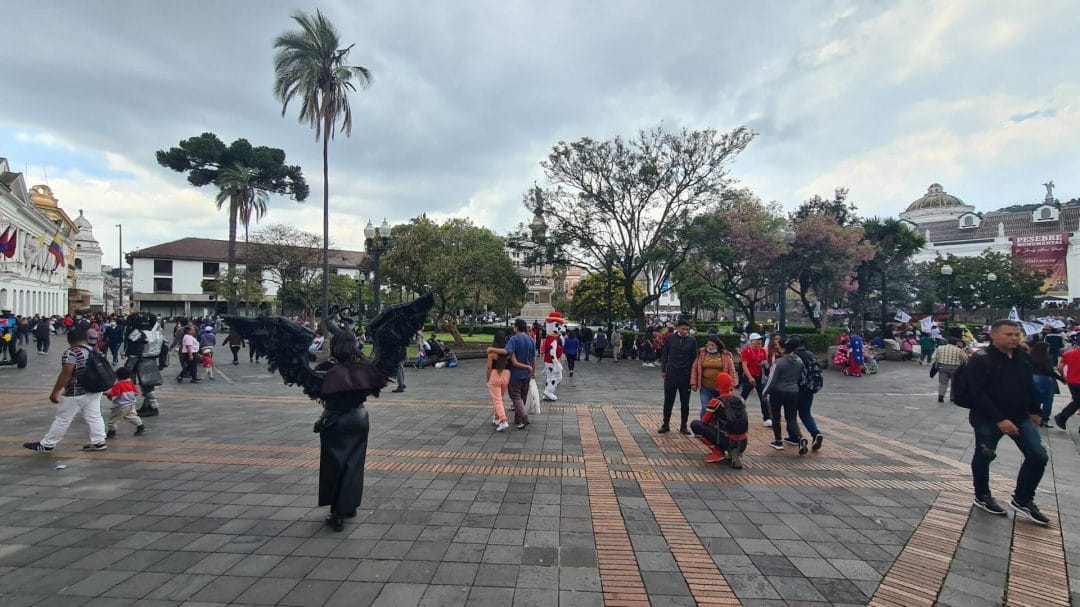 We enjoyed wandering around and soaking up the atmosphere. Some of the architecture, particularly of the churches and other religious buildings, is quite beautiful.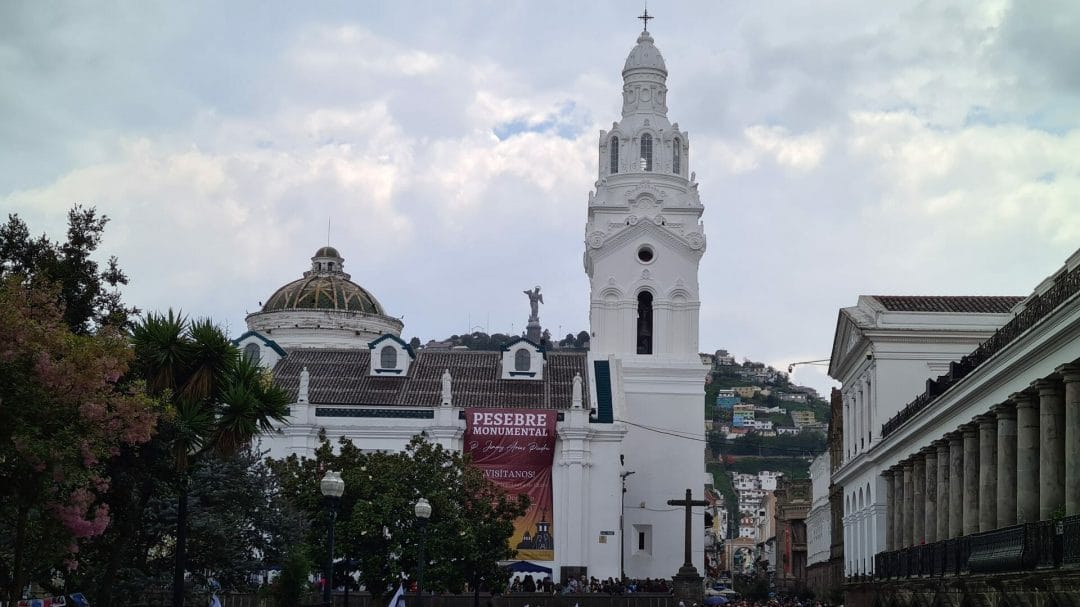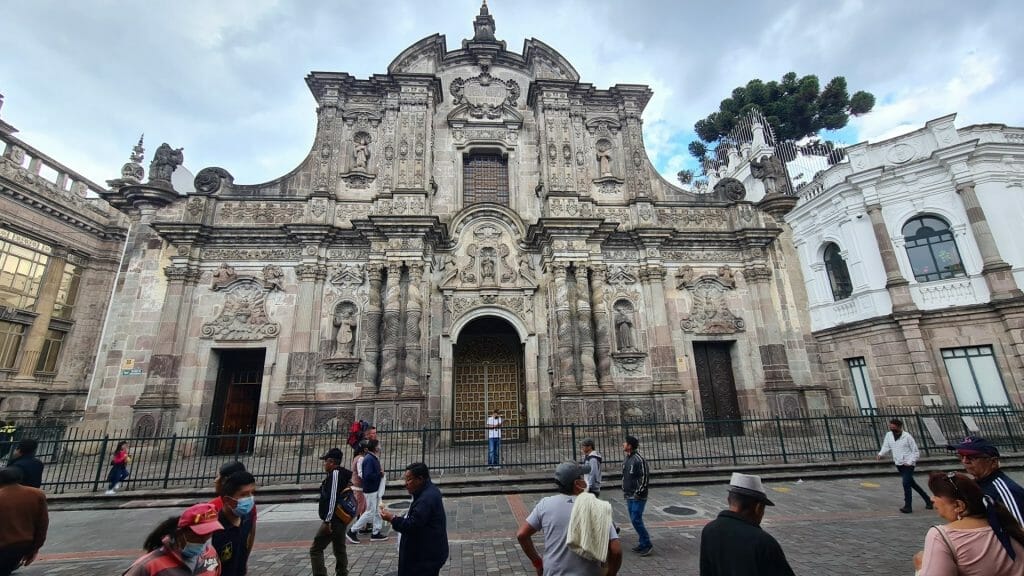 Quito is known for its coffee shops and chocolate shops, but we particularly enjoyed meandering through the markets.
For a small fee, some stall holders in the markets will allow you to sample a wide range of fruits they have for sale.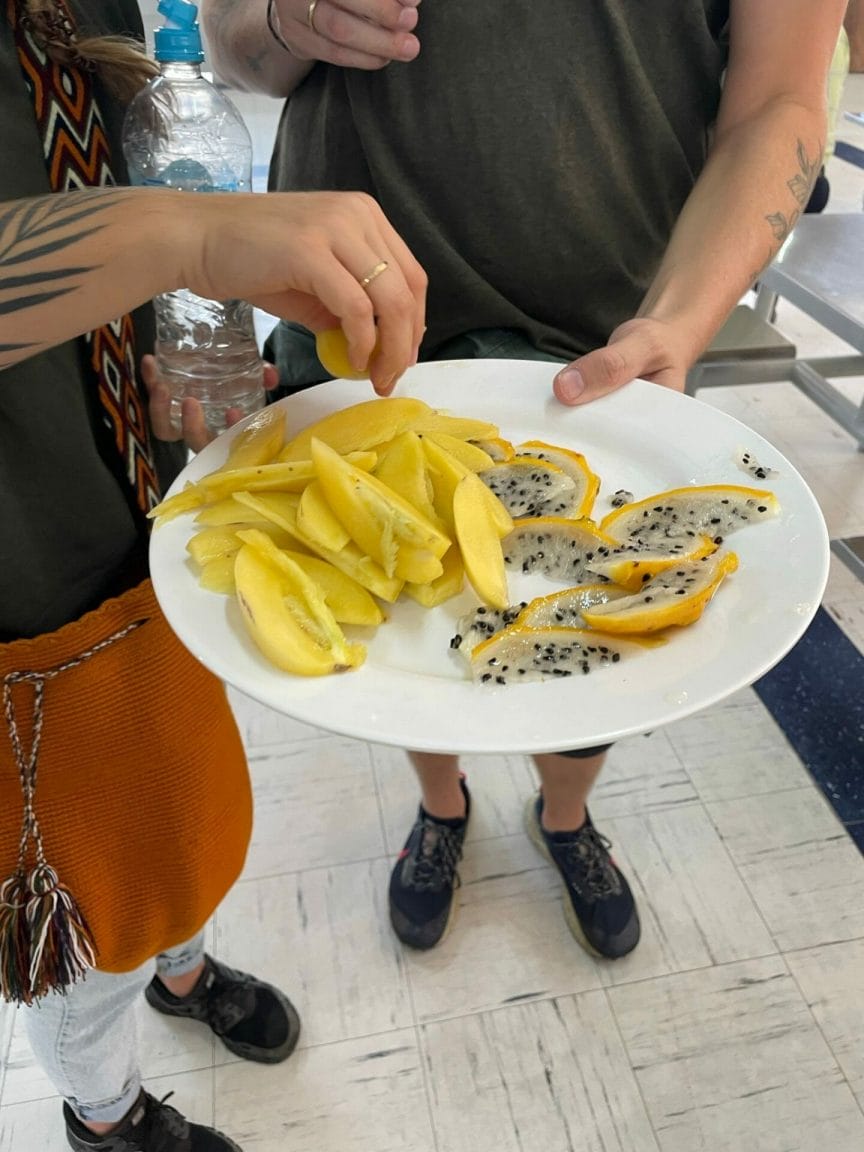 Exploring the new town – or not
In addition to the old town, there is the modern Quito, which is very different. It is known for its nightlife and is famed for its eateries.  Several of us from the Galapagos trip, booked on to a free walking tour of this area, known as Mariscal Sucre. We took a taxi to the designated meeting place, a rather swish hotel, but the guide never appeared. The event was nothing to do with the hotel, which was just a meeting point, so they were unable to help.
No worries. We set off to explore by ourselves, discovering some interesting buildings, such as the Quito Publishing House, pictured below. This building was ranked 8th among the 500 best socio-environmental projects in Latin America in 2015.
There was some fabulous street art:
And a great view over the city:
We also discovered this quirky cafe where all the furniture is constructed from bike bits.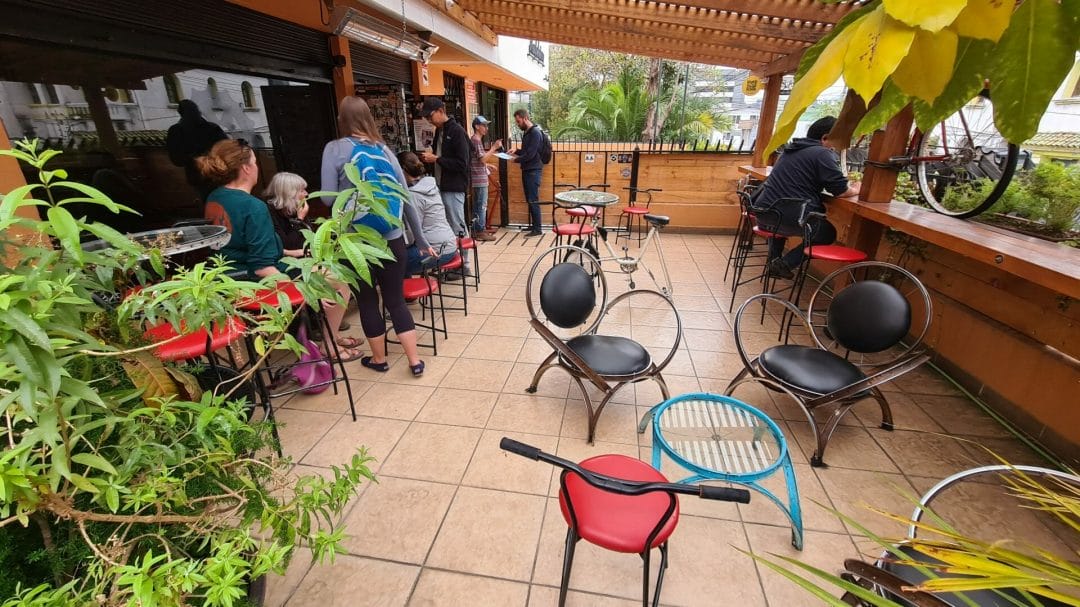 Then we found a great cocktail bar!
There are lots of eateries and bars in Mariscal Sucre.
Riding the Teleferico in Quito
By far the highlight of exploring Quito though was the teleferico – the cable car which rises high above the city reaching an altitude of 3947 meters (12950 ft). This alone made Quito worth visiting. The cable car runs up the east side of the Pichincha Volcano and yes, it is an active volcano! It last erupted in 2002.
It costs $8.50 to ride the teleferico and the journey lasts around 20 minutes. When we went it was very quiet and there were no queues, but I believe that this is not always the case.
The views from the top are magnificent and even though it was not the clearest of days, we could see Cotopaxi in the distance.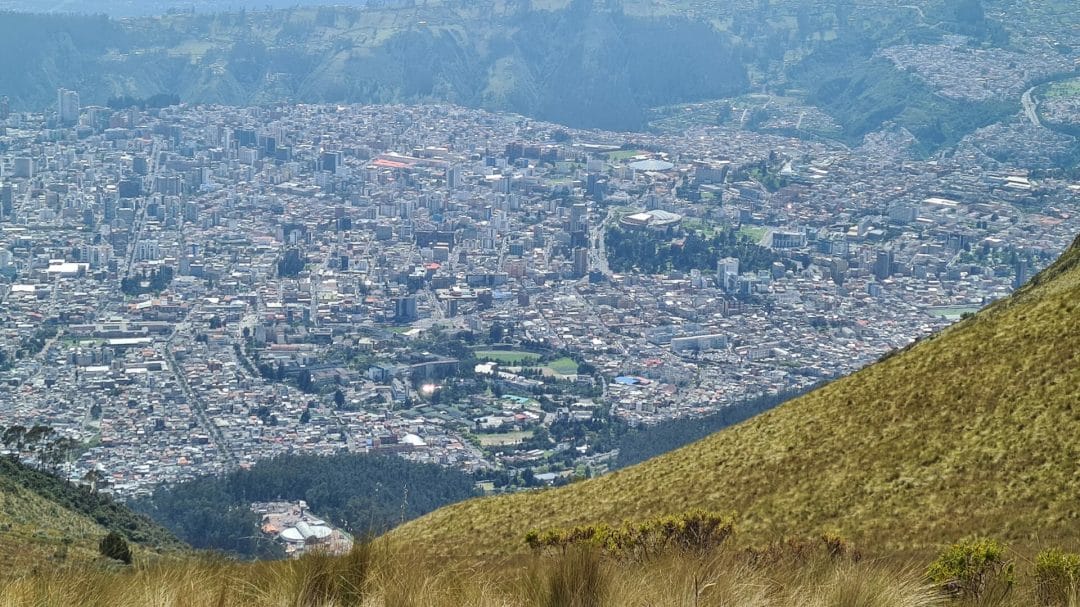 There are several trails to explore from the top of the cable car – and swings! I loved this: swinging out over the city at such an altitude is really quite an experience.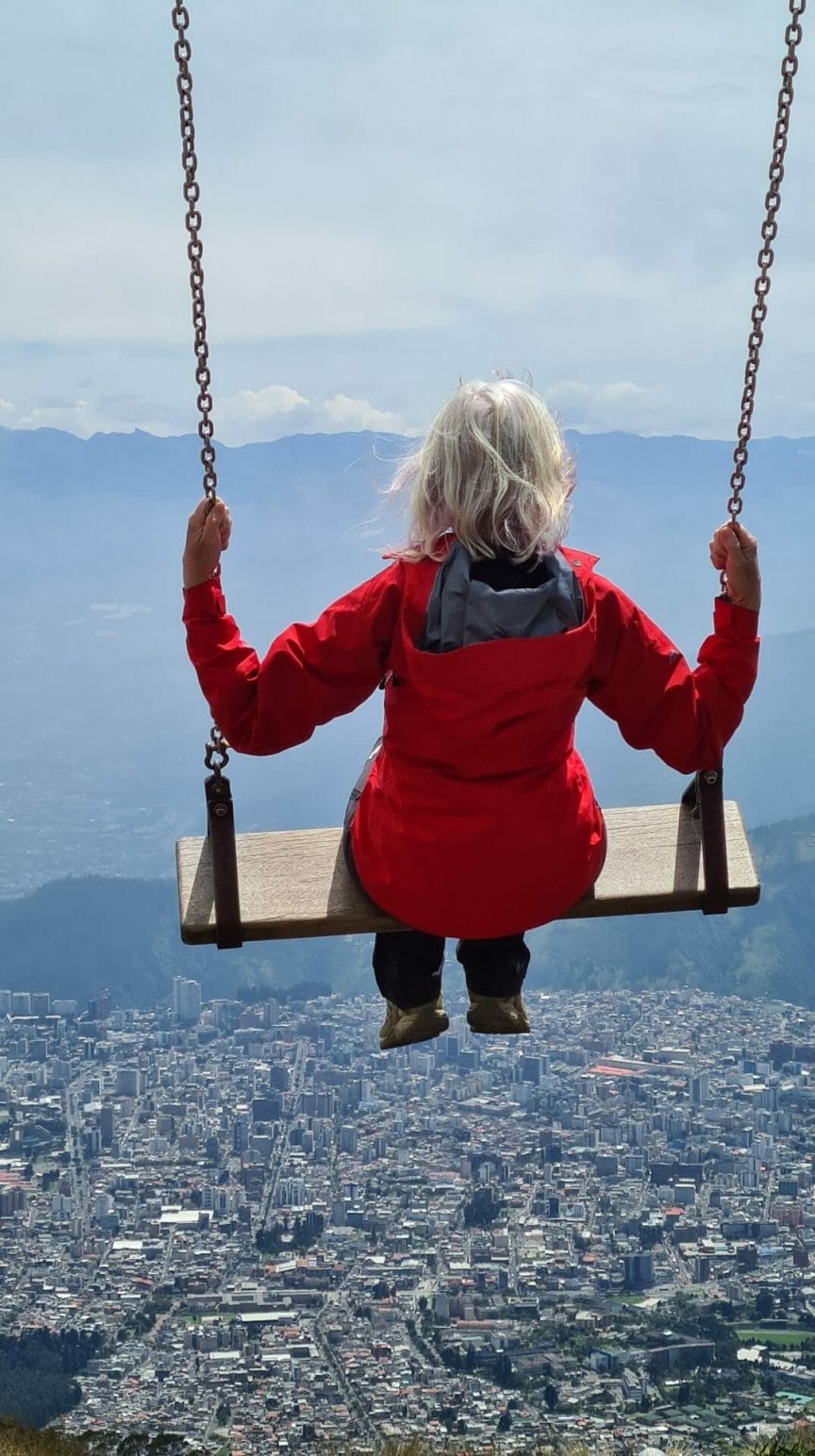 I would definitely recommend riding the teleferico in Quito.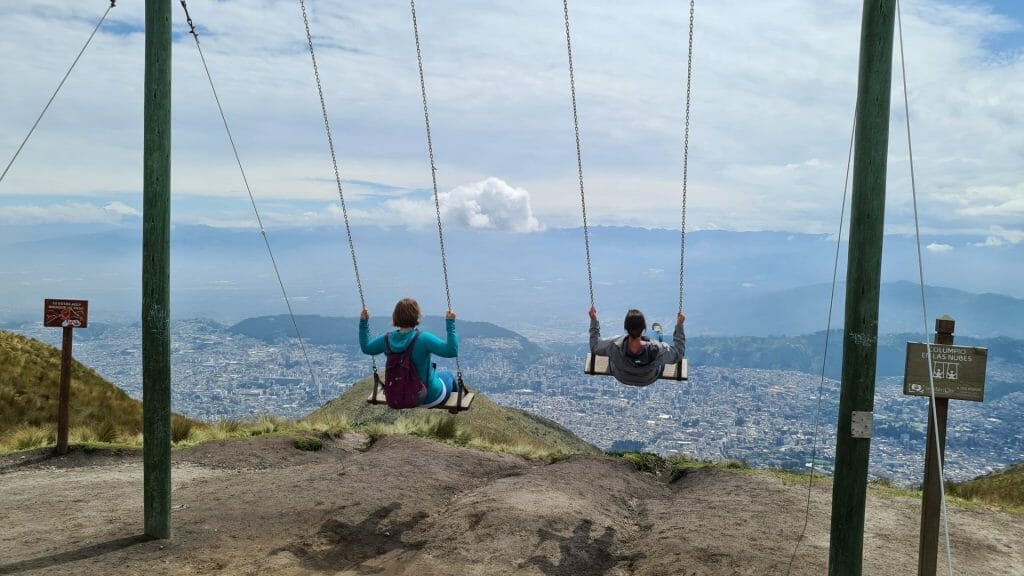 Is Quito safe?
Quito is regarded as relatively safe in Ecuador, but it is important to have your wits about you. We were aware that pick-pocketing is an issue. Whilst wandering through one of the parks, one of our group was suddenly hit by a murky brown substance and a young man rushed up, apparently to help clean the bird crap from his shirt. We immediately closed in and shooed him away. Fortunately, he went. I have no idea what the substance was with which Peter had been squirted, but it was not bird poop. An innocent event? Given that exactly the same incident happened to someone else in our group later the same day, I doubt it.
It is also worth noting that when we returned from the Galapagos, we asked our guide for restaurant recommendations in Quito. She suggested a venue about a half mile from our hotel and it turned out to be an excellent recommendation. However, she was clear, that we should stick together and no one should walk through the streets by themselves in this area.
In short, it is important to be alert and take sensible precautions in Quito. Click here for other general tips and advice about visiting Eucador.
(For information, the restaurant we visited was called Miskay. It was a ten minute walk from our hotel, the Mercure. The food was imaginative with many traditional dishes on the menu and it was well prepared. The price was also very reasonable.)
Is it worth visiting Quito? Concluding thoughts
Of course it is worth visiting Quito! It is worth visiting any capital city in the world because each city has a unique character, culture and history. Who would not want to experience this? We enjoyed our time in Quito and have no regrets about visiting. It was time well spent. However, Quito is not up there with capital cities like Rome or Paris or Edinburgh. We are pleased we went, but Quito has been ticked off the list now. We would probably not go out of our way to spend more time in Quito in future.
Have you been? Do you agree? Please let me know in the comments.
If you enjoyed reading the article

Is it worth visiting Quito?,

y

ou may also be interested in the following:
If you liked this post, please share on social media