"Climbing Huayna Picchu has the most spectacular views of Machu Picchu." All the blog posts and tourist guides promised that the best views of this wonderful archeological site were from the summit of Huayna Picchu.
Huayna Picchu – you know – that fabulous, pointy mountain, which features in all the iconic photos of Machu Picchu? Yes, that one!
Our guide asked us in the planning stage if we wanted to climb Huayna Picchu, also known as Wayna Picchu.  I said yes immediately. Peter had not been to Machu Picchu, but I had visited a few years previously (Hiking in Peru: trek to Machu Picchu) and had not climbed Huayna Picchu, so this would be something different. And as this was the best way to see the citadel, apparently, it was a done deal. Yes, it seemed to be a challenging climb, but we were up for it!
Best view of Machu Picchu? Not on the day we went!
Unfortunately, the weather did not co-operate. We arrived at Machu Picchu in the early hours of the morning ( – well, it seemed like it! We had to get up at 4.00 am as Marco, our guide, insisted it was better to be there early. He is usually right.) It was pouring with rain and the whole site was swathed in thick fog. We could barely see Machu Picchu, let alone the mountain behind it.
We were determined to make the most of it though. Even in the fog and rain, one cannot help but marvel at Machu Picchu. The scale of it is phenomenal and it is such a wonderful feat of engineering.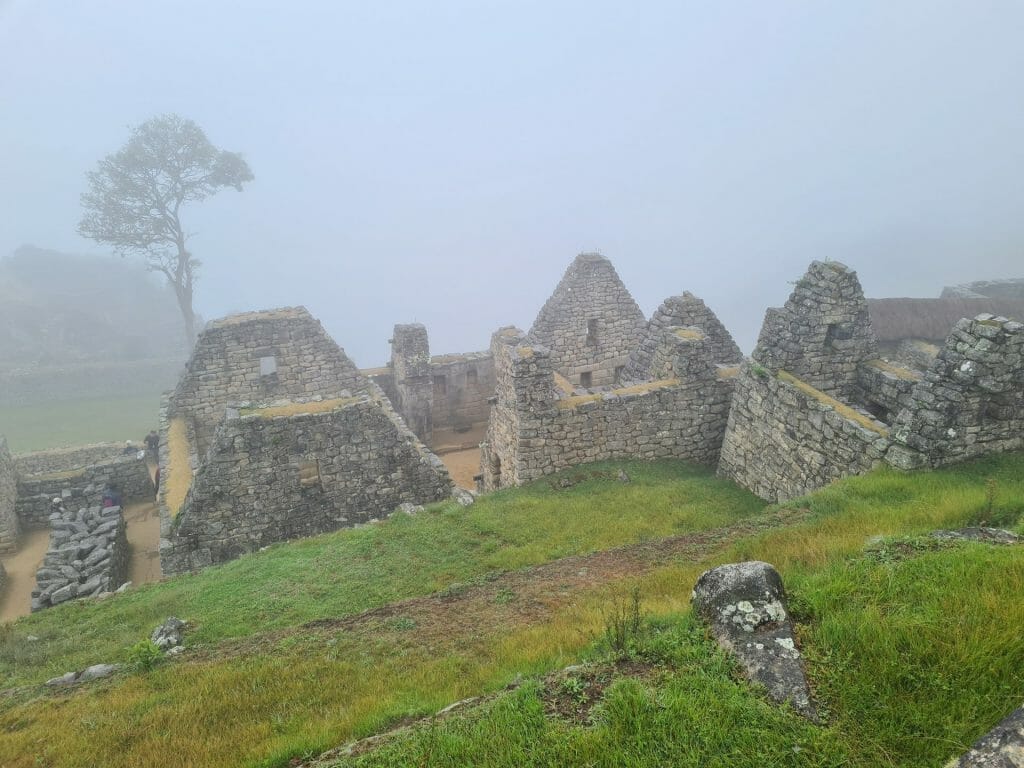 We toured the upper part of the citadel first, hoping the weather would clear. By this time, I had donned full waterproofs. As the weather showed no sign of clearing, we ventured down into the middle part of the citadel and Marco guided us around all the really important and interesting features of the citadel.
To climb or not to climb?
As the rain continued and the fog stayed stubbornly in place, we were faced with the question: was there any point in putting in all that effort to climb Huayna Picchu when there would be absolutely no view at the top?
We were scheduled to start our climb at 9.00 am. In the end, we felt it would be a shame to waste these valuable tickets (tickets are restricted – see below) so we should go for it.
And we did!
I am so pleased we made this decision. Climbing Huayna Picchu was quite an adventure!
How hard is it to climb Huayna Picchu?
The climb up Huayna Picchu is quite challenging because it is so steep. Like the Inca Trail, much of the trail up the mountain consists of steps constructed by the Incas in the 15th century.
The trail winds its way up the jungle-covered mountain. In some places, a little scrambling is required. Occasionally there are handrails, but not always where one might appreciate them. There are steep drop-offs along the way and this can be intimidating as the trail is quite narrow in places. I cannot comment on the view during the climb because, well…you know….the fog!
The trail becomes even steeper towards the top, culminating in the "stairs of death", a very steep flight of steps where most people have to use hands as well as feet, as if climbing a ladder.
Coming down is easier, of course, if one's knees are in good order! Most of the descent is via the same trail, but the "stairs of death" can be bypassed by a slightly different route at the top.  This route involves negotiating a fairly tight, rocky tunnel. This was created by the Incas to hinder the progress of invading forces. I imagine it was quite effective!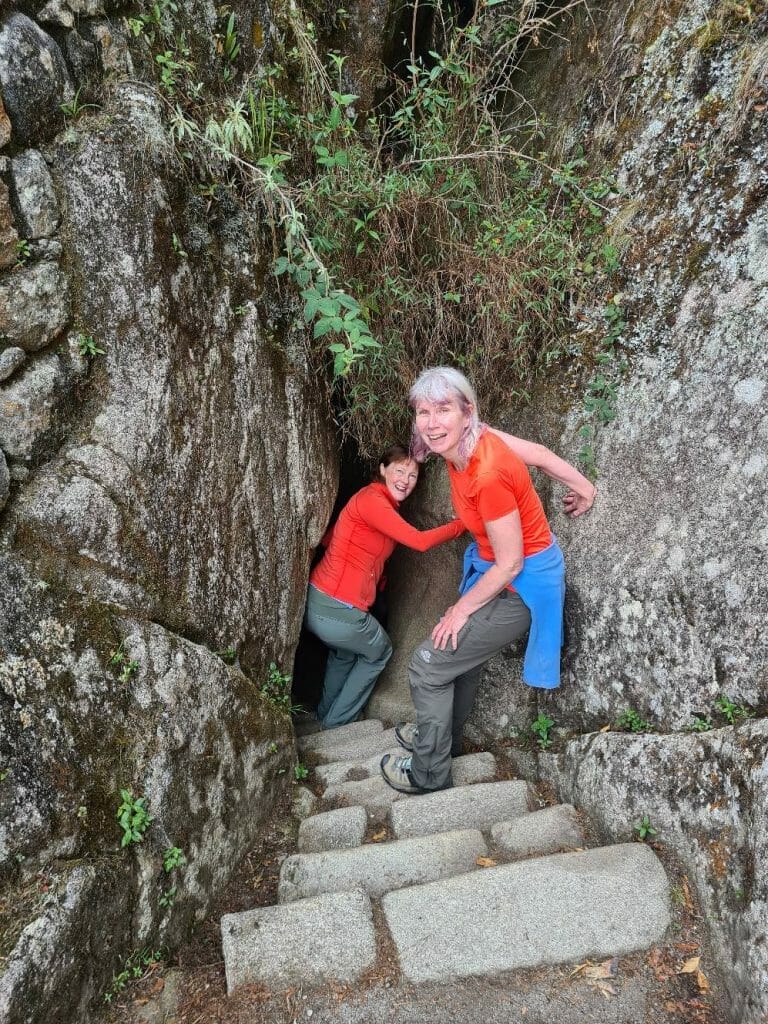 The tunnel will not present a problem for most people, but a young woman in front of us was clearly claustrophobic and flatly refused to enter. Her friends were very supportive and I think she must have managed with their help eventually.
In short, the Huayna Picchu climb is moderately difficult, but at around 4km, it is not long. Most people of reasonable fitness and mobility should find it straightforward
How long does it take to climb Huayna Picchu?
It takes about an hour to climb to the top of Huayna Picchu. This will depend on how often one stops to take photos of the view. We didn't take photos of the fog, but like most people, we had to stop in order to rest occasionally. Coming down is faster, but we found that we had to take our time as it was quite slippy in places (because of the rain!)
Incidentally, there is another, longer trail up Huayna Picchu and this trail forms a loop which takes in the Moon Temple as well as the summit of the mountain. Unfortunately, this trail was closed when we visited, but I think it would take most of a day to complete.
Is climbing Huayna Picchu worth it?
Absolutely! This hike is special. We had a huge sense of achievement at reaching the top of this remarkable trail built by the Incas. With the steps, the stairs of death, the cliffs and the tunnel, it was quite an adventure.
There were some buildings at the top of the mountain. Amazing that the Incas managed to build in such a place!
Our view was not what we had hoped for…..Machu Picchu is out there some where!
This is what we had hoped for (photo below kindly supplied by our guide, Marco).
A view over the citadel of Machu Picchu would have been the icing on the cake, but by the time we reached the bottom, the rain had stopped and the fog was clearing. Before long, it was entirely clear and there was a sense of satisfaction in looking back to Huayna Picchu and thinking: "We were up there!"
We also felt a little smug at having avoided the worst of the crowds touring Machu Picchu! By the time we got down from Huayna Picchu, it was heaving.
Climbing Huayna Picchu: need to know
The first thing anyone needs to know if planning to climb Huayna Picchu is that tickets are strictly limited and they sell out quickly so they need to be bought well in advance.
Secondly, as per our experience, the weather may not behave in the Andes and so that magnificent view of Machu Picchu from the top of Huayna Picchu may not be visible.
Thirdly, although not a long climb, it is quite challenging so a level of fitness is necessary. Given that, I am no spring chicken and had no problem. Anyone with a fear of heights may face different challenges as the drop-off in places is quite sheer and the tunnel on the way down may be difficult for anyone with claustrophobia.
Finally, the alternative to climbing Huayna Picchu is to climb the facing mountain, Machu Picchu (like the citadel). I understand that this hike takes longer but is not as steep and perhaps less challenging. Both offer fabulous views over the citadel – always assuming that there is no fog! If there is, neither has a view!
Tickets for Huayna Picchu
At the moment only 200 people per day are allowed to climb Huayna Picchu and entrance is strictly controlled. Before Covid, 400 people per day were allowed to climb, but even then, tickets sold out months in advance. Tickets for Huayna Picchu (including entry to Machu Picchu) start at around $78 per person, but various packages are available. The options for tickets and packages for visiting Machu Picchu can be accessed on Ticket Machu Picchu.
Related Posts
If you found this post interesting, please share!