I thought my days of camping in a tent were done. How then did I find myself hiking in Peru on a trek to Machu Picchu and sleeping in a tent? Well I did and loved it: hiking in Peru (including the tent) turned out to be a fabulous experience which will always stay with me. Visiting Machu Picchu was the icing on the cake.
So why hiking in Peru?
My youngest daughter, Rebecca, was about to finish a summer placement and she had a few weeks before her university term started. We decided to take a trip, but where? I happened to mention that I had always wanted to go hiking in Peru and visit Machu Picchu. She was up for it immediately so we started looking at options.
The Salkantay Trek to Machu Picchu
We researched several options including the classic Inca trail to Machu Picchu. However, passes for this trek are limited and it seemed that all the places had been booked for our time slot. I was also a little disturbed to learn how busy this trail could be. In the end we decided to book a trek over the Salkantay Pass to Machu Picchu with a company I had used before, KE Travel. (Details at the end of this post).
This trek appealed because it was reportedly more scenic than the Inca Trail and much quieter. The downside was that it was also more challenging! The trip included time in Cusco and the surrounding area to acclimatize, as well as the trek over the Salkantay and a visit to Machu Picchu. It was fully supported with a guide and trek crew. Horses and support staff would take the bags and equipment between the camp sites and set up the tents. Meals on the actual trek were all provided. The trip culminated in couple of days at Lake Titicaca which also appealed. This itinerary ticked all the boxes for us.
Preparation for the trek
Fitness
The trek is billed as a Grade 5 (out of 12) by KE which is considered "moderate" in terms of physical challenge. I am reasonably fit for my age, but having completed this trek, would advise some preparation. At the time I was jogging and hiking regularly, but stepped it up a little before I went.
Altitude
The main consideration is the altitude. The Salkantay Pass is at an altitude of 4600m. That is high! I conducted some research including a medical consultation and decided to take Diamox, the medication which is supposed to prevent altitude sickness. Time was scheduled in Cusco for altitude acclimatization and because of my flight times, I had an extra day before the rest of the group arrived. Even so, I was shocked at how much the altitude affected my fitness when we started to climb. The guide had warned us as we started the main ascent that we should walk for 2 to 3 minutes and pause to take a drink of water and rest. I thought he was exaggerating; he was not. Taking Diamox is a matter of personal choice, but I am convinced that for me it was the right decision to take it.
Vaccinations
I already had some of the necessary vaccinations such as Hepatitis, but I had to have Yellow Fever prior to travelling to Peru. One should always check the latest advice regarding which vaccinations are required in this part of Peru.
Equipment
As most of our kit had to be transported by horse on the trek, baggage is restricted and so careful packing is required. What I would note is that we experienced a vast range of temperatures. One morning we woke up to find the tent covered in frost. It was a woolly hat day. Two days later we were heading down through rainforest jungle and it was a sun hat, vest and sunscreen day! It goes without saying that strong, comfortable walking boots are essential.
In my day pack I carried a bladder containing a couple of litres of water, food for the day, clothing layers, sunscreen, insect repellent, hand sanitiser, tissues, sunglasses, blister plasters (I did not need them, but liked knowing they were there!) and camera.
On our equipment list provided by the tour operator, poles were listed as optional for hiking in Peru. At our initial briefing session in Cusco, however, the guide strongly advised that we took them. I had not brought any, but decided to take his advice and rent. I am so pleased I did. The descent down the Salkantay would have been very difficult without poles.
A Period of Acclimatization 
The first part of our trek was all about acclimatization, a very important component of hiking in Peru. Most treks to Machu Picchu include some time in Cusco and the surrounding area in order to acclimatize. Cusco is at an altitude of 3400m so still quite high, but a useful stepping stone before heading off into the mountains. This period was also an opportunity to explore the area and the history of Peru, as well as getting to know the rest of the group.
Arriving in Cusco: meeting our group and guide
I flew into Lima and then transferred to Cusco. I arrived in Cusco ahead of the rest of my group as I was flying from Canada and flights had proved difficult to organise. In retrospect, I was quite pleased to have the extra day to acclimatize.
The hotel in Cusco was centrally located on a quiet street and very characterful. There was a central courtyard with rooms above accessed by a balcony.
It was clean and comfortable. Although the rest of my group were not due to arrive until the following day, I hooked up with another group heading out on a different trek and they welcomed me into their party for the evening. I think I almost ended up joining their trek, but Rebecca would have killed me!
The rest of my group arrived the following day, including Rebecca. We officially convened for a group meeting in the evening and met our guide, Jose. There were 8 of us in the group, mostly from the UK but one from the US and me from Canada (although I am English!).
The guide was great and we got to know him well over the coming days. He had a wicked sense of humour! In the Any Questions section of this meeting, I had asked if it would be possible to fill the silicone bottle I had brought with hot water on the trek as I got cold in bed. His retort was merciless and I was the butt of jokes for days to come. It was even funnier a few days later as we were about to spend our first night in the tents: he announced a "special gift" for me…… a real hot water bottle! In fact, he had one for everyone. He really milked that though!
Exploring Cusco
Cusco is the historic capital of the Inca Empire and a World Heritage Site. There is plenty to interest here. Over the next two days we had the opportunity to explore Cusco and the surrounding area, including the Sacred Valley. We had some free time to explore the cobbled streets and Plazas of the city, but also a mini bus with Jose to visit sites outside the city.
Cusco is a beautiful, historic city and the Spanish influence on the architecture is evident. The Plaza de Armas is in the centre and we loved wandering around this area. Rebecca and I found a number of markets and street stalls selling local crafts and fresh produce.
One of the most interesting sites we visited was Sacsayhumán (pronounced "sexy woman" according to Jose!) , the ruins of a 15th century Inca Citadel a little way out of the centre of Cusco.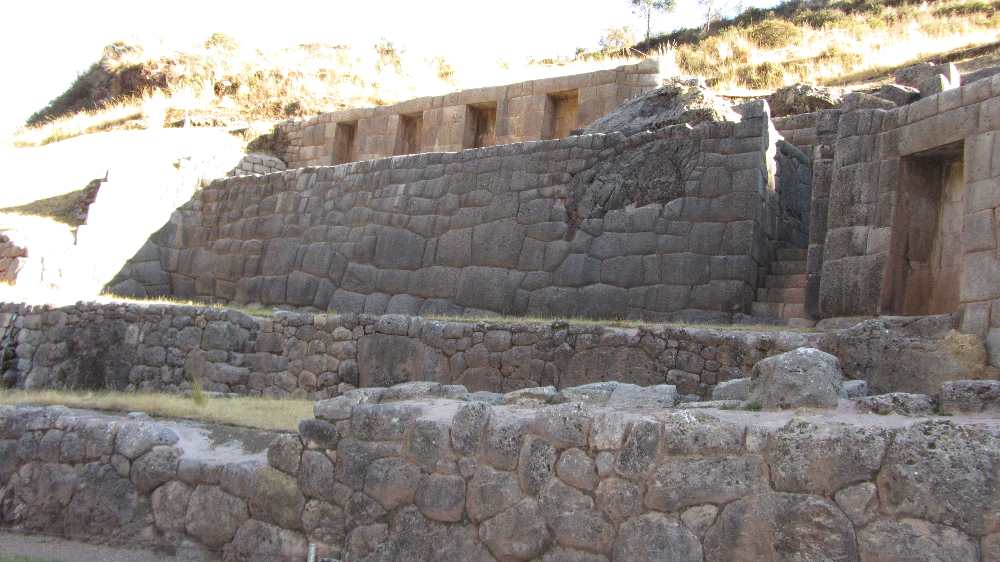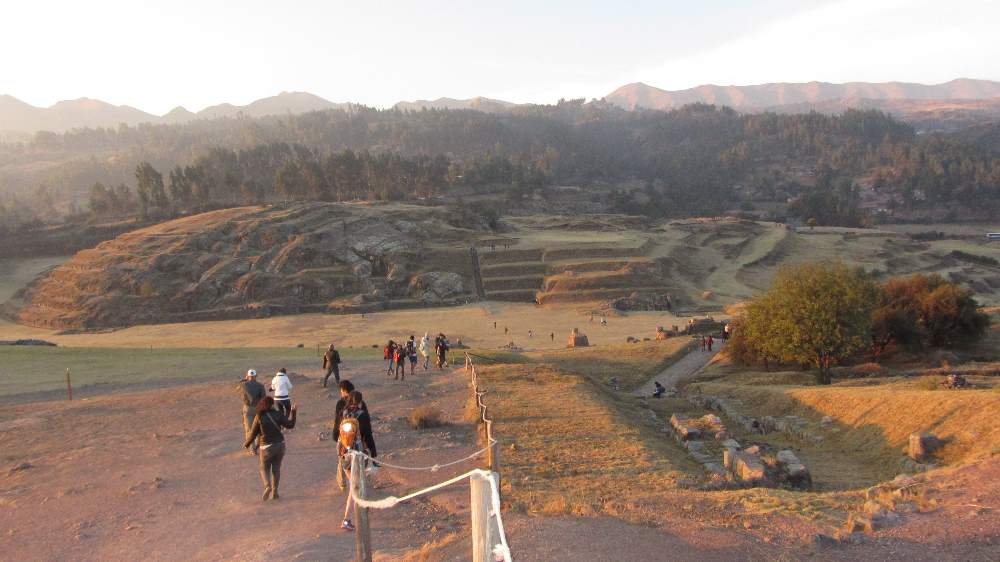 There were fabulous views over the city from this vantage point.
The Sacred Valley
The Sacred Valley was an important area in the Inca Empire and the valley has many ruins left over from this time. On our third day we drove by minibus to the ancient village of Chinchero in the Sacred Valley. We wandered through the narrow streets and around the market, as well as watching a weaving demonstration, a craft for which this area is well known.
Also in the Sacred Valley are the Maras Salt Pans. Walking among the terraces of salt pans was quite surreal as they stretch as far as the eye can see. Fed by a subterranean spring, the pans are flooded as required and then left to evaporate in the sun. The salt which is left behind has come from pools deep underground. It is a very natural, unsophisticated process which has continued for hundreds of years, the salt pans being passed down within families.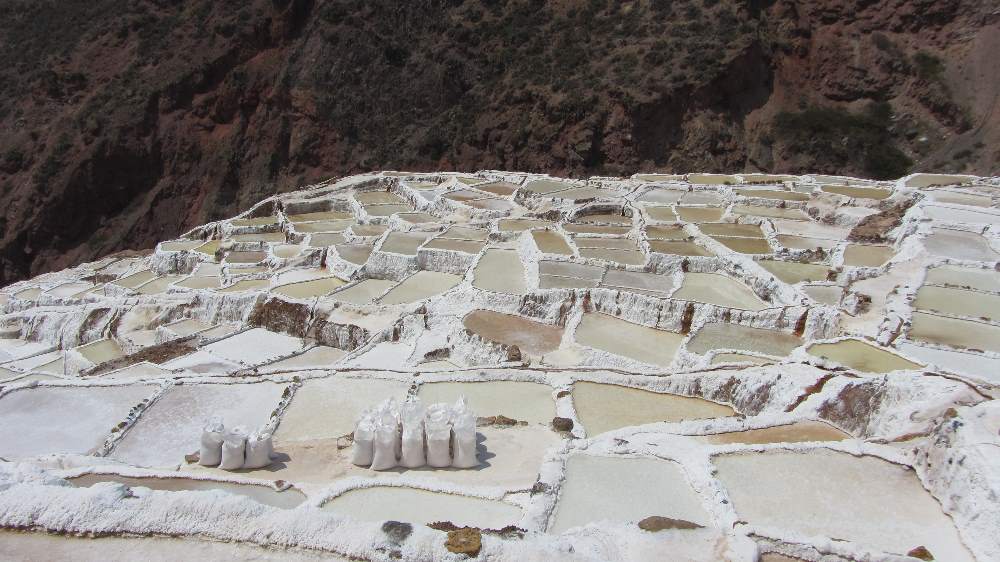 Finally, we arrived in Ollantaytambo, another village with historical significance in the Sacred Valley. Ollantaytambo is also the starting point for many treks to Machu Picchu. We arrived there late afternoon and after checking into our new hotel for the night, Jose took us to explore some of the Inca ruins in the town.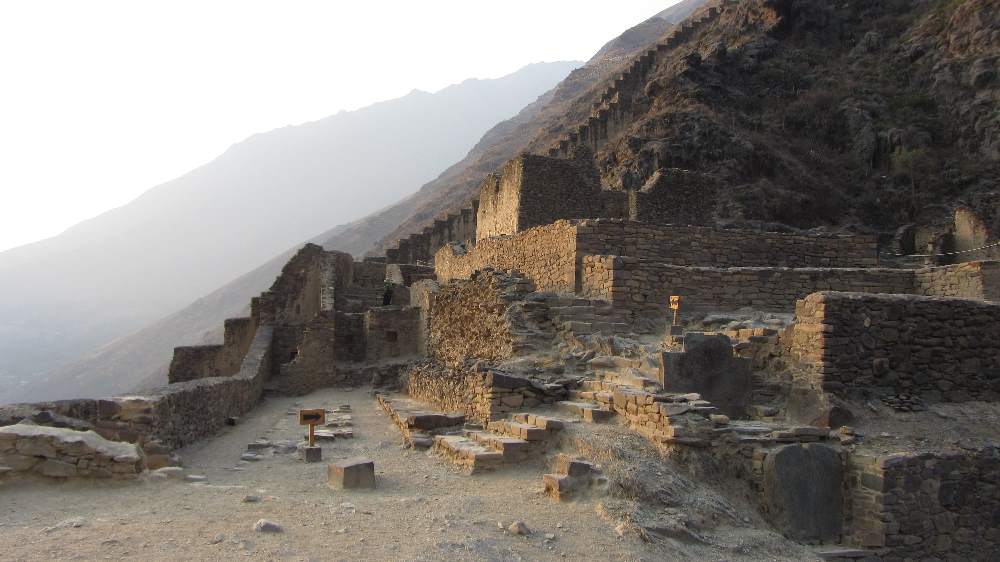 Hiking in Peru: the Trek over the Salkantay Pass
After the sightseeing, mini hikes and general acclimatization over the last few days, the main trek over the Salkantay commenced. We set out very early from Ollantaytambo by bus and drove to Mollepata where we met the support team and the horses.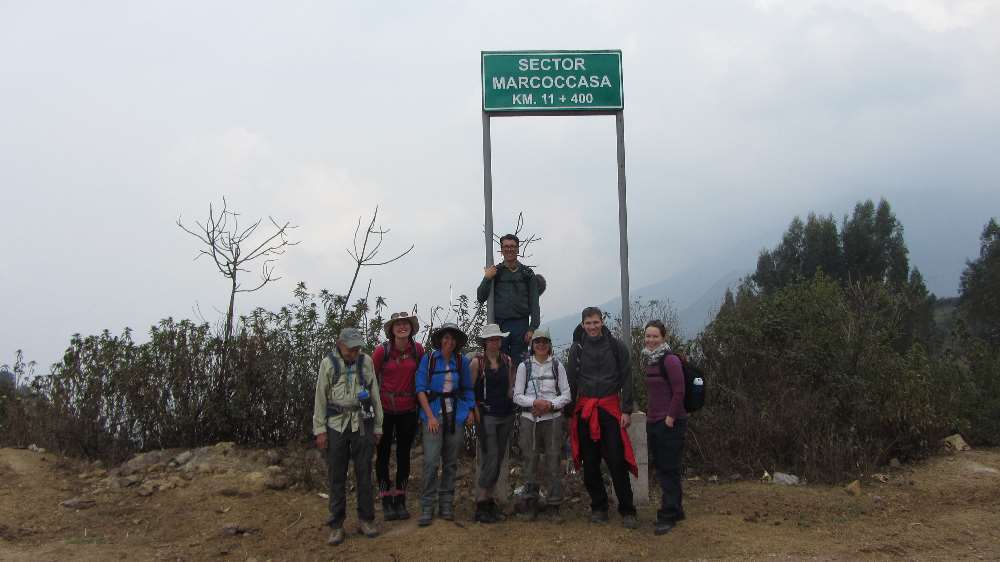 Our main bags went on ahead by pack horse, but one horse and its handler came with us. No one commented until Rebecca said to Jose: "What's the horse for?" He didn't hesitate: "That's for your mum!" Cheeky b*****r!
Hiking up..
The initial hike was reasonably gentle, but as we gained altitude, it became more strenuous. We hiked at a steady pace and Jose encouraged us not to go too fast. The trail itself was well marked and not too rocky underfoot, but the temperature plummeted as we climbed.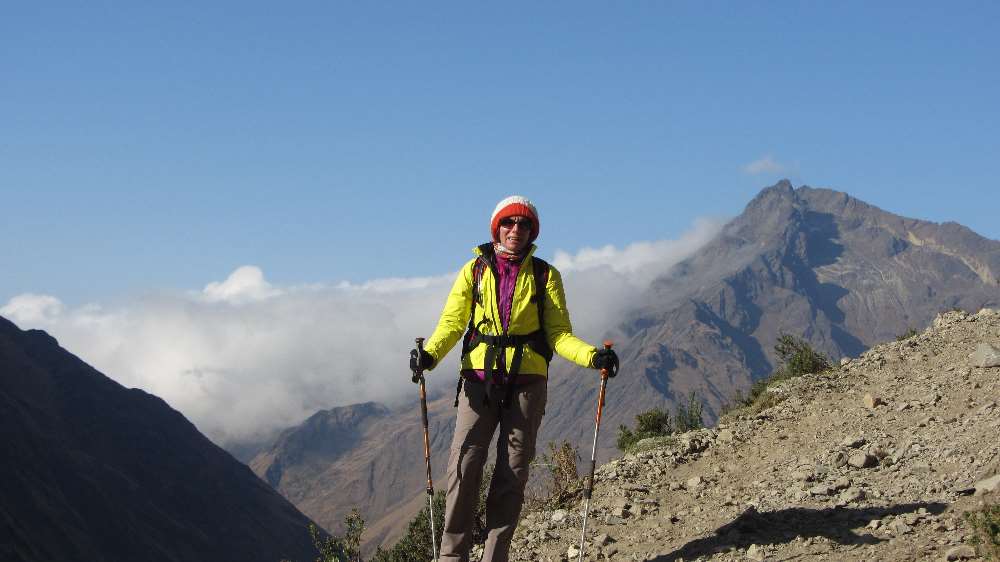 And the weather closed in occasionally so we had to don waterproofs.
We stopped for drinks and snacks frequently and always had a long stop, at least an hour, for lunch. Even so, the altitude took its toll. One of the fittest people in our group became ill. Jose put him on oxygen hoping he would recover. He did not improve sufficiently and Jose refused to let him continue over the pass. That horse Jose said was for me? It came in useful after all.
The views along the way were amazing.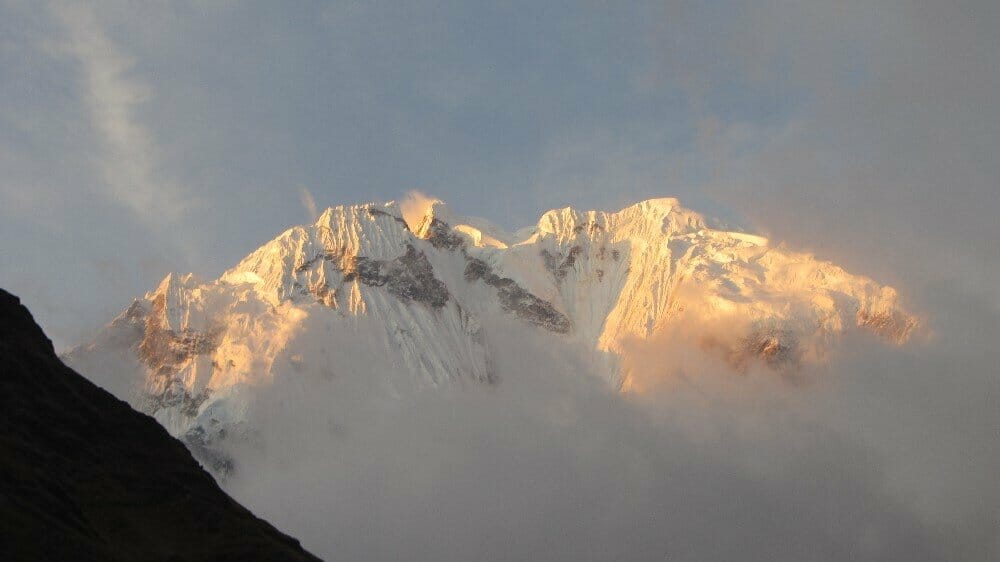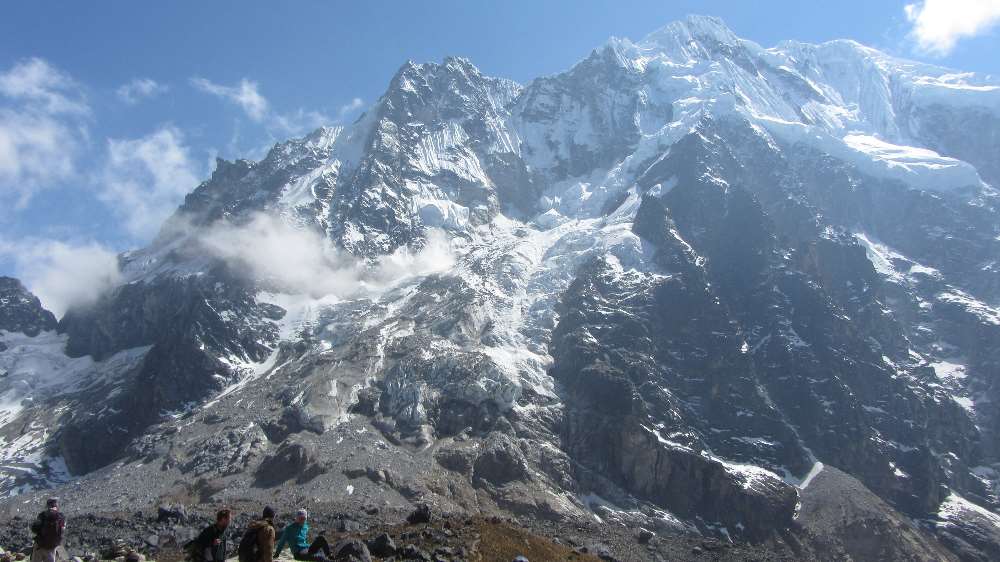 Reaching the summit was wonderful! It felt like a real achievement.
And down!
The summit was the turning point of course. The downhill trek was not easy, but poles helped and it became warmer as we descended.
Woolly hats and gloves were discarded and the vests and shorts came out. As indeed, did the mosquitoes. Do not let anyone tell you that repellent is not necessary. It absolutely is. The one person who did not use it was eaten alive and had to seek medication when we arrived back in civilisation.
Camping on the Salkantay Trek
We were all delighted to make camp each evening after a hard day hiking. It was so welcoming to see our tents already set up by the advance group and our bags waiting for us. The communal tent which we used as a mess tent was also in place and adjacent was the cooking tent. The cook was amazing. We were out in the wilderness and he wore pristine chef's whites whilst cooking up a storm in a tent! The food was wonderful – but I suppose it helped that we were all ravenous.
We used the mess tent as a socialising area, but had to retire fairly early to our own tents. Not only were we tired and ready for bed but this tent was where the horse people and the support team slept.
It was very cold at night and we awoke to frost on the tents. That hot water bottle was really welcome and we all slept with hats on.
We were greeted each morning with a bowl of hot water brought to our tent to freshen up and a cup of tea – no ordinary tea: this was coco tea! It is supposed to help with altitude sickness. I really cannot say whether it worked, but I drank it anyway.
"What about toilets?" I hear you ask. Mmm. Let's just say rudimentary arrangements were made in the camp! Think tent, bucket, bin bag….
The Coffee Farm
Our descent from the Salkantay concluded in a coffee farm where we spent our final night in a tent. This camp was rather more civilised than the ones up the mountain. Not only was there a flushing toilet, but for a paltry sum we had access to a shower. Luxury! It must be said that the shower was basic: situated in an outhouse and with a warning that once the water was flowing, we should not turn it off. In other words, we showered one after the other without being able to turn off the water! This mattered not: it was just wonderful to feel clean again.
After checking out our tents and availing ourselves of the shower, we were then given a tour of the coffee farm. The farmer explained the process of growing, harvesting and roasting the coffee. We were allowed to try our hands at roasting and grinding in a nearby shed, a fairly basic but beautifully aromatic procedure.
The tasting followed of course! The whole coffee processing experience was made particularly memorable by the fact that the shed was also inhabited by a few dozen guinea pigs scurrying around our feet on the floor. Guinea pig is a delicacy in Peru and the farmer was clearly supplementing his coffee income!
Aguas Calientes
We continued our trek down the mountain the following day. The track eventually gave way to a road leading to Hidroelectrica station. This was literally a train station near a power station in the mountains. A few market stalls were in situ to temp the travellers.
From there we took the train to Aguas Calientes, the nearest town to Machu Picchu. Our nights in a tent were done and we checked into our hotel. The hotel was close to a laundry facility and several of us took advantage. The cleaning was fine; the administrative procedures were less so. I lost a couple of items and gained some alternatives. Dasha, one of our group, ended up with my knickers and I had one of her tees. My bras had my name scrawled on the inside in marker pen. I still have no idea what happened to my best hiking socks but I did score a pair of shorts!
We enjoyed wandering around Aguas Calientes during the evening. There was a lively and festive vibe.
We had dinner together in a local restaurant. One of our group decided to sample the guinea pig. Having recently shared a shed with a number of these creatures, however, Becky and I could not bring ourselves to order this delicacy.
Whilst we were eating we also discussed plans for the following day and the visit to Machu Picchu. Buses up the hill would start from about 5.00 am and we decided as a group that we would go for the first batch. The buses run up and down continually and this is the only transport allowed up to Machu Picchu. No other vehicles are permitted so it is either take an official 20 minute bus ride or walk uphill for several hours.
Machu Picchu
It was still dark when we convened at something like 5.00 am the following morning. Nevertheless the lines for the buses were enormous. I could not believe how many people were out and about at this time in the morning. We joined a queue with Jose, our guide. The buses started running soon enough and we boarded along with everyone else for the journey up the hill to Machu Picchu.
Machu Picchu is a World Heritage Site and the site of extensive Inca ruins dating back to the 15th Century. It is a magnificent view.  The sheer extent of the ruins from the Incan Empire – the terraces, the ramparts, the stone edifices – is remarkable, but set against that dramatic and awe-inspiring backdrop, it literally takes one's breath away. (I recently returned for more hiking in Peru with Peter, my husband, and we climbed that pointy mountain above the citadel. Read about climbing Huayna Picchu!)
Jose guided us all around Machu Picchu and pointed out the most interesting aspects, explaining the history and the significance of various places. The area is huge and complex.  Without his input I do not think we would have been able to fully appreciate it. Jose stayed with us for several hours and then left us to explore on our own, taking a bus back down to Aguas Calientes when we were ready.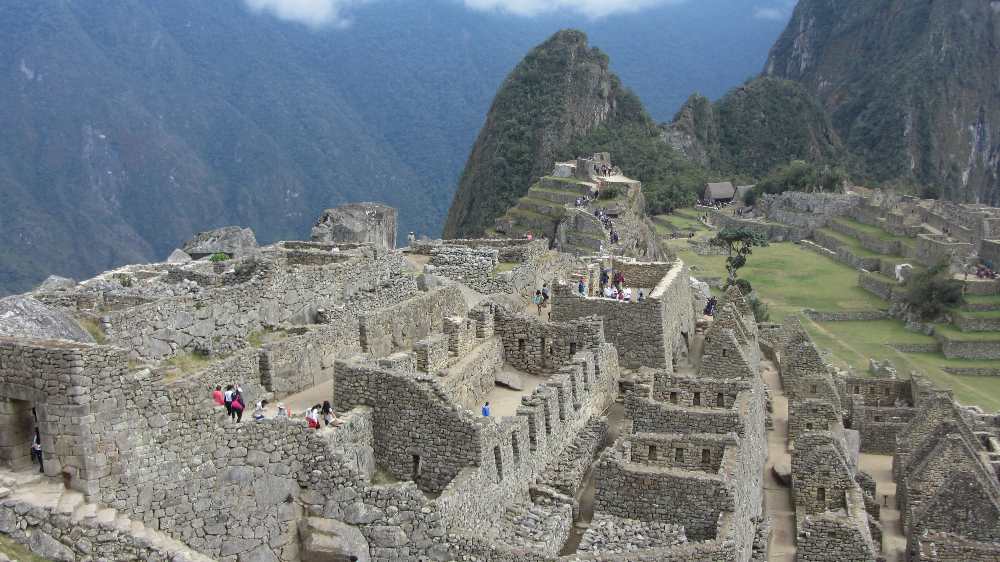 We said goodbye to Jose that evening as we headed back to Cusco. He was an excellent guide and we all enjoyed his company and expertise enormously.
Puno and Lake Titicaca
The final part of our trip through Peru involved a bus journey to Puno on the shores of Lake Titicaca, one of South America's largest lakes. The bus trip took most of a day and we stopped several times at different land marks along the way.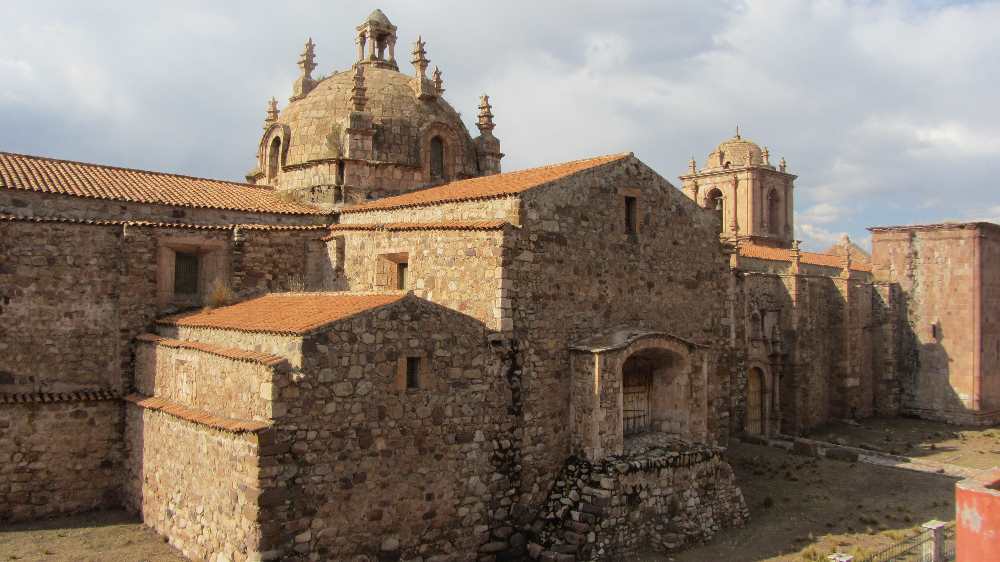 Our hotel in Puno was centrally located and time was allocated for us to explore the town independently. It was very colourful and being the weekend various parades and performances were taking place.
We also took a boat trip on Lake Titicaca over to the Uros islands. These manmade floating islands are remarkable. The inhabitants live and work there, constantly replenishing their floating homes from the endemic totora plant.
Tourism now clearly plays a significant role in the economy of these islands and we were treated to a demonstration of their crafts by the locals in their traditional dress.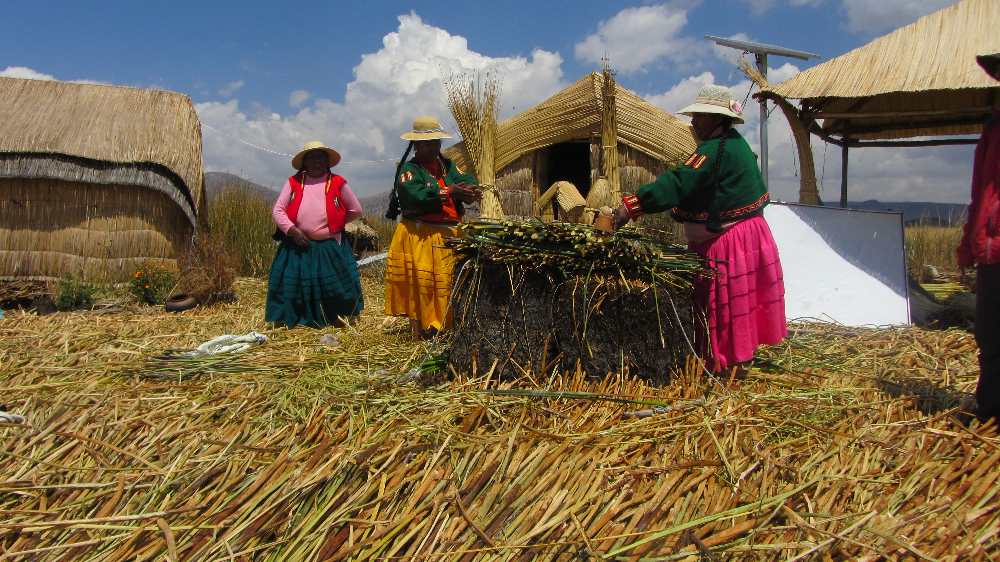 And finally…
Puno and Lake Titicaca marked the end of our trip. We flew from Puno to Lima the following day and then on to our various home countries.
This was a truly fabulous trip. Hiking in Peru over the Salkantay Pass to Machu Picchu was the highlight of the trip and the main reason for going, but the additional visits and tours we made all contributed to the overall experience. This will remain one of the most memorable tours I shall ever make.
Booking details for our trip: Hiking in Peru – the Salkantay Pass to Machu Picchu
We booked this trip to Peru with KE Adventure, a company I used several times for adventure holidays.
Related Posts
If you enjoyed this post, please share!