Visiting Death Valley National Park exceeded all our expectations. There is so much to explore in Death Valley! Before we visited, I had not appreciated just how diverse and interesting a desert landscape could be.
We visited as part of a road trip in our RV and stayed in two separate campsites, more of which later. In addition to the motorhome, we also had with us our motorbike, which enabled us to access some of the more remote areas and places where it simply would not have been possible to take an RV – or indeed any vehicle without the capability to cope with off-road conditions. We explored some of the best places in Death Valley by bike, but also explored much of it by hiking.
Exploring Death Valley by motorbike
Titus Canyon
One of our first forays whilst exploring Death Valley was to Titus Canyon.
We were up and out quite promptly and on the motorbike before it got too hot. It was about 21c by 8.30 am and the sky was a bright, cloudless blue. The landscape through which we drove, past the sand dunes and Devil's Cornfield, was truly amazing.
The first part of our trip was on smooth tarmac road, but eventually we turned off on to a gravel road towards the canyon. We drove up through the rocks and mountains. The colours and rock formations here are stunning. One can see where the water has rushed down, shaping the trail. There are warnings about not going into the canyon when rain is forecast, although this is a rare occurrence. We also passed a former mining town, Leadfield, or what was left of it.
Then we drove down into the canyon proper. The "road" became rather more challenging as the gravel became deeper; the canyon closed in and we rode between the high cliffs. The channel through the canyon twists and turns and around every bend there are more wonderful formations to amaze.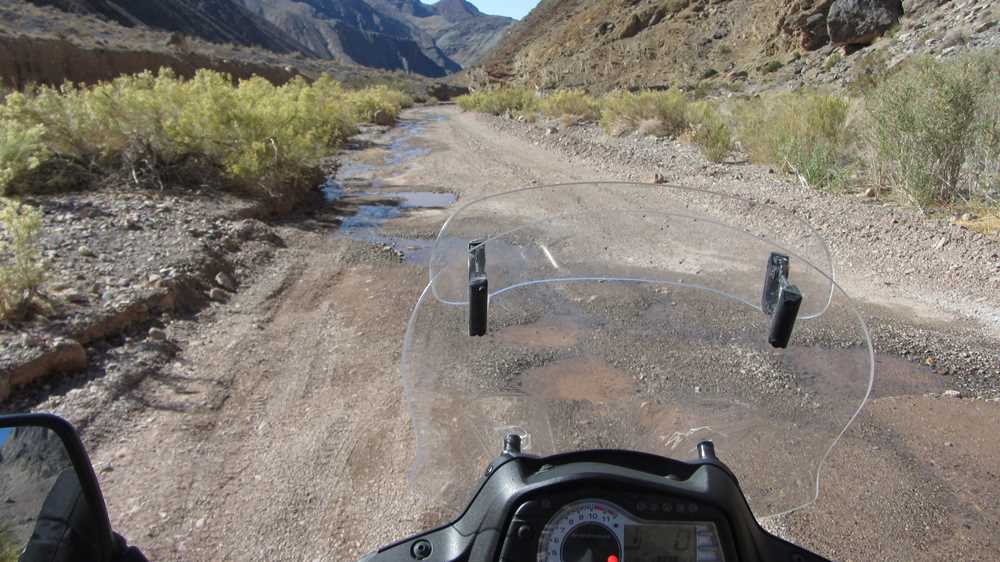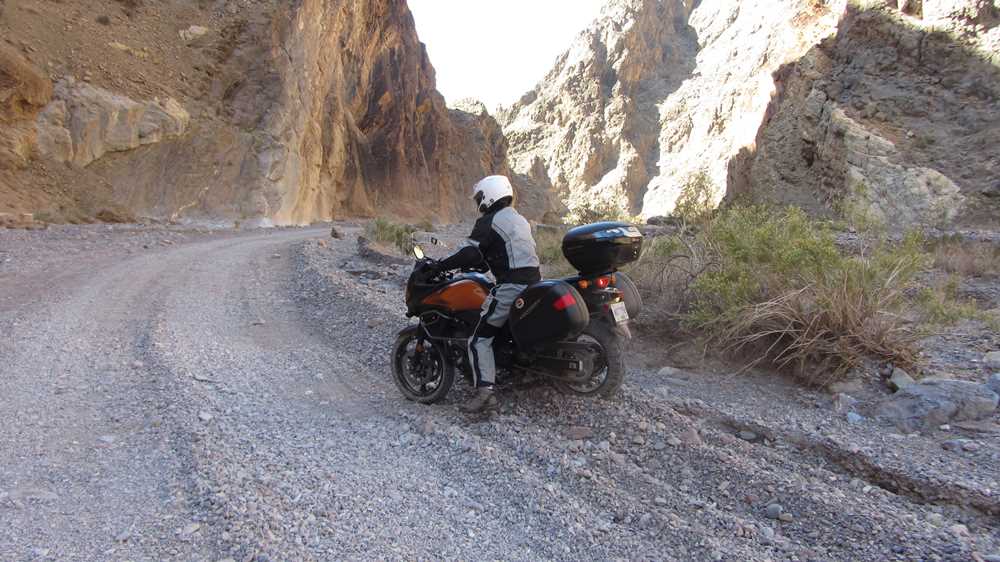 The whole time we were there, we did not see another single person. Whenever we stopped, the silence was total: no insects, rarely a bird. We stopped frequently to take photos. The road through the canyon is about 14 miles so it takes quite a while to go through.
Four wheel drive vehicles are recommended, but apart from one or two hairy moments, we managed fine on the "adventure bike" (Suzuki Vstrom) which is suitable for off-road conditions.   It is worth noting that one can only drive one way through Titus Canyon.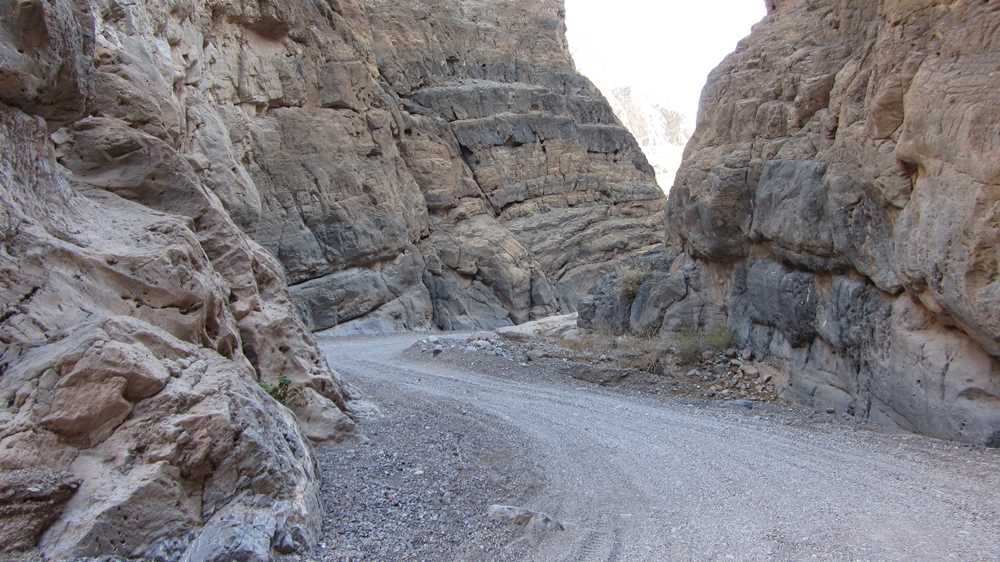 The trail pops out of the canyon into open terrain at the other end. When we drove through, I was quite relieved to leave behind the deep gravel which had threatened to unseat us a couple of times, but this is not an experience I would have missed for anything. Titus Canyon is one of the "must sees" in Death Valley.
Artist's Drive
Artist's Drive, is a one way road through the rocky hills off to the side of the main road. This is a fantastic drive. The colours of the rocks at various points are simply amazing: purples, pinks, green, red, orange, brown, yellow, white…..and every shade thereof! It really is an artist's palette…..in a desert! Who knew the desert was so colourful?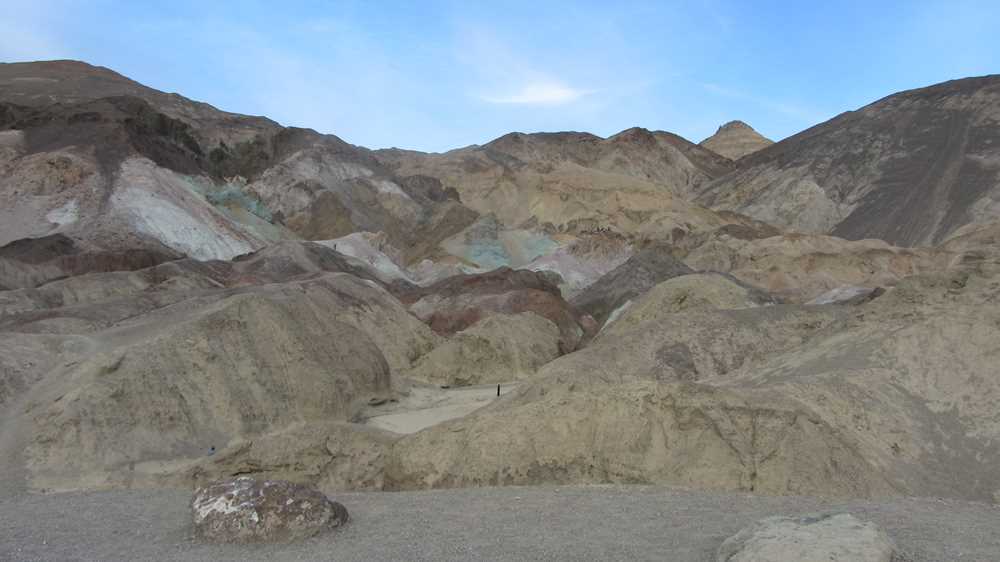 Bad Water Basin
We rode the bike out to Bad Water Basin, which at 282 feet below sea level is the lowest point in North America. The area is a huge salt flat, stretching for miles out on to the plain and it is possible to walk right out on to it. It is very beautiful. There were a lot of people there when we visited, probably because it is close to the resort at Furnace and therefore quite accessible. I should also mention it was very hot!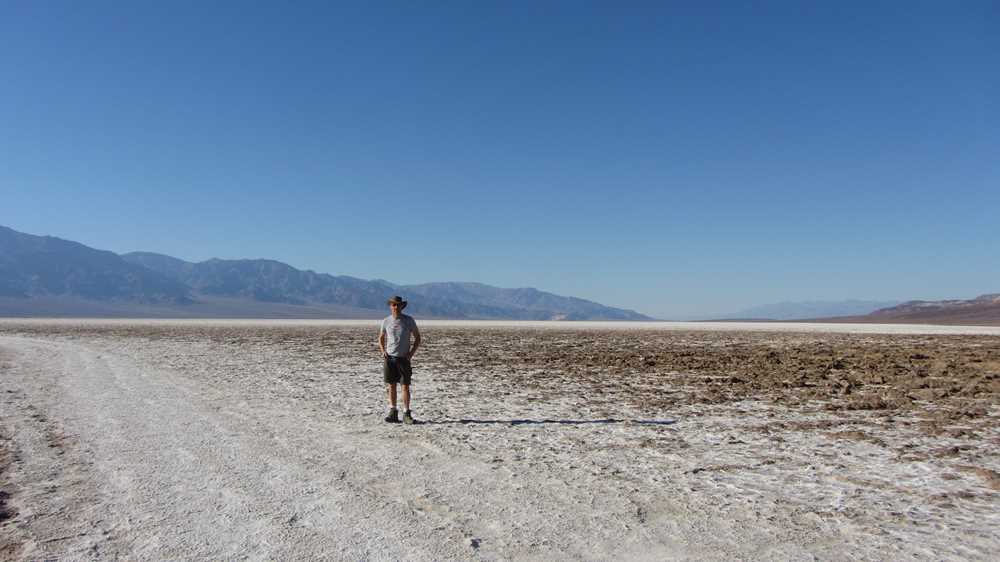 Dante's View
Dante's View is another must for anyone exploring Death Valley! We used the bike to get there and it took the best part of an hour. The road up to Dante's View is quite challenging, very steep in places, especially the latter part, with lots of hairpin bends. The views along the way, however, are fabulous.
The peak is at an elevation of nearly 5,500 ft. When we visited it was quite cool at the top so, unusually, we kept our bike gear on whilst we explored.
There are several paths up from the carpark to reach a vantage point. They are quite steep and difficult underfoot, but the panoramic vista from the top is worth it. The overlook from Dante's View is breathtaking, right over Bad Water Basin and then over the whole valley.

The badlands at Dante's View are very beautiful and the overlook is breathtaking. It is definitely worth hiking around to get the best views.


Hiking in Death Valley
Hiking in Death Valley provided some of the most memorable experiences of this fabulous landscape. Getting our boots on really enabled us to explore and appreciate the beauty of Death Valley.
Ubehebe Crater
Ubehebe Crater is a little off the beaten track at the north end of Death Valley, but we were intrigued by what we had read about it. We got on the motorbike and rode over to the site. Wow! The crater is huge and absolutely spectacular. If you are going to explore Death Valley, do not miss this!
The crater is the result of a huge volcanic eruption thousands of years ago. It is approximately 600 feet deep and about half a mile across.
We hiked around the entire rim and would definitely recommend doing this. We saw the crater from every perspective. The rock formations and the views are incredible.
Neither had we realised that there is a smaller but no less spectacular crater off to one side. This is Little Hebe. We would not have seen this had we not hiked around the rim.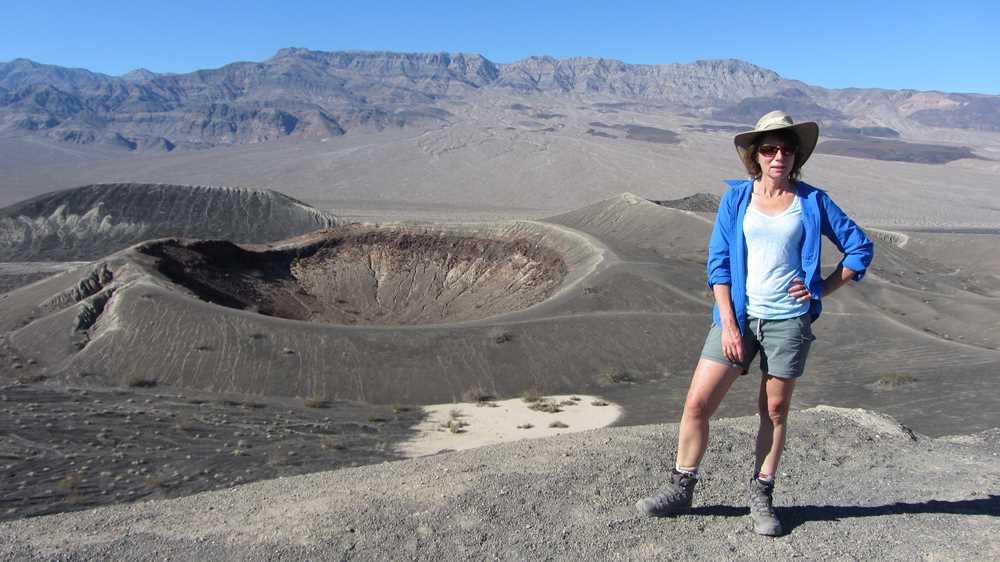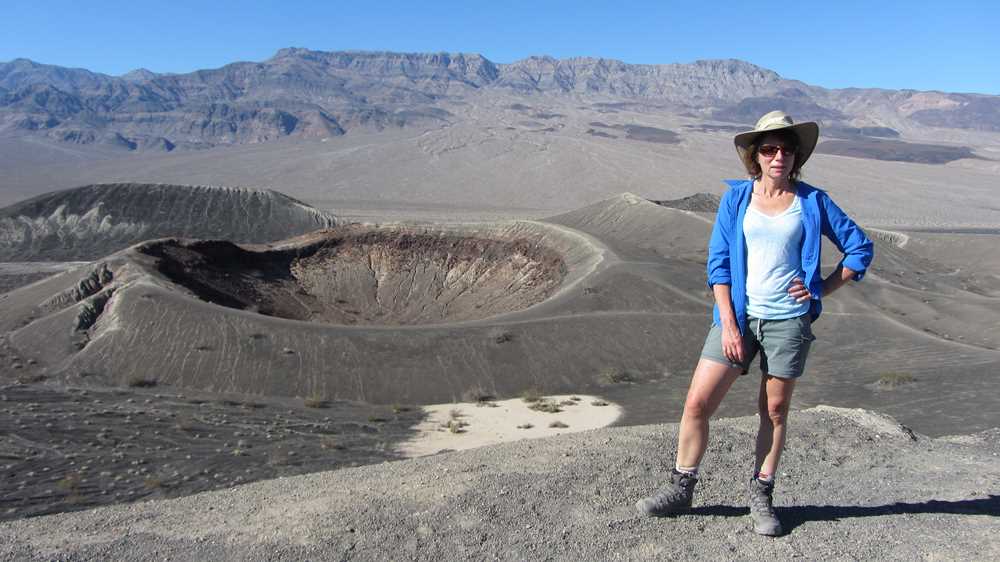 Hiking around Ubehebe Crater is an easy hike and takes approximately one hour. The crater is one of the best places to visit in Death Valley.
Golden Canyon
Golden Canyon was much closer to our campsite than Ubehebe Crater, just a short bike ride away. For reasons I cannot quite define, I had expected this to be quite tame by the standards of other canyons we had explored. I was wrong. There was so much variety on this hike and so much to see that it turned into one of our most memorable hikes.
There are several loops which can be taken through and around Golden Canyon. They can be linked together so that it is possible to take longer or shorter hikes. We ended up linking all the loops which resulted in a hike of about 8 miles. We cut through Golden Canyon and then took a detour to the Red Cathedral, an enormous and intricate edifice of red rock. It is easy to see how it acquired its name! It is quite a scramble to climb up, but well worth it. From there we picked up the Gower Gulch trail and then hiked through the Badlands.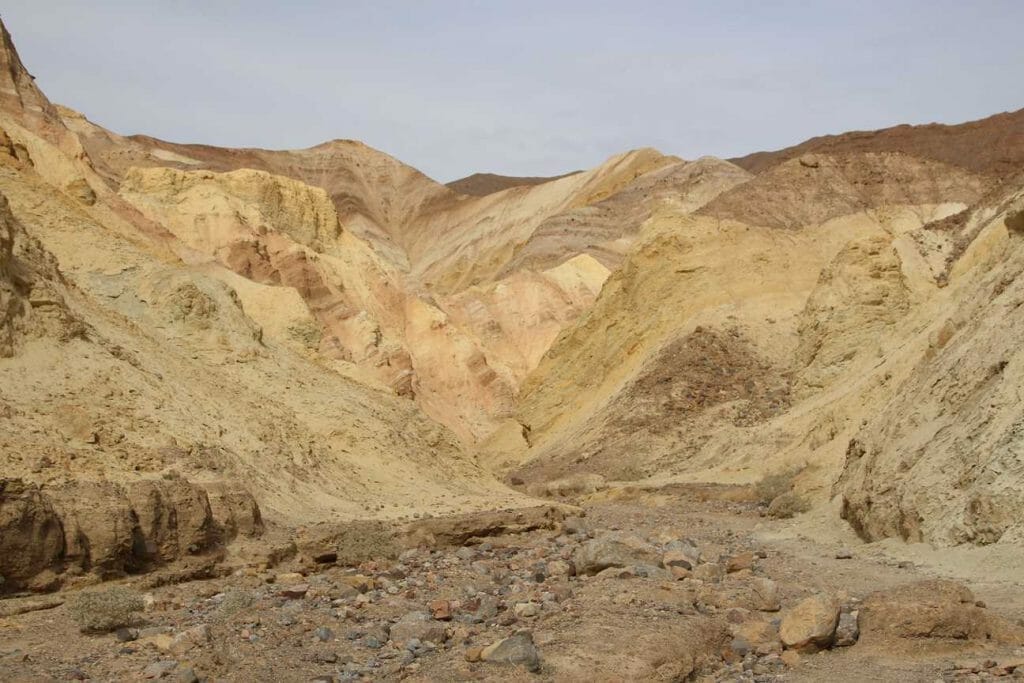 The terrain and the views change constantly along the route. There are magnificent rock formations at every turn.  Sometimes we were walking through flats and sometimes among solidified dunes; at other points we were climbing steep inclines and then again we were scrambling up narrow, rocky channels or squeezing through tight crevices.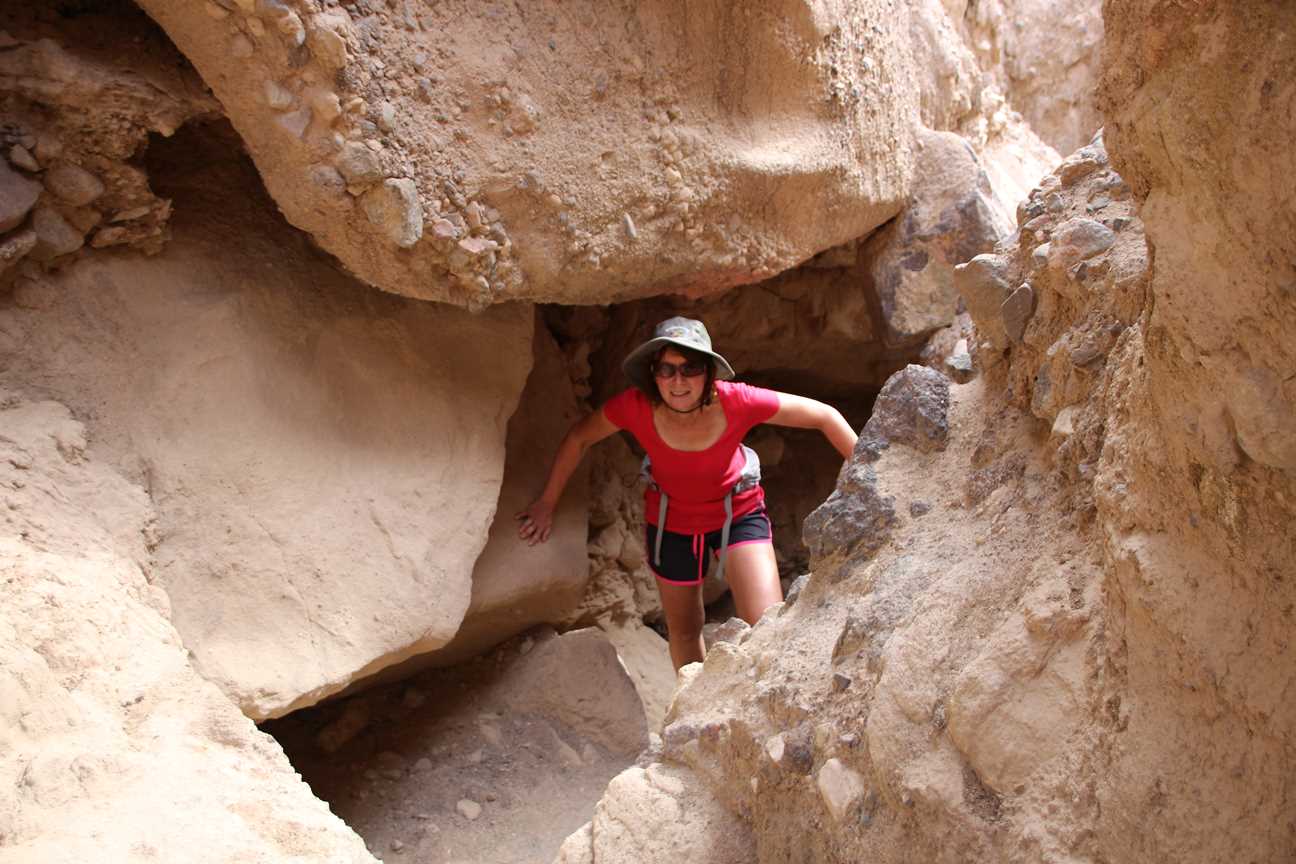 We took hundreds of photos; this hike definitely has the wow factor. Golden Canyon would definitely be on my list of best places to see in Death Valley.
Mosaic Canyon
Mosaic Canyon was also quite close to where we were staying at Stovepipe Wells campsite, just a three mile ride on the motorbike, albeit up a dirt trail. We left the bike in the car park at the trail head and hiked into the canyon. Mosaic Canyon is very different from Titus Canyon in that it is much narrower, a real slot canyon, for much of the way. Sometimes it opens out before narrowing again. The narrow sections were welcome when we hiked it as they provided some shade from the intense heat of the afternoon. Unlike Titus Canyon, it would not be possible to take a vehicle through Mosaic Canyon.
The first part of the hike was relatively easy, although some of the polished marble rock we had to traverse could have been a bit slippy without boots. Further up though, if one chooses to go to the very end, some scrambling is required in order to follow the trail. This makes it a really interesting hike as the terrain keeps changing. The canyon itself is stunning and the colours of the rock are forever changing. Much of the rock is infused with coloured stones, creating the mosaic effect by which the canyon acquired its name.


Wildrose Peak
There are mountains in Death Valley, Wildrose Peak being one. It is about 35 miles from the campsite at Stovepipe Wells and the road takes a steady incline. Unfortunately, we made the mistake of not setting off until after lunch, leaving us short of time to complete the hike.
At the base of the trail near the carpark are old charcoal ovens, interesting structures, but Peter was not for hanging around to look as we were already quite late setting out.
The trail is superb, though quite strenuous. The views are limited because of the trees which grow at that altitude, but when we reached a ridge and could see out over the salt plains, it was fantastic.
Unfortunately, we ran out of time to get to the top, even though we were striking a hefty pace and climbed a good way up. The trail up Wildrose Peak reaches almost 9000 ft. We did not want to get caught on the mountain in the dark so set off down soon after 3.00 pm. Even so, the temperature dropped as we descended and the sun went down. When we got to the bike, it was only 8 c. By the time we got back to the campsite an hour later, it was dark.  We decided that we had made the right decision by turning back when we did.
Natural Bridge
Natural Bridge is accessed via a dirt road. It is quite a short hike up through the canyon to the huge rock bridge which spans the walls of the canyon there.
Peter climbed on top of the bridge; I was not up for this as it was quite a tricky climb, especially the first part of it.
We continued beyond the bridge and there were a few other scrambles to get the whole way to the end of this canyon, but they were quite manageable and it was worth it to see some of the other natural rock formations.
Hiking in Death Valley: take precautions
There is plenty of advice in the National Park about hiking safely, but just to reiterate the main points: water, sunscreen, layers of clothing, a map, a torch. Some of the trails are challenging so it is perhaps best to read about them before heading out, and of course, to let someone know where you are going.
Camping in Death Valley
We stayed in two RV sites whilst exploring Death Valley and both were great. The first was Stovepipe Wells. Stovepipe is a cluster of buildings and a campsite set at the edge of the valley floor. The campsite has 14 full hook ups and then spaces for many more campers close by, but with no facilities other than water and rest rooms. The views are amazing. The buildings consist of a general store, a motel with rooms, a gift shop, a saloon and a restaurant ie pretty much everything we could need. We were lucky enough to get one of the last available full hook ups, which also gave us access to the swimming pool attached to the motel. Better and better!
The second site at which we stayed was Furnace Creek. Furnace is much more of a "resort" than Stovepipe and rather busier with several campsites, hotel accommodation and even a golf course! The first site we came to was full, so we went up the road to the Sunset Campsite. This covers a vast area and there were already hundreds of vans there. There are no hook ups here. Although busier, the campsite was quiet at night and we enjoyed our stay.
There is a Visitor Centre at Furnace where we watched the film about the history and geography of the valley. The resort also has a small museum of carriages and steam engines, which is worth looking around.
When to visit Death Valley
The most popular time to visit Death Valley is the spring, but we visited in November and this is a good time to visit. It was still hot during the day, but not unbearably so and never really got above 30c. In the summer months it is often in the high 40s. At night it was quite cool so there was some respite from the heat. Neither was the National Park excessively busy in November, although the Thanksgiving holiday should be avoided. Some of the more accessible sites such as Bad Water Basin were relatively busy, but sometimes, as when we explored Titus Canyon, we had the place to ourselves. Neither did we have any problem finding a campsite, although I think the recommendation would be to book ahead if you really need a hook up.
And finally…
Exploring Death Valley, especially hiking in Death Valley, remains one of the most memorable experiences of all our trips in the US. It is a vast expanse of desert, a wilderness, and there is a real feeling of discovering uncharted territory.
When we left Death Valley, our next stop was in Las Vegas where we stayed at the RV site on the "strip". From the sublime to the …..!
If you enjoyed this post, please Pin It for later
Related Posts which you may enjoy:
Trip the Hike Fantastic: unforgettable hikes in the US
The Highlights of Yellowstone National Park