Picture it: you are in a spaghetti tangle of flyovers on a multi-lane highway in a major North American city; it is blowing a blizzard; you are in a 28 foot long campervan; you are heading for the car rental section of the airport. Almost there. It is the last car rental outlet in the airport at the end of a long road. Then, without warning the road in front of you disappears into a multi-storey parking lot! The head room is 10 feet; the campervan is 11.5 feet high. Problem. There is no other way forward. Even if you could turn round, which you can't, you would be facing the wrong way up a one-way road….
But let's back up a little…..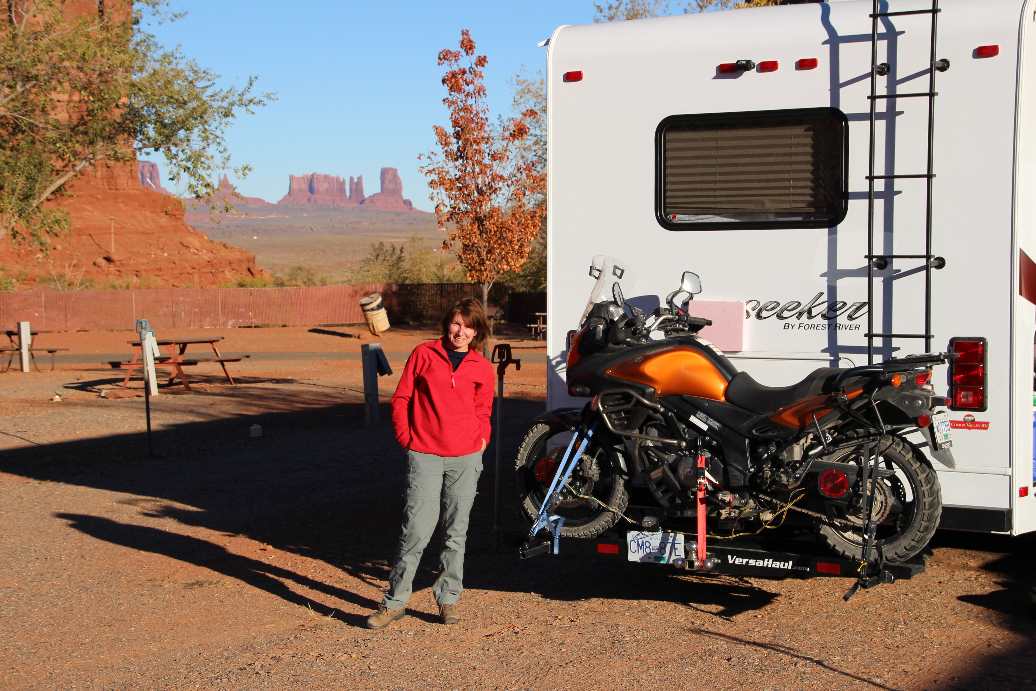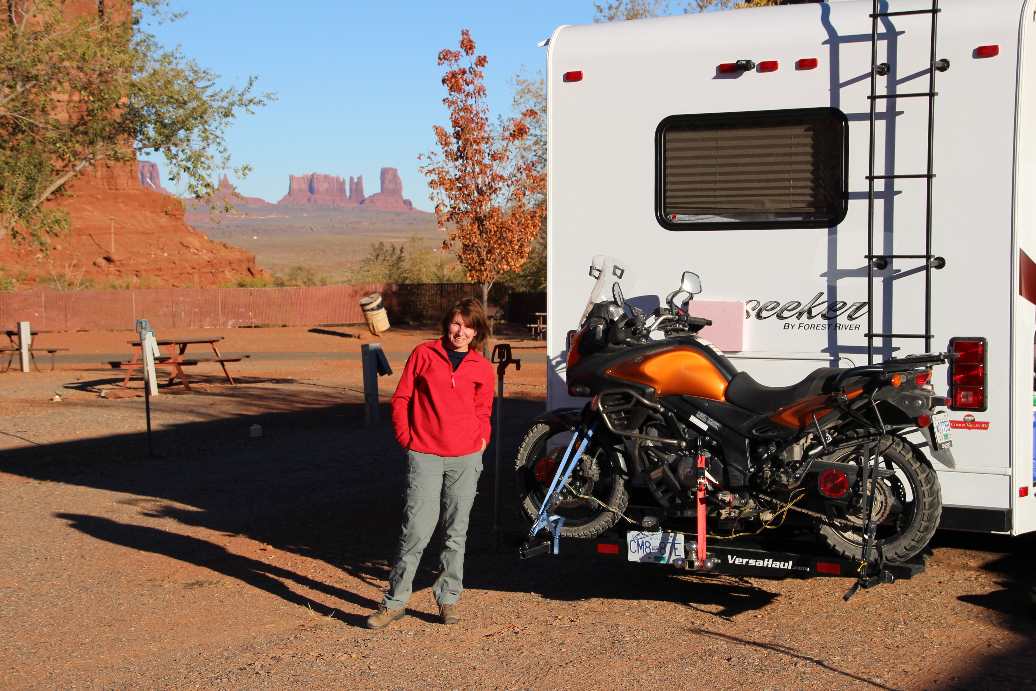 We bought the campervan whilst we were living in Canada nearly three years ago.  Since then we have covered almost 50,000 kilometres and it has been a fantastic way to explore North America. I would recommend it to anyone. By American standards, our campervan is small at 28 feet, but that is rather larger than most rigs that you would find in the UK. We also have a motorbike on a rack at the back which makes the actual length of the vehicle around 31 feet. The motorbike is great for exploring and getting into the nooks and crannies of places when we have parked up the camper. We have covered several thousand miles on the bike as well!
What is it like driving in North America?
We are from the UK and were brought up driving on the right (ie correct) side of the road – that would be the left – but driving on the right presents no major problems for us. Peter is sort of ambidextrous anyway and I am used to driving on the right as we lived in Canada for a couple of years. Having said that, the only driving on the right I have undertaken is in North America; I think it might be different driving in, say, France or Poland where there is also a language barrier.
Similarly, driving in large cities in the US or Canada does not really bother me, except that I need to put in a caveat here: "as long as I am in a normal-sized car". I avoid driving the campervan in large cities like Vegas, San Fran or Dallas. I leave that to his nibs. Or I did until the Toronto incident.
The camper is called Fat Vanny and there is a reason for this. It is fat – much fatter than campers you normally see on UK roads. The highways in North America are generally bigger though so that is okay, mostly. However, Fat Vanny is a large, unwieldy vehicle and driving through cities is not easy. The roads are busy (four, five or more lanes) and there are frequent lane changes to be managed only by side mirrors.  I have tended to avoid it.
Peter does the lion's share of the driving because he is good at it. I often take a turn though, not just to give him a break, but because I know the time will come (and it has on several occasions) when for whatever reason, I have to drive. I do not want to be nervous about this, so I drive to keep my hand in and I really quite enjoy this on normal roads and highways.
So how did the incident at the airport pan out?
Well, we were in Toronto and were going to fly back to the UK from there after a magic ski season in Colorado. We had booked storage for the camper somewhere in the wilds of Ontario and decided to hire a car to get to the airport.  (Car hire is quite cheap in North America.) We would put the camper into storage, drive to the airport and drop off the car. First though, we had to collect the car. That meant driving to Toronto in the camper. No bother: Peter would drive there and I would drive the normal-sized car back to the campsite. The booking was in his name, but we could switch that once when we collected it.
Except we were then faced with the problem of the road disappearing into a multi-storey carpark. There was no alternative: we had to reverse the van all the way back to where the road had come to a fork so that we could take the other road in a forwards direction. I should perhaps clarify here: Peter had to reverse all the way back to the fork in the road! Fortunately it was a two lane road so oncoming traffic could get by.
Then it was a quick seat change (there wasn't really anywhere to stop), he nipped out to run and collect the car and I was left to drive back through the airport and the spaghetti tangle on to one of the busiest routes out of Toronto. In the 31 foot campervan.
I negotiated all the lane changes and got on to the correct route. Mrs Sat Nav was sort of helpful until we encountered major road works and then she got her knickers in a twist, "re-calculating" and asking me to "return to the designated route". I think she thought I was driving across a field and I swear, the pitch of her voice was getting higher with every instruction to return to the highway. Eventually, she gave up.
Unfortunately, she sprang into life again to tell me to leave the highway. This was a couple of junctions before I had expected to exit, but she knew the area better than I did and perhaps she knew a quicker route. She didn't. I think she was just exacting revenge because I had ignored her before. She took me through a town and in completely the wrong direction. I pulled into a car park and reprogrammed the Sat Nav again, but to no avail. (I should point out that this is the Sat Nav which came with the camper and it is a bit out of date; cell phone versions are better, but I did not have data on my phone.)  I knew we were quite close to the campsite where I was headed, but I was not sure of the way. I decided to text Peter to let him know I was okay before seeking out directions. He had just pulled off the highway so decided to come and rescue me. (I'll just point out at this stage that I did not need rescuing; I would have sorted it. But anyway).
He eventually pulled into my carpark (with his cell phone Sat Nav that was still on friendly terms) and instructed me to follow him. Except he pulled out before I had the chance to check out the rental car and when I had to wait for oncoming traffic, I lost sight of him. I realised, as I followed the grey Japanese car, that I might be stalking a complete stranger. But it was a good bet I was right. Most rentals are grey and Japanese. I lost one in a carpark in San Jose a couple of years ago. Rental cars really should be bright yellow with a couple of distinguishing features, I think. Anyway, I was correct. He was driving the grey Japanese car.
Driving in North America: a few pointers
Driving in North America is relatively straightforward, but if you have not driven there before, there are a few things I would point out:
Sat Nav is really useful, especially an up-to-date cell phone version. Just remember, however, that the Sat Nav does not know you are driving a large, high vehicle. In addition to the episode outlined above, Sat Nav has also tried to take us under an eight foot bridge. This involved a nine point turn to rectify the situation, much to the annoyance of other drivers!
Driving on the right is straightforward and is easier if you are in an automatic so that you are not using a stick shift with your right hand. Just keep that left foot tucked away if you are not used to it.
It is common for people to overtake you on the right as well as the left when driving in North America. Be aware of this when switching lanes.
The yellow line on your left is the line separating you from oncoming traffic. You should not cross a double yellow line to overtake.
Sometimes on busy highways the right lane becomes an exit only lane so you may need to move left, unless you want to leave the highway.
There are often toll roads in both Canada and the USA. Sometimes you need cash or card to pay at the booth; sometimes you go online later and settle up; if you are in a car rental, you may be able to get a transponder that will record the tolls and you can pay later. If you have a transponder, don't assume you can just drive straight through the tolls at speed; there may be a barrier at which you have to stop so the transponder can be read. It varies.
A red light means stop, but if the way is clear you can turn right – unless there is a sign saying you can't.
If you have a green light to go right, you may not be able to turn as pedestrians may also have a light to cross and they get right of way. This does not happen in the UK.
Most states and provinces have a law that you must slow down and if possible move over if cars are stopped on the shoulder. Some specify emergency vehicles. This will be flagged up by signposts on the highways.
School buses – they are bright yellow. You are not allowed to pass if their lights are flashing or the stop arm is out. This also applies to passing them in the opposite direction unless there are at least two lanes in each direction.
In Canada, distance is measured in kilometres and fuel is sold in litres; in USA, distance is measured in miles and fuel is sold in gallons. If you are crossing from one country to the other, you either need to switch your speedometer over if that is possible or be aware of your speed. (ie. You may need to do a little conversion maths!) And don't get me started about American gallons being different from UK gallons – but if you want my take on it you can check out my post: Measure for Measure – or not!
Obviously, it is very important to check the exact rules for each state and province when driving in North America. This list is by no means definitive or "official" and is compiled from personal experience simply to raise awareness that it is different driving in North America. If any of my American or Canadian readers have any additions or suggestions, please add them in the comments.
If you like it, please Pin it!