"How do you fancy cycling in Cambodia?" he asked. My initial response, I think, was something along the lines of "Aye, right!" – that wonderful Scottish double positive, which roughly translated means "Don't be ridiculous!"
I hesitated because I am neither a skilled nor an adventurous mountain biker. I enjoy cycling along tracks and trails, but once the going gets rough, I get off before I fall off. However, the seed was sown. Exploring Cambodia definitely appealed, and exploring Cambodia by bike appealed even more. My imagination was caught and Peter had, in fact, found exactly the right trip to Cambodia. Exploring Cambodia by bike turned out to be one of the most enjoyable and memorable trips we have taken.
Exploring Cambodia by bike: our tour
Our trip was called The Backroads of Cambodia. We booked with KE Adventure, a company which specialises in adventure and activity holidays. I have included details at the end of this post. Why was it perfect for us? It was a Grade 3 trip (there are 12 grades). Grade 3, with an average of 25km per day on dirt roads and just a few hills, was easily manageable, even for me. (The itinerary has changed a little since we went and it is now a Grade 2 trip.)
This tour is not a cycle trek where participants cycle from one place to the next every day. Rather, a mini bus takes the group to different places and the group, led by a guide, explores that area by bike. The bikes are transported on a truck. This meant that we saw much more of the country and all it has to offer than if we had simply cycled from place to place every day. All accommodation along the route and all meals are included in the tour. Luggage is taken in the truck too, so that other than water and a day pack, we had very little to actually carry on the bikes. The bikes are also provided. Perfect.
Cambodia by bike: our group
There were 11 people in our group as well as the guide, the driver and the support team (ie the bike handlers who also rode with us). Six of the group were from the UK, four from Germany and one from the US. There were some real characters in the group and we all got on really well. There were varying levels of fitness, but everyone was laid back and no one was left behind.
Our guide, Sin (yes, really!) was excellent. He was with us throughout the trip and was really helpful and knowledgeable. Sin went out of his way to make sure everyone was comfortable and felt supported. He had some great stories to tell and we enjoyed his company. He was also skilled in finding wonderful places for us to eat and sample local cuisine. Once this meant dining in someone's back garden on fried mushrooms, a local speciality! Hammocks were provided for a post lunch snooze. On another occasion we had banana fritters cooked in a half oil drum on a remote roadside ( – and they were delicious).
Exploring Cambodia by Bike: arrival in Siem Reap
We were picked up by mini bus at the airport in Siem Reap and it was here that we met our guide and most of the group for the first time. We were taken to the hotel where we would spend the next five nights whilst we explored the area around Siem Reap.
Our hotel was clean and well appointed, not luxurious but perfectly acceptable. Breakfast was a buffet affair and there was a wide variety of food available.
Our other meals were taken in restaurants close by. This was an excellent arrangement as it gave us the opportunity to sample the local cuisine, rather than just being restricted to hotel food.
On our day of arrival, we had some time to chill and rest after the long flight. Peter and I hired a tuk tuk for the afternoon and the driver showed us around the city. He took us to various markets and artisan outlets. This was a great way to explore without being too energetic after many hours travelling.
On your bike! The tour begins.
On the first day of the actual bike trek we collected the bikes. We had submitted height and preferences when booking. Sin and the support guys made sure that everyone was happy with their bikes and that they were set up correctly.
Then we started pedalling!
For the next few days we cycled mainly on very quiet dirt tracks in the countryside around Siem Reap. Very occasionally we ventured on to busier paved roads. The area is very flat so the cycling was easy.
We cycled through many small villages and every time we came to a community, children would run out to wave and shout "Hello!". They loved it when we shouted back or high fived! We stopped at one house (pre-arranged), were shown around and introduced to the livestock! Living conditions were very basic away from the city.
We visited lots of wonderful places on the various routes around Siem Reap. On one such foray, we left our bikes and walked along the Siem Reap river to a site known as Kbal Spean, the Thousand Lingas River. There were intricate carvings in the rocks along and below the water's edge.
We also took the opportunity to cool off in the water!
Temples near Siem Reap
During these few days exploring the area around Siem Reap by bike, we visited many temples. It seemed that we just came upon them whilst cycling through the jungle! Many were overgrown and had been left untouched since falling out of use, but they were still remarkable. The larger temples and complexes were utterly magnificent.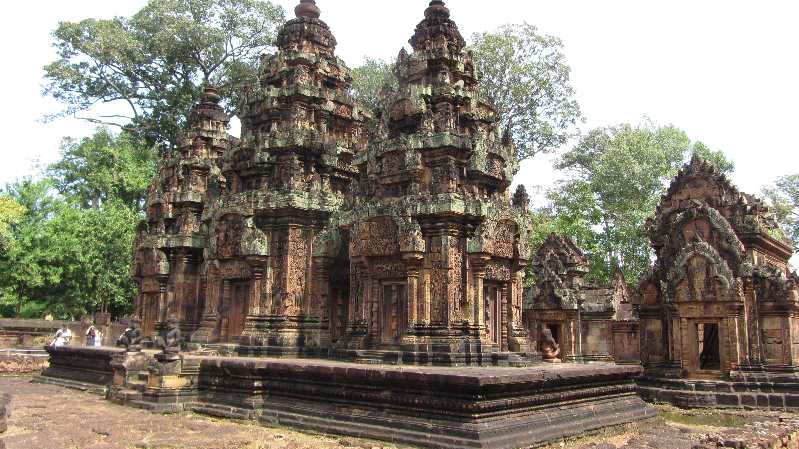 The most famous, of course, is Angkor Wat and of all the places to visit in Cambodia this must be top of most people's list. Angkor Wat has been a UNESCO World Heritage Site since 1992. It is also the largest Hindu temple complex and the largest religious monument in the world.
We devoted a full day to exploring Angkor Wat and Sin, our guide, was superb in explaining its history. He took us to the most interesting parts and showed us around, but then let us wander and explore by ourselves.
Angkor Wat is amazing, but I must admit that my favourite temple in this area was Bayon Temple in the ancient city of Angkor Thom. Bayon is quite distinctive with its towers and the stone-carved faces of the Bodhisattva Avalokiteshvara

In many places, the jungle had taken over, but this just added to the beauty of these ancient temples.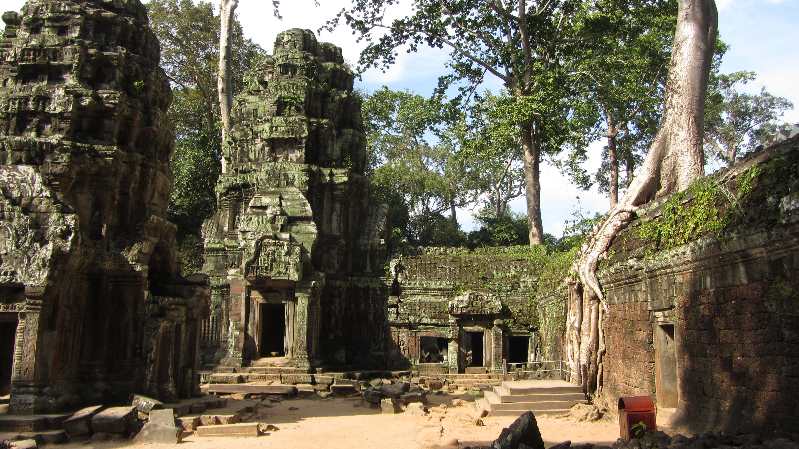 Cycling along the dirt roads of Cambodia and discovering so many ancient and beautiful temples was almost surreal.

Cycling in Cambodia: the Tonle Sap
For the next stage of our tour, we travelled by boat rather than bike. (The bikes went by road to Battambang.) We crossed the Tonle Sap and the Sangkae River to Battambang. The Tonle Sap is the largest lake in South-East Asia and many communities live along its shores, surviving as they have for generations by fishing and growing vegetables. We floated along the waterways for most of a day, observing a different way of life.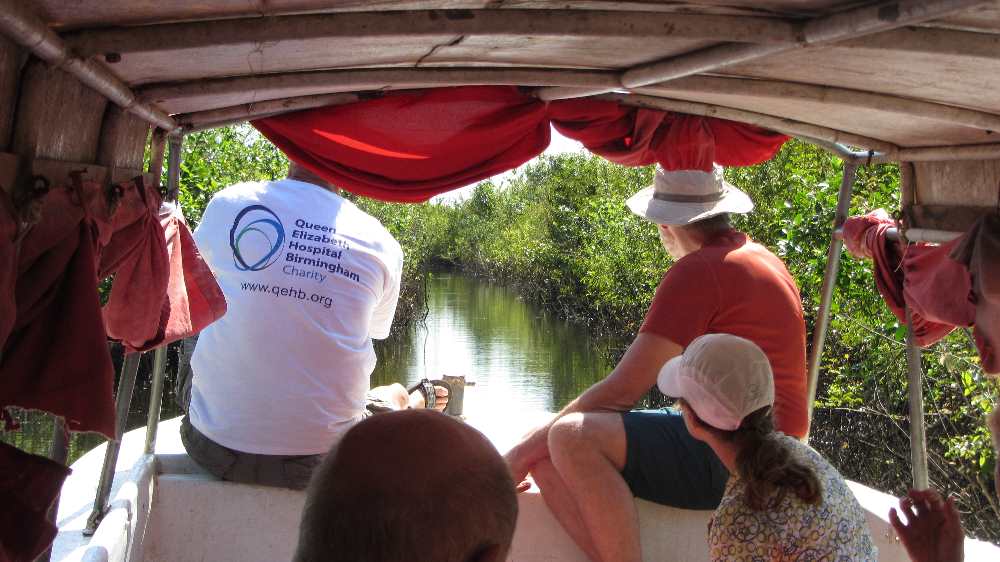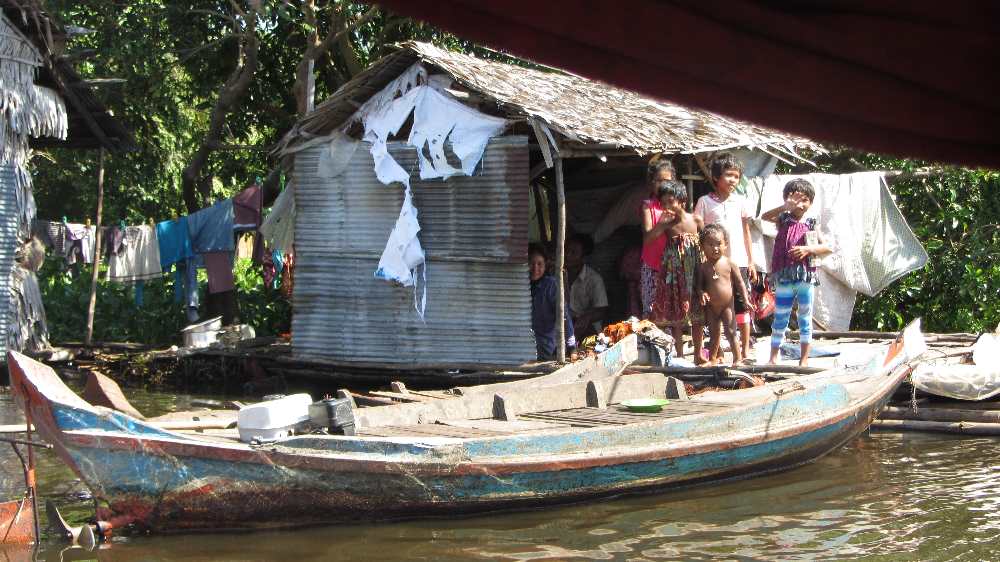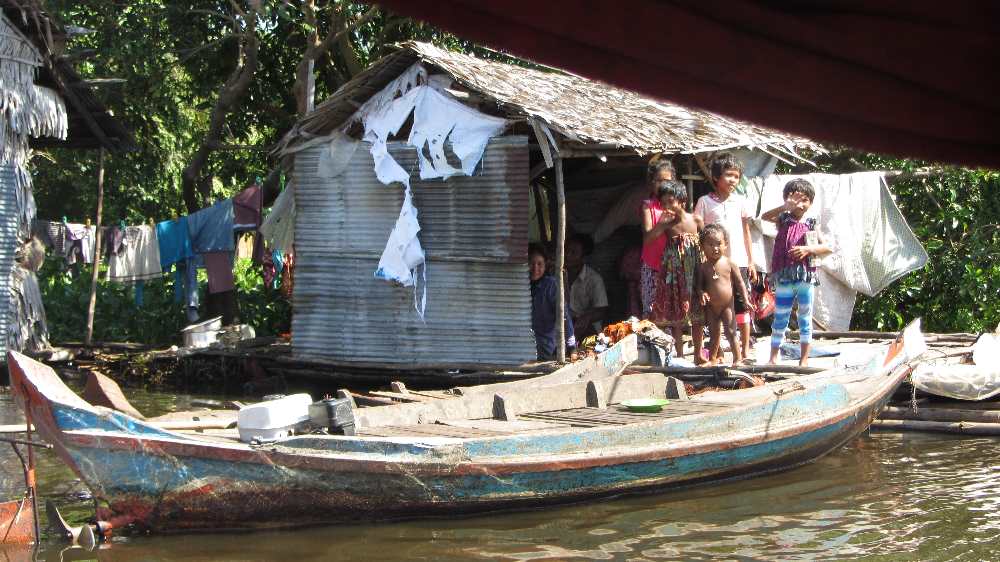 We stopped at one general store, a wooden building on stilts, and by "general" I mean it sold everything! Most remarkable though were the crocodiles kept in water cages at the back of the store. They were being farmed and would eventually be killed for meat and skins. We were told that there were no crocodiles in the Tonle Sap itself. I am not convinced. Those cages looked a bit rickety!
Cycling in Cambodia: Battambang and Kampong province
We were back in the saddle again the following day to explore the area around Battambang. We visited more temples, most notably that of Wat Ek Phnom. Built in the eleventh century, the ancient temple is now in mainly ruins. The modern temple has been built close by.
Another memorable and rather different experience from this section of our bike trip in Cambodia was the ride on the bamboo train! This was quite touristy, but fun. The "train" was a flatbed trailer powered by a lawn mower engine (or similar). The driver seemed to operate the vehicle with a rudder like gadget along the single track line. There were no seats or safety belts. We just sat on cushions on the open trailer as it bowled along the track.
And then we met a carriage coming the other way! We had to stop, disembark, and stand to one side whilst the driver dismantled the carriage and with help from the other driver lifted it off the tracks. Once the other carriage had passed, our carriage was reassembled and away we went. This happened 3 times on our trip!
Another memorable moment whilst cycling in this area was visiting a cooking pot "factory". The factory was an open shed where clay pots were being made. These simple pots have made indoor cooking much safer in rural Cambodia.
The workforce included a couple of young boys who worked in the factory all day Sunday for one dollar. This money then paid for their school the rest of the week. As a retired teacher, I wish all young people valued education so highly.

Kirirom National park
One of the most scenic rides on our cycle trek in Cambodia was in the Kirirom National Park. With stunning views of the Cardamom Mountains this is a beautiful area and definitely best appreciated by bike. It was also one of the most strenuous stages of our bike tour!

Chi Phat
A home stay
For the next stage of our trek, we transferred from Kirriom to Chi Phat in Koh Kong province by bus and then by boat.
The village of Chi Phat is a community-based ecotourism project where visitors have the opportunity to stay with local people whilst exploring the area. This was one of the most challenging but also one of the most memorable experiences on our Cambodia trip.
The group was divvied up and sent to the homes of various people in the village. Breakfast and evening meals were taken in a communal space in the village. Peter and I were welcomed by a lovely lady and had a room above her main living quarters. It was accessed by an external stairway and a balcony. The "washroom" was an outhouse separate from the main house.
Our room was basic, just a bed and couple of nails on the wall to hang clothes, but most importantly the sheets were clean and there was a mosquito net hanging from the ceiling. Believe me: this was essential.
The walls did not quite meet the ceiling so privacy was not assured between ourselves and the adjacent room. There were also gaps in the floorboards to the extent that Peter had to retrieve his watch from the floor below.
The washroom in the outhouse was typical of Cambodia: the toilet was a hole in the floor. The washing facilities consisted of a large tank of cold water and a saucepan. We laughed as we threw water over each other to shower!
The lady we stayed with was delightful and I would not have missed this experience for the world. However, I would be lying if I said I did not find the conditions difficult and I was relieved when our two nights here were over.
Whilst staying in Chi Phat we explored the area by bike
Some of the bridges we had to cross were a bit precarious!
One of the highlights was a visit to a beautiful natural pool below O'Malu Waterfall where we were able to swim. It was wonderfully refreshing.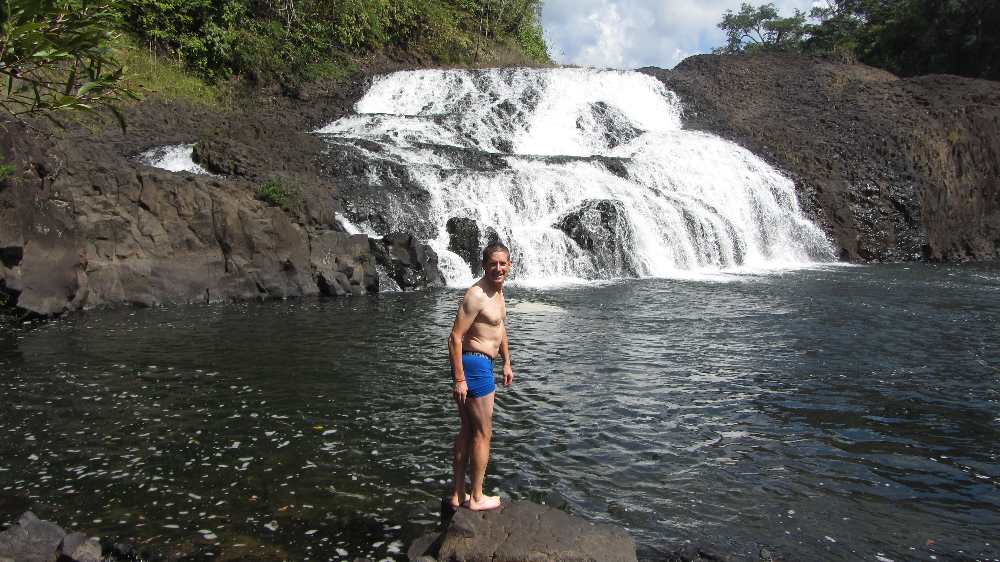 Kampot
From Chi Phat we transferred to Kampot, by bike, bus and boat. Our accommodation here was in a riverside bungalow with a shower. Bliss! In addition to cycling here we also had the opportunity for kayaking on the river. This was quite an experience. The guide said "Off you go. Find your own way back!" It took some of our group longer than others to negotiate the maze of waterways connected to the river. We did not lose anyone permanently though!
Kampot provided another memorable experience on our trip to Cambodia: a visit to a pepper farm. I am not a big fan of pepper, but I did find this visit really interesting and learned a lot about how pepper is grown. We came away with purchases of red pepper, green pepper and black pepper corns!
Our second day in Kampot marked the end of cycling in Cambodia for us. We left our bikes for the last time and drove to the beautiful coastal town of Kep.
From Kep we took a boat trip to the island of Koh Tonsay, also known as Rabbit Island because of its shape. The island is idyllic and provided the perfect way to relax after recent exertions. I had a beach massage, one of the best ever, whilst Peter drank cocktails. He was rather inebriated by the time I returned! (That is probably why we have no photos!)
Phnom Penh
The final section of our trip to Cambodia was spent in Phnom Phen, the capital. We had two days there and visited several iconic sites including the Royal Palace, the Silver Pagoda and National Museum.
However, most memorable for me was our visit to S21 (Security Prison 21), the Tuol Sleng Genocide Museum. Originally a school, this facility was repurposed in the Pol Pot regime. Few people survived incarceration in S21. Of the estimated 20 000 people imprisoned there from 1976 until its fall in 1979, only 12 survived. The scale of this is sobering.
We were allowed to wander through the rooms where the detainees were kept and tortured. Instruments of torture were still in situ. There were photos of many of victims on the walls, which personalised the dreadful history. I found the experience very moving and whilst I firmly believe the museum is an important way of remembering and learning, somehow taking photos did not seem right. Just one.
I think it is also important also to acknowledge that memories of this awful period in Cambodia's story are still very fresh in people's minds and emotions run deep. This was very evident whenever we spoke to local people in Cambodia, including our guide.
Another very memorable experience in Phnom Phen was a boat trip on the Mekong River one evening. Lots of people live in boats on the river and whole communities scratch a living there. This boat trip is also etched in my memory because my normally robust digestive system clearly objected to something which I had eaten. I will not elaborate further!
Rest and recuperation in Sihanoukville
Phnom Penh marked the end of our organised trip to Cambodia. We had, however, opted to on tag a few days in the coastal town of Sihanoukville for "rest and recuperation"! A transfer by taxi had been organised and for 5 nights we stayed in a beautiful hotel resort just outside Sihanoukville. It was very clean and modern, well appointed with a golf course, several swimming pools, room service if we wanted it… All very luxurious and very sanitised. But it was not the real Cambodia. Yes, we enjoyed it, but would I have swapped it for the homestay in Chi Phat? Not on your life!
We loved Sihanoukville itself though when we ventured out of the gated resort! It had a lively, colourful vibe and was clearly a hub for backpackers. We loved walking along the market stalls and beach cafes, sailing in the warm waters and checking out local eateries. The beaches were wonderful. It was a lovely conclusion to our trip to Cambodia.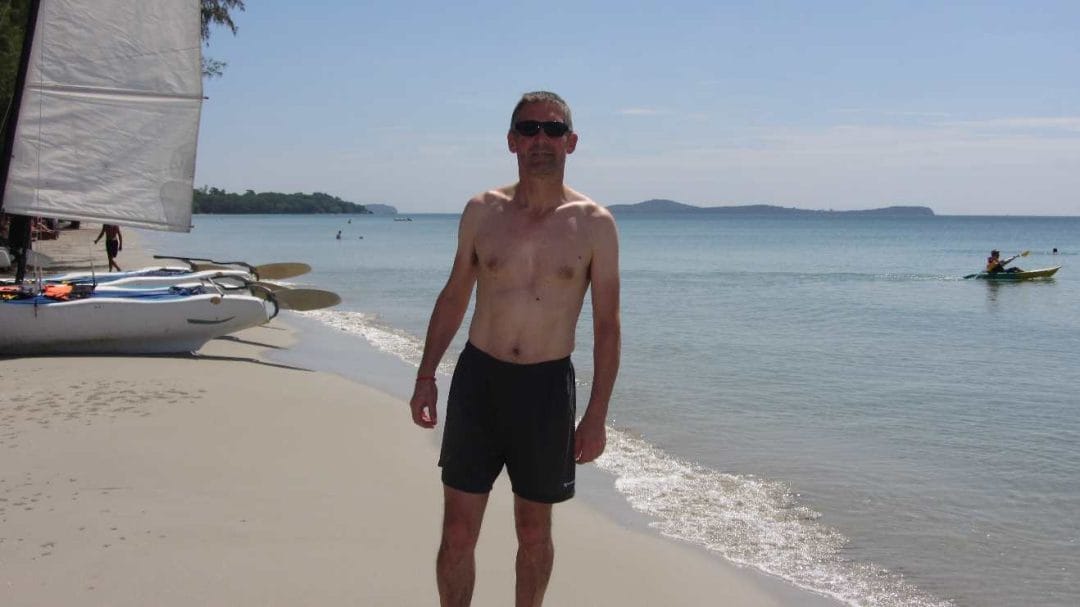 Some final thoughts on exploring Cambodia
We had a wonderful cycling trip in Cambodia and it remains one of the best trips ever. Just a few challenges to be aware of:
Don't underestimate the mosquitos! A repellent is essential, as are mosquito nets. I used both, but clearly let my guard down at some point and suffered dreadfully. My arms were so bad, I had to cover them.
The infrastructure to cope with litter and garbage was not in place when we visited. Be prepared for the mountains of plastic waste lining the streets in some towns and villages.
Pedestal toilets are few and far between in rural areas.
Did these put me off? Not at all. I would return in a heartbeat!
Cycling in Cambodia: Booking details
Our trip was called The Backroads of Cambodia and we booked with KE Adventure. KE Adventure is a local firm based in Keswick. They employ local tour guides and support groups in the destination countries. I have used them on two occasions now and would recommend them. Watch this space for details of our trek in Peru!
If you enjoyed this post, you may also like:
Found it useful? Please share!