"Are electric bikes any good?"
When we are out on our e-bikes we are often asked this question. The short answer is: "Yes. Absolutely. I love my e-bike!" The benefits of electric bikes are many and varied. There is a genuine interest in electric bikes and they are becoming very popular now. I think we have sold quite a few people on the idea of trying an electric bike.
I did not go out looking for an e-bike though. In fact, I was a bit snobbish about them. After all, it is cheating, isn't it?
So how did I come to acquire an electric bike?
A few years ago we were on a trip in our motorhome in Wales. I obviously complained too much about the hills whilst we were out on our bikes. When we returned home, Peter disappeared into the garage for a few evenings and when he finally emerged, my old bike had acquired a new addition: a battery. It had been transformed to an e-Bike!
My initial reaction was similar to that of many people: it was not real cycling, it was a granny bike, it was cheating. My teenage daughter had a go though and she was enthusiastic. "Try it, mum! It's brill!" So I did, and was an immediate convert.
Peter had difficulty keeping up with me when I was on my e-Bike (although they are restricted by law in the UK to about 15 mph), so he made one for himself. Several years later we are now on new, updated versions.
Are electric bikes worth it?
This is another question we are often asked as electric bikes are still quite expensive. It is possible to pick one up for a few hundred pounds, but a good one will cost closer to a thousand pounds. Similarly, it is possible to spend several thousand pounds! Even the e-bike conversion kits that we used are over £300 (including the battery) and of course, you need a bike to convert! Despite this, e-bikes are a great investment in your fitness. Research has shown that more people are more likely to actually go out on a bike if they have an electric bike. Investing in an e-bike is a way of investing in your own health and there are many other advantages too (see below). As with anything though, it is best to try before you buy. Hiring an e-bike for a day would be advisable. Some outlets allow you to hire a bike and then if you go ahead and make a purchase, the hire cost is deducted from the purchase price.

What are the benefits of electric bikes?
There are many benefits to owning an electric bike:
Pleasure: I really enjoy going out on my e-bike to explore without the dread of those hills!
Fitness: riding an electric bike is definitely not cheating and you still get a work out. The battery assist does exactly that: assists. If you stop pedalling, it stops assisting. You still have to work at it, but it takes the chore out of cycling.  E-Bikes get people out exercising and enjoying the open air, regardless of fitness. I still have a great, high-spec, unadulterated mountain bike if the mood takes me, but I love my e-bike. Encouraging and enabling fitness is one of the main benefits of electric bikes.
Go further: I am reasonably fit but on my electric bike I can go further and faster. On an ordinary bike, I might hesitate to go on a 30 mile ride; with an e-bike, bring it on!
An electric bike is the perfect partner to a motor home. They are portable so you can take them in the camper van or on the back if you remove the battery. They provide the flexibility needed if your main transport is a large vehicle.
Electric bikes are "green": People, me included, are more likely to hop on an e-bike than a normal bike for all kinds of journeys: nipping down to the shops for a pint of milk (instead of going in the car), or going out for a full-day jolly. E-bikes save fuel.
Mobility: one of my oldest friends had an accident whilst skiing a few years ago. Her mobility was severely restricted for a long time and she had difficulty walking or doing any weight bearing exercise. She tried my electric bike though and found that she could pedal easily. She went out and bought one! The electric bike gave her back her mobility during this period.
One of the more recent benefits of electric bikes: they are an easy way to employ social distancing whilst commuting!
And an even more recent advantage of electric bikes, at least to us, is that they are great if you have a dog! Yes, we have acquired Jasper, a gorgeous border collie, but this presents a new problem when we are away in our motorhome. Once we have parked up, we tend to use bikes (or a scooter) to get around rather than unhook the motorhome every time we want to go a few miles to the shop or a trailhead. With a dog that is rather more difficult, but we then we bought  a "DoggyHut". So much easier to take the trailer plus dog with an electric bike! (Check out Travelling with a Dog for more ideas about taking a dog along!)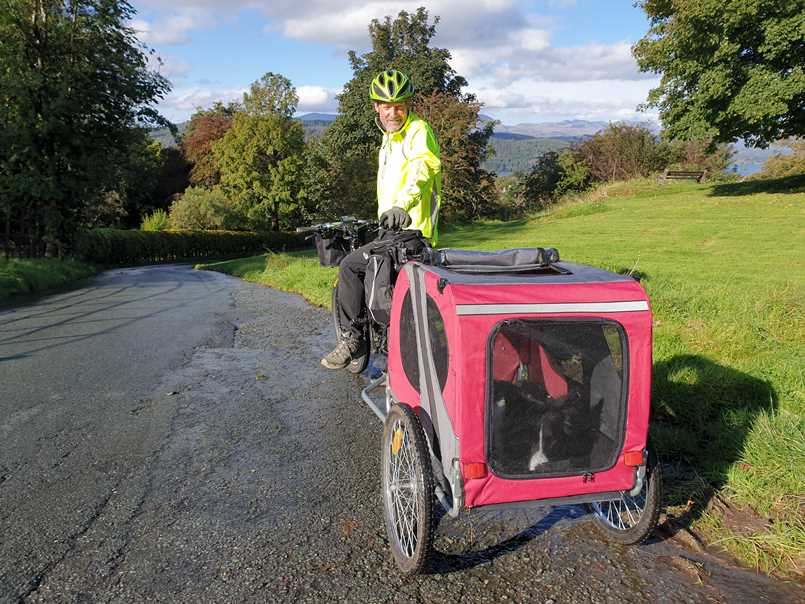 So many advantages to electric bikes! I am a huge fan.
Are there any disadvantages to electric bikes?
There are certainly aspects you need to be aware of when thinking about investing in an electric bike.
They are expensive and so buying one really is an investment. Try before you buy to make sure you will use it. Because they are more expensive, they are also at more risk of theft so have to be firmly secured if left.
They can go faster than many people might have been used to. This is not a problem as long as you are aware of it and know how control your speed.
They are heavier. This is mainly because of the battery and these can be removed if you have to lift the bike, say, into a vehicle.
The battery could run out of charge on a long journey. This has never happened to me, but it is important to monitor.
There are pros and cons to electric bikes, therefore, but I firmly believe the pros outweigh the cons quite significantly.
How long does the battery last on an electric bike?
This is another frequently asked question about electric bikes. The answer is: it depends. There are a few variables involved: how big is the battery?  how heavy is the rider? what is the terrain like? How much power do you use? (eg. there are five power settings on my current bike. I would only use level 5 briefly for a very steep hill; most of the time I cruise in level 2, sometimes level 3. If you cruised at level 3 all the time, you would use more power.)
On my first electric bike I had a huge battery. The downside to this was that it was really heavy. On one occasion I rode about 60 miles on fairly flat terrain; I weigh around eight and a half stones. When we arrived home, my battery was still three quarters full!
On my latest bike, the battery is much smaller and lighter. So far I have ridden about 40 miles on mixed terrain (some hills, some flat, some road and some track) and still had about half left. Peter has the same battery but he is heavier. He still had plenty left after this ride.
E-bike conversion kits
Peter bought e-bike conversion kits online and fitted them to our old bikes. He has now converted five, the two original versions, the two updated ones and a spare one for visitors! How difficult is it to convert an ordinary bike to an electric bike? He says that it is relatively straightforward if you are at all practical and have a knowledge of bikes. I should point out, however, that he is an engineer! Some customisation of the kit always seems to be required to make it fit an existing bike, but certainly the last one that he did took a couple of hours. He sourced the kits for our bikes from Yosepower, although I believe there are several conversion kits available on the market.
E-Bikes: the way ahead
The technology has come on a lot since Peter first put our electric bikes together. Before he converted the last two, we considered buying ready made bikes, but good ones are very expensive and as we already had bikes, it seemed sensible to convert these. The new kits are a great improvement on the original ones.  Hopefully the cost of off-the-peg electric bikes will come down as they become more popular, but even now, I think they are a great investment. The benefits of electric bikes are clear and more and more people are enjoying the freedom they bring.
If you found this post interesting, please PIN it for later!
Related Articles: