At the end of an amazing road trip through Arizona, we came upon Arcosanti. The website describes Arcosanti as one of the "cool places in Arizona to visit" and "one of the top tourist attractions". Strange that we had never heard of it! The website for Arcosanti lists the Grand Canyon as one of the "Other fun things to do in Arizona". With this kind of billing, we thought we had better check it out. By this time, I was sceptical, but we decided to pay a visit to Arcosanti.
So what is Arcosanti?
Arcosanti describes itself as an "urban laboratory" and the "residents are part of a 24/7 living experiment". Intriguing. Hopefully, as visitors we would not be subjected to any dangerous procedures!
In fact, the experimental days of Arcosanti are long since over and it is now somewhat of a white elephant left over from a bygone age.
In its current form, Arcosanti is a commune inhabited by interns, volunteers and, apparently, a few employees. They all live on site. At the time of our visit, 65 people were in residence. This is significantly fewer than the 5,000 envisaged by its founder, Paolo Soleri. In fact, there have never been more than 100 people resident in Arocsanti at any one time. A few people have lived there since its inception in the early 70s, but most people who come to Arcosanti are itinerant and stay for a few months as part of the experiment. It also serves as a placement for students, field studies and projects.
The main occupation of the residents appears to be producing the bronze and ceramic bells, which can be purchased in the visitor centre. According to our guide, residents grow some of their own food, although we saw no evidence of this.
Arcosanti: the vision
Arcosanti was the brainchild of Paolo Soleri, an architiect from Turin, born in 1919. Soleri was concerned about urban sprawl, a consequence of city development in the Twentieth Century, and the destructive effect of this upon the environment. He felt that humans needed to change the way they lived in order to curtail this trend and preserve the natural environment of our planet.
In 1970 Soleri was granted funds to establish Arcosanti in Arizona, about 70 miles north of Phoenix. His vision was for a city in which people lived in cleverly designed, energy efficient buildings with all facilities shared and in close proximity to each other. Communal living would be the order of the day, but independent space would still be preserved. This would ensure that urban sprawl was minimised, the impact on the natural environment diminished and resources, especially those used for commuting, substantially reduced. Some fine ideas.
Arcosanti was founded as an urban experiment to test whether Soleri's ideas could be made to work.  Arcosanti is described as an "arcology", a combination of "architecture" and "ecology". The title Arcosanti was derived from two Italian words, "cosa" (things) and anti (against) so literally "against things", which supports the minimalist philosophy of the project. (Interestingly, the website suggests that "anti" means "before" so that the translation would be "before things".)
Our visit to Arcosanti
Initially, we tried to access the site in our RV, but the dirt road was so rough and full of "washboard" that we worried for our china and decided to return on our bicycles. This was a good decision as the road did not improve. Fortunately we have mountain bikes with full suspension!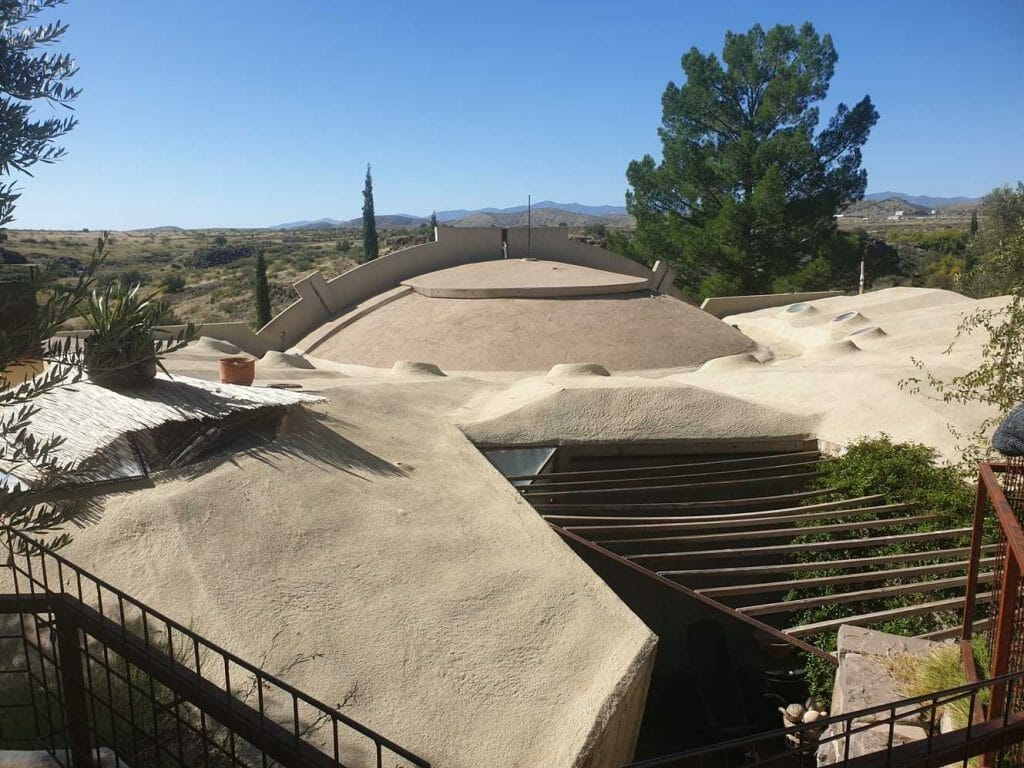 The complex itself is not beautiful, more of a concrete carbuncle, but the landscape around it is very beautiful. Construction started in 1970 and one has the impression that it is not yet complete. Had we not taken the trouble to cycle all the way there, I doubt we would have stayed, but given all that effort, we paid our $15 each for the tour. There were about 8 of us on the tour so certainly not busy in the same way Sedona, which we had visited a few days previously, had been.
Whilst waiting for the tour, I wandered around the visitor centre.  The bells, tiles and wind chimes, which were made on site, were on sale. Not really my kind of thing. I also perused some of the "notebooks" prepared by Soleri setting out his vision and philosophy for his arcology. I found them rather disturbing. The introductory pamphlet did not discuss architecture so much as wander into areas of religion, reproduction and "deviance".  Fortunately the tour started before I had the opportunity to peruse further.
The Tour
The tour commenced with a video which set out Soleri's vision and the history of Arcosanti. We were then taken by a young woman into the main body of the complex. As we walked she explained the background to Arcosanti and the purpose of the different spaces.
The complex has living quarters, communal areas and large gathering spaces. Apparently there is a group meeting for all inhabitants every morning in one of these spaces. They also have performances there by visiting groups, including a team of acrobats that comes by each year. The living quarters are not "homely". Rather, they reminded me of student digs with roughcast concrete walls and very few home comforts.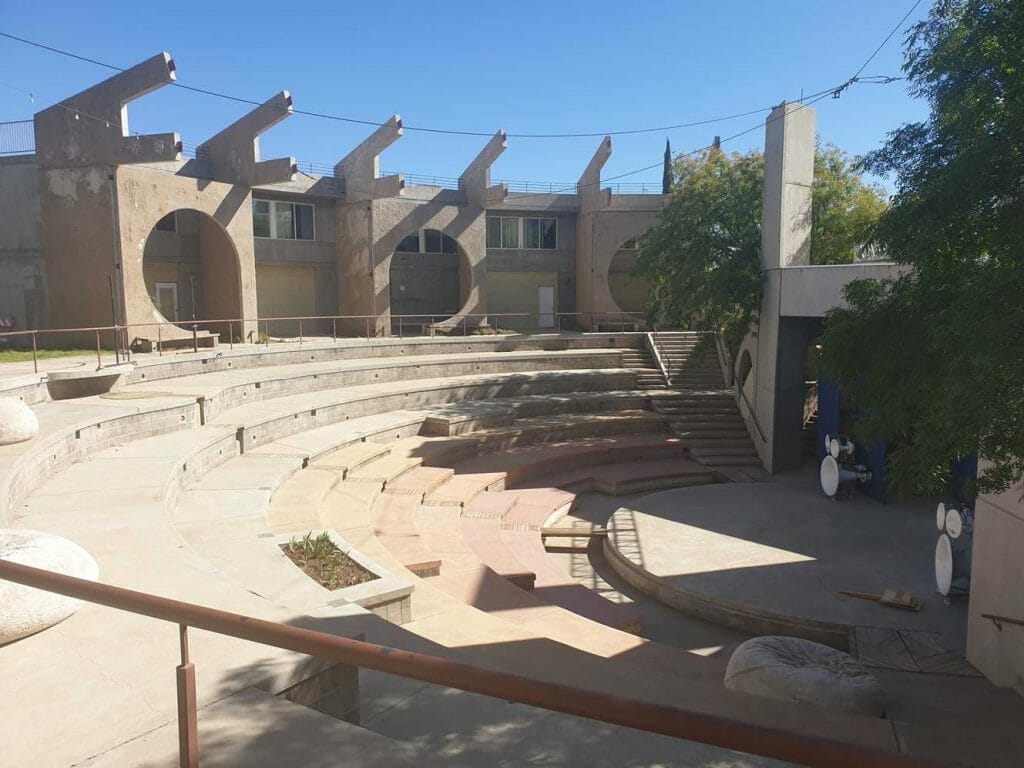 Most interesting was the area in which the bronze bells are cast. A "pouring" occurs three times each day and is timed to coincide with the tours. The workshop is open-air in an "apse" (a quarter of a sphere, more commonly associated with a church or cathedral). All the procedures are performed by hand. We were warned in advance that the pouring of molten metal into the casts had to be carried out in complete silence. It certainly added an element of ritual, but given that the procedure of carrying and tipping molten metal might be quite dangerous, I think this is also important for reasons of health and safety.
We wandered through the various spaces in Arcosanti and the guide explained the purpose and reasons for the structure of each one. There is an air of serenity throughout the complex, reinforced by the fact that it is situated by itself out in the beautiful Arizona desert.
Conclusions – is it worth visiting Arcosanti?
Reading some of the literature at the start of our visit, I was rather cynical, perhaps even disturbed, about Arcosanti and what it stands for.  Having undertaken the tour, however, I am rather more reassured. The fact that it sparked quite a discussion between my husband and me suggests that if nothing else it is thought-provoking. For this reason alone it is worth visiting Arcosanti.
As concern for global warming and the drain of resources on our planet mounts, there is a relevance in the ideas on which Arcosanti was founded. In many ways Soleri's thoughts were ahead of his time. Arocsanti does belong to a bygone age and our understanding of ecology has moved on since the 1970s, but this does not mean that it is completely without merit. Lessons could be learned from the basic ideas behind Arcosanti. Combined with new knowledge and modern technology, they could prove valuable in the quest to preserve our planet.
I am interested to know your thoughts about Arcosanti. Please let me know in the comments.
If you have found this post interesting, please Pin it!
Similar posts you may like: