As I write, it is almost the end of the 2020 and it is strange to look back and think that this time last year, we had no idea what was in store for us. This time last year, we had not heard of Coronavirus or Covid. A Pandemic was still the stuff of Hollywood films or Board Games for most of us. And then it wasn't. It was real and it was now.
Our Covid year: from a personal perspective
Early days
Our year started much as our years had started for several previous years: we set off in early January for the US and picked up our RV from where we had left it in storage. On this occasion, it was in Phoenix, Arizona.  From there we headed up to Colorado to our favourite winter campsite, Tiger Run, in Colorado. We had a wonderful ski season and took in fourteen different ski mountains in three different states. I wrote about this in RV Ski Tripping!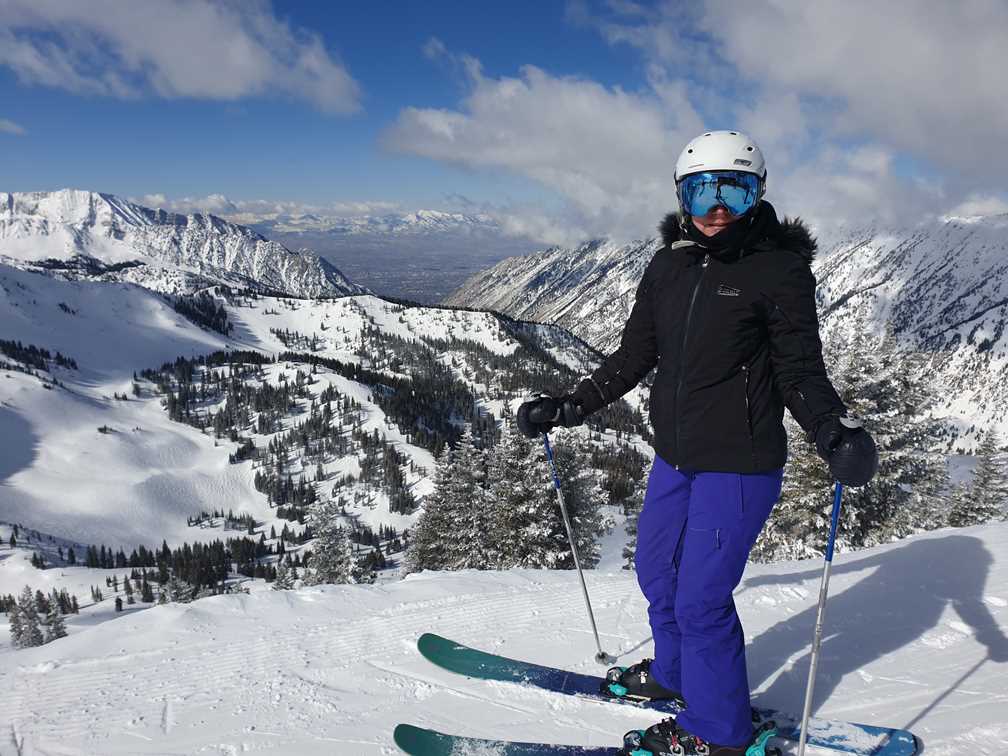 In the early days we were unconcerned about the news reports which were trickling through about a new virus. It was in a distant country in a province whose name we could not then pronounce. Then it was on cruise ships and then in some holiday resorts. Experts seemed to be worried and sounded warnings, but again we were largely unaffected. The word "pandemic" was bandied around, but the WHO held off officially declaring a pandemic (until 11th March).  Nevertheless, the virus seemed to be spreading exponentially. We carried on skiing, but I do recall thinking at our last resort, Jackson Hole, as we crammed shoulder to shoulder into the aerial tram with a 100 other souls, that if anyone on board actually did have this virus, we all did. Still, it seemed all very distant.
At this point, our eldest daughter was working as a ski instructor in Hokkaido, Japan. A state of emergency was declared in there. What should she do? There was no work as the resort had closed. Our advice was simple: Get out whilst you can. Go home. By this time the virus was ramping up and whilst we were not particularly concerned, we did not want her to be stranded in a country so far away. Thankfully she had no problem at this point organising transport and flying home.
Our journey home
We brought forward our own flight back to the UK to early March. As we put the RV into storage, we joked that it would be absolutely fine there, even if we could not return for a whole year. At this point we actually thought there was a good chance we would be taking a return flight in the middle of May ready for our road trip to Alaska. How naïve were we!
By this time, the situation was getting more serious and the journey home was not easy. Our first flight was cancelled and it took nearly 3 hours of standing in line to organise another. The second flight was on time, we boarded, took our seats and awaited take off.  The pilot announced that they would be closing the doors in about 5 minutes. Phew! And then people started shuffling and there was some concern in the cabin. It transpired that Trump had just announced that he was closing American airspace in two days' time. It was unclear at this point whether Americans on the flight would be able to return if they left. People started leaving the plane. We did not take off as scheduled. The captain eventually announced that if anyone else wanted to leave the plane they needed to do so within the next ten minutes. About half the plane emptied off. We stayed put, worried that the flight would be cancelled. It wasn't, but it was another two and a half hours before we finally took off as all the luggage from those who had decided not to fly had to be off-loaded.
Our connecting flight from Amsterdam was delayed fortunately so we managed to catch it. Landing back in Manchester, we were thankful to be back on home soil. A week later, the UK followed several other countries into a national lockdown.
Lockdown
Lockdown for us, dare I say it, was actually quite pleasant. We were untouched by the health ravages of Covid 19. I am acutely aware that this was not the same for everyone and that it was for many a very stressful time. An awful time. However, we had two of our adult children at home. We live in a beautiful part of the UK and it was easy to get out into the open countryside. We had wonderful weather, the best spring weather in living memory. We hiked and we biked and generally enjoyed the peace and quiet.
Local shops were reasonably well stocked. We shopped for several people who were shielding on a weekly basis so felt we were being useful.
It was strange though. It was so quiet it was unreal: no cars on the road (at one point we cycled around the lake, all 26 miles. We saw two cars and a tractor – and about 20 cyclists – the whole way); there were no people in the village; nothing moved. It was like a ghost town.
And then we acquired a dog
It was Peter who suggested that we might get a dog when we first returned from the US. This was something we had discussed in a fairy tale sort of way for some time in the future. Perhaps now was the time? It took me by surprise, and my own reaction surprised me more because once it was a real possibility, I was completely sold on the idea. I think the prospect of lockdown did something to our psyche!  And then Peter hesitated – perhaps it was not such a good idea after all? I was having none of it. He had sown the seed and it had taken root in my brain, so I told the kids. Yes, I know that was quite a Machiavellian move on my part; he would have been the dad from hell had he reneged at this point. I prevailed.
Jasper was born in March and arrived to us in the middle of May, a tiny ball of fur. He was incredibly fluffy! He settled in straight away and the home now revolves around him. Our lives had changed for ever and not just because of Covid! Jasper, a border collie, is an absolute delight and we love how he is developing. He is very cute, very friendly and very smart. Everyone falls in love with him. He is also very much Peter's dog. You know that old notion of the bond between the dad and the dog he did not want? That is Peter and Jasper!
Our lives now consist of hiking with Jasper, training Jasper, playing with Jasper. He recently went for his first sheepdog training session. He was a natural, of course!
There are lots more puppy pictures, by the way, over on my Instagram account! The link is in the sidebar.
Our Covid Year: a wider perspective – how has life changed across the world?
The lives of many people across the world have changed because of the way Covid 19 has ravaged health and the economy, but our daily lives have changed in many other ways too.
Language
Our language has changed. "Coronavirus" and "covid", words never uttered by anyone other than medics pre-pandemic, have now entered our everyday lexicon. "Bubble" and "tier" have new connotations. "Lockdown" has a new significance. We talk about "social distancing" and "self-isolation" as if they were normal. For more on this it is worth consulting this blog article by the Oxford English Dictionary.
Masks
A year ago, masks were an amusing quirk of people from different countries; now we all wear them, have to wear them. I leave the house: keys? Check. Purse? Check. Phone? Check. Mask? Check. I have a mask in every pocket and every bag. There is a box of disposables by the door. Not only that, masks are becoming fashion accessories. On her Christmas list my youngest daughter had "Face mask with pretty design".
Social distancing
In the past, it would have felt rude to have given people a wide berth whilst on the pavement; now it is expected and a courtesy. We stand apart from people, no reaching across in the shops. No handshakes. No hugging anyone except those with whom we live.
We cannot visit relatives in care homes or hospitals any more for fear of infecting them. No more hugs. No comfort.
We stand in line to enter the supermarket. We squirt the sanitiser on our way in and wipe down the trollies. We stand on clearly defined markers when waiting to pay.
Online life
Our online life has gone into overdrive. More of us are ordering groceries over the internet and there is competition for delivery slots. With non-essential shops closed for much of the year, shopping online has become more essential than it was pre-pandemic. Meetings, gym sessions and get togethers on Zoom are now common. And much of education, at every level, is now conducted online. Even medical examinations are conducted via a video link.
Working from home
Working from home became much more prevalent during the Covid year. People who were able to work from home were encouraged to do so and employers were urged to facilitate this.
Travel
The message in the early part of the year was "stay at home" and most people did. When the situation eased a little over the summer, some people travelled – and then had to quarantine upon return when the rules changed. Travel generally has become much more difficult. (Hence, my travel blog has diversified!)
Will life ever return to "normal"?
I do not think so. I know vaccines are on the way and that the time will hopefully come when we no longer have to fear Covid. But new habits and mindsets have been formed and are now firmly entrenched.
Will we shake hands?
Flesh on flesh, with complete strangers? I doubt it. In the new normal, after all the hand sanitiser and the ever-present mantra "wash your hands", this will feel unhygienic.
Will we stop wearing masks?
Yes and no. I suspect that we will not wear them all the time, but now that we are accustomed to them, we will possibly choose to wear them if we have a snuffle or a cold. Masks will no longer be the quirk of strangers.
Will all those barriers in supermarkets and shops come down?
No, why would they? They were expensive to erect and afford the people who serve us a level of protection. (Peter disagrees with me on this!)
Will we revert to highstreet shopping rather than browsing online?
Yes, but not entirely. Covid has expedited the shift to online shopping.
Will we resume gym sessions in gym and have house parties again?
Yes, but Zoom and other such virtual meeting places are here to stay.
Will international travel resume?
Yes, but probably less so than in the past. Whether passengers will be packed like sardines into economy class seats remains to be seen.
Will we continue to work from home?
Yes. More so than before at any rate. It has been shown to be possible and efficient through necessity this year, so why not?
What about education?
This is one aspect of our Covid Year which I find particularly worrying. Young people have suffered incredibly because of the lack of in-person teaching. I fear that this is going to have long-lasting consequences and I sincerely hope that schools and universities resume business as normal as soon as possible. That does not mean to say that I think there is no place for online learning; there absolutely is. However, it should never take the place of classroom learning.
A Year of Covid: what do you think?
2020 has been a year of change in so many ways. I have not even touched upon politics, economics, world events, climate change ………all of which have played a part in bringing about changes which will affect life going forward.  However, I believe that the effect of Covid on society, lifestyle, mindset, outlook, and education, as well as on health and the economy, will have a deep-seated and lasting impact.  I do not mean this to be pessimistic in any way. For many, the pandemic has been the trigger to re-boot, take stock and reassess priorities. People are remarkably resilient and I am sure will make the best of the "new normal".
What do you think? What have I omitted? Have I got it wrong? How was your year of Covid? I would love to hear about your experiences and thoughts.